It starts innocently enough — you're surfing the web, checking things out, but before long you notice every page you visit is inundated with advertisements that are so specific you look over your shoulder, knowing someone or something has to be watching your every move.
No matter your attempts, these prolific pop-ups continue to annoy, frustrate and give you the heebie-jeebies. While you may not be able to do away with advertisers completely, there are ways to get them to stop following you online.
So, how do advertisers know what products you like? Your internet behavior dictates your pop-ups. For example, when you visit a retailer site and view items and possibly place them in your cart, the process begins.
As a result of your engagement on their website, businesses pay to have their ads, via pixel (snippet of code) or cookie, displayed to you on websites you visit because of your initial interest. This marketing maneuver is referred to as retargeting. Let's look at ways to put an end to it.
How to block third-party cookies in your browser
One method to help stop your activity from being tracked by advertisers, and other nefarious entities, is to block third-party cookies in your browser.
Blocking in Chrome:
To block cookies in Google Chrome, simply click the three-dot menu in the upper right corner and choose Settings.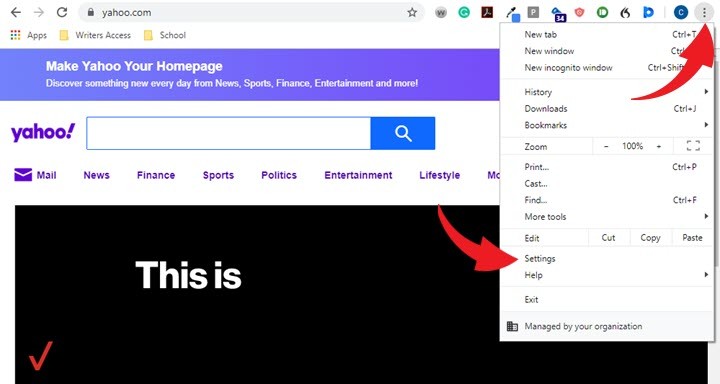 Scroll down and tap Advanced, then scroll to Privacy and security and click Site settings. Tap on the Cookies and site data option and enable Block third-party cookies.
RELATED: HOW TO CONTROL WHAT ADVERTISERS KNOW ABOUT YOU ON FACEBOOK
Block Cookies in Edge:
For Edge users, check out Microsoft's tutorial.
Block in Mozilla Firefox:
To ensure third-party cookies are blocked using Mozilla Firefox, tap on the three-line menu and click on Options.
Choose Privacy and Security from the Options tab on the left, then click on the Custom option under Content Blocking in the right tab.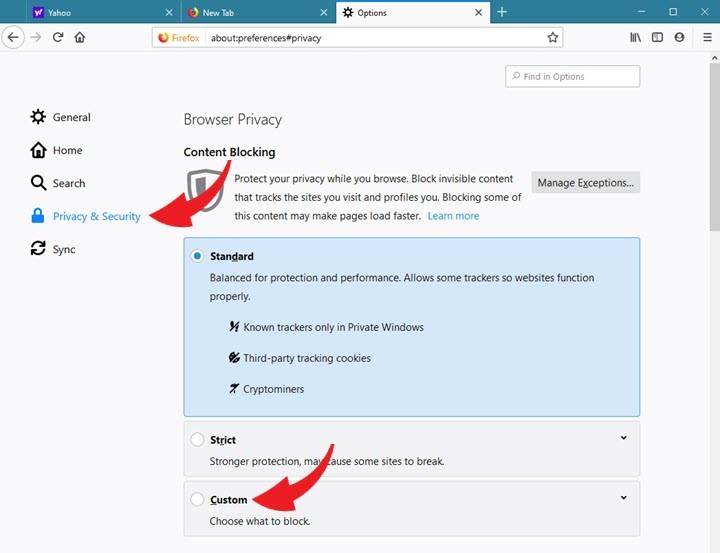 Select Cookies, then All third-party cookies (may cause websites to break).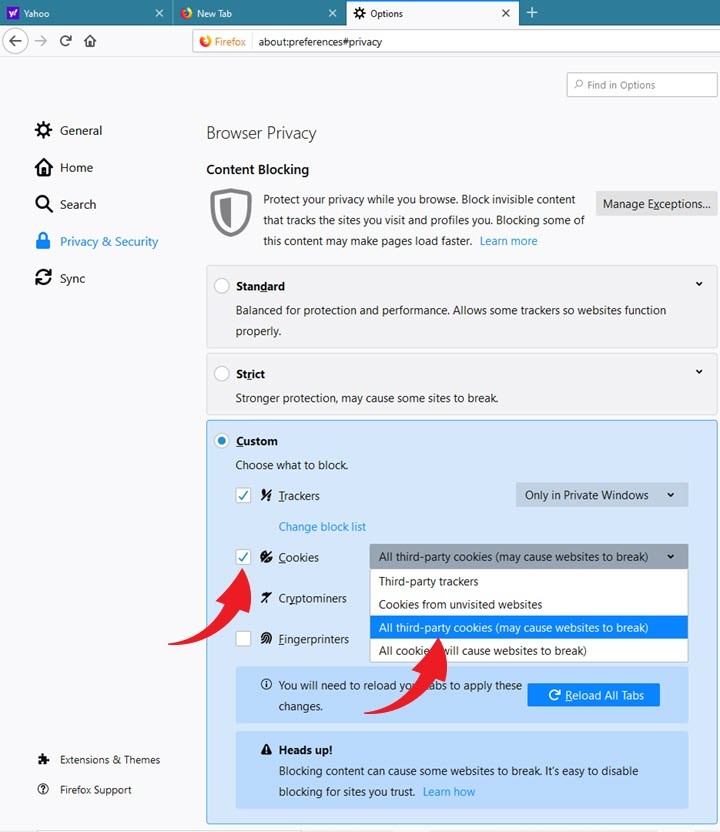 Block in Opera:
Need to learn how to manage your cookies in Opera? Here's a quick tutorial.
Blocking third-party cookies will help keep your browsing more private, though it won't completely stop advertisers from tracking you as they are adept at finding sneaky methods to follow you.
RELATED: BE CAREFUL! THESE MAJOR COMPANIES ARE NOT PROTECTING YOUR PERSONAL DATA
More ways to up your privacy
Use private or incognito modes
For certain things like shopping or searching for products online, we suggest using a private or incognito mode. These tools remove most cookies collected when you load a webpage.
Chrome & Firefox:
To use Incognito Mode in both Chrome and Firefox, tap the menu (three-dot or line, respectively, on the top right corner of the browser), then New Incognito Window.
Opera:
Open Opera and click on Menu in the top-left corner. Click on New private window.
Edge:
To browse in private using Edge, click on the three-dot menu and choose New InPrivate window.
Although private browsing is not a perfect solution, it can help reduce tracking.
Consider an alternative to Google
Ditching your current search engine may further aid in stopping advertisers from tracking you. One option is DuckDuckGo. Funny name aside, this search engine means business — it allows you to search the internet but also work to protect your privacy. There's no tracking, no collecting and no sharing of your personal information.
The best part of using DuckDuckGo is that you don't have to download or install anything. You can choose to add it to your Chrome browser as an extension or visit DuckDuckGo.com and enter your search term. That's it.
Change your settings
Double-check your security and privacy settings in accounts such as Facebook or Google to help stop advertisers from tracking you. It is essential that you keep an eye on settings that include permissions, cookies and site data.
With these settings you can control what info websites can use and what content they can show you; however, there is no guarantee you will save yourself from being tracked by all advertisers.
Remove your info from data broker sites
You may be wondering what a data broker site is. It is a website that sells all kinds of information on consumers, like you, to businesses willing to pay.
The types of data collected, which includes the following, will make your skin crawl:
Name
Address
Income
Websites you visit
Whom you connect with online
Removing your information from sites like these is crucial. Thankfully, Kim has a step-by-step tutorial that will keep your browser from sending so many targeted ads.
Use a VPN
Considered one of the best methods for getting rid of pesky advertisers while online is to use a virtual private network or VPN. Utilizing encryption, VPNs increase your privacy and security by concealing your online activities and manipulating your IP address to make it appear information is coming from a different location.
Together, these steps prevent retargeting as advertisers can't tell where your internet activity is coming from, providing you with the anonymity you deserve.
Protect your privacy with the VPN Kim trusts: ExpressVPN. Get three months free when you sign up for one year at ExpressVPN.com/Kim.