With all the online threats and security risks that seem to crawl out of the internet woodwork these days, it is important that you have all your system defenses set in place.
Aside from your antivirus or malware protection software, another essential tool that will protect your computer system from hackers and cyberattacks is a firewall.
Tip within a tip: Click here to test if your firewall is doing its job.
A firewall is basically your system's gatekeeper that will monitor outgoing and incoming data and block anything suspicious. More advanced firewalls can even monitor your system in real-time for emerging malware threats and intrusions, sort of a hybrid firewall/antivirus or anti-malware solution.
Not sure if you have a firewall in place? Well, newer Windows systems all have built-in software firewalls for configuring your outgoing and incoming internet ports. Although useful for your basic needs, it is clunky to configure and it does not have a wealth of advanced features.
If you feel limited with what the built-in Windows firewall can do, we found three free Windows firewall solutions, from the beginner-level to the advanced, that can protect your computer and take your firewall game even further.
TinyWall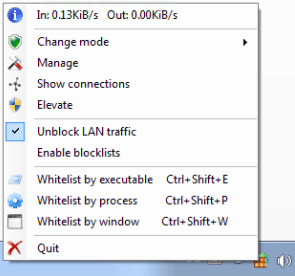 Looking for an ultra-lightweight firewall? TinyWall, like its name proudly suggests, is a small, non-intrusive, almost invisible, free firewall program.
Unlike other free firewalls that seem to announce everything they do, TinyWall does not use annoying pop-up messages and warnings to alert you that it's doing its job.
TinyWall works more like an extension of the built-in Windows firewall, adding more useful features to it rather than replace it entirely. It's also easy to understand – you don't have to be an IT expert to use it.
What it really offers is a simple way to whitelist applications to let them through your network. Instead of digging through menus and settings, TinyWall lets you do it via keyboard shortcuts and lists.
TinyWall is also a really small download, taking only about 1MB of space. That's less than one MP3 song file!
If you are a beginner and you want a simpler way to control the built-in Windows firewall with software that has an almost invisible footprint, then TinyWall is definitely worth the try.
Click here to download TinyWall.
Comodo Free Firewall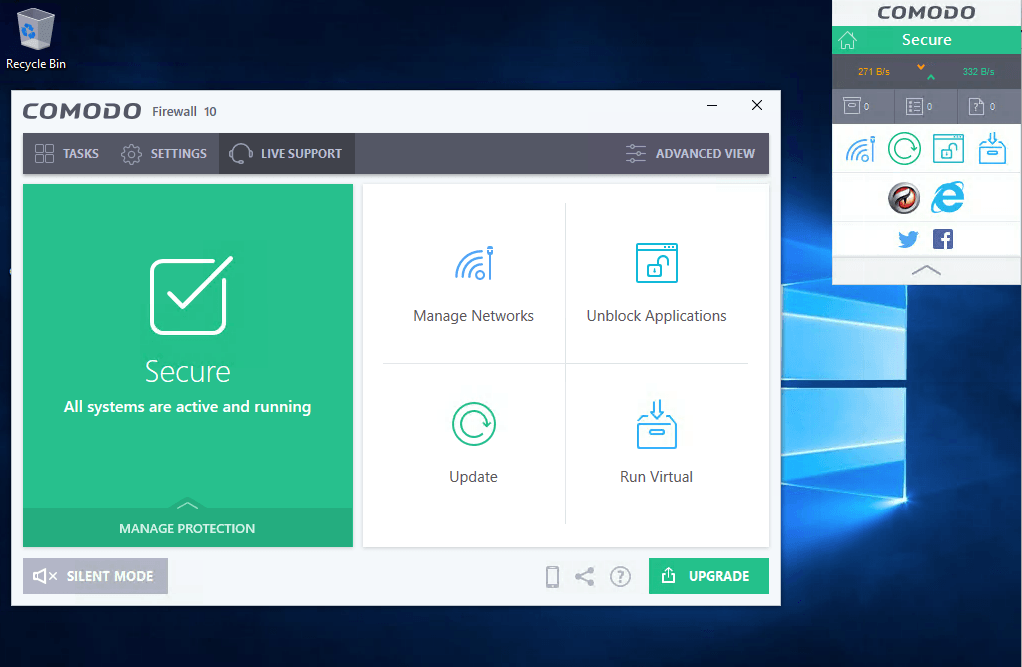 Comodo Firewall is one of the most powerful free firewalls around. Unlike TinyWall, it's designed to replace the built-in Windows firewall. It's straightforward enough for novices to use but advanced users will appreciate the extended features Comodo Firewall brings.
Note: Comodo is not compatible with other firewalls, including your default Windows firewall. You will need to disable your other firewall to use Comodo. It should help you do this automatically.
Aside from controls and rules for your computer applications' network access and incoming/outgoing traffic, Comodo has an automatic sandbox feature that lets you run unknown applications in a separate environment, protecting your files and system from any potential attack.
It even has its own sandboxed Dragon web browser as well as sandboxed versions of Chrome, Internet Explorer and Firefox for protected web browsing.
Combined with Comodo's Default Deny Protection and cloud-based scanning that checks against a regularly updated external white-list of trusted files and applications, it can proactively protect your PC from emerging viruses, worms, and even zero-day attacks.
Before you try Comodo's free Firewall, keep in mind that since you will essentially be your computer's gatekeeper, its status will be displayed in a small window on the upper-right side of your desktop.
It has an optional Silent Mode that can suspend alerts temporarily but by default, it will be constantly giving you notifications about its activities via popups and messages.
You should also look out for automatic "opt-ins" during its installation process. If you don't want Yahoo as your search engine nor change your default browser to Comodo's Dragon, please don't forget to uncheck the boxes during installation.
Overall, Comodo Free Firewall has enough advanced features that will please experts but it can be basic enough for even novices to get started with. If you're looking for a powerful and complete firewall suite, Comodo Free Firewall is the one for you.
Click here to download Comodo Free Firewall.
ZoneAlarm Free Firewall
ZoneAlarm is a free, downloadable firewall and antivirus system that is highly configurable and effective against many kinds of cyberattacks.
Similar to the other firewalls in this list, it monitors your applications for malicious activity and controls their incoming and outgoing network traffic. It also has a Stealth Mode that makes your system invisible to hackers over the internet and an option for public Wi-Fi protection.
ZoneAlarm's real-time monitoring relies on what the company calls its DefenseNet system that updates itself when new threats are detected.
What ZoneAlarm has that other free firewalls don't is optional identity protection. If you trust it well enough with your information and it's enabled, it claims to provide you with free credit monitoring and victim recovery assistance.
Other privacy features include anti-tracking, private browsing and Facebook privacy scanning and limited online backup.
Note: Before you download ZoneAlarm, you need to know that you can only have one firewall and one antivirus running at a time. You can't use Windows Firewall and ZoneAlarm simultaneously, for example.
ZoneAlarm Free Firewall is popular for a reason – it's effective, powerful and feature-packed for something that's free. Take it for a test drive and see for yourself.
Click here to download ZoneAlarm Free Firewall.
More from Komando.com:
Change this one setting to double your internet speed
Find and fix dead spots in your home Wi-Fi