Meal deliveries have gone from a big city staple to small town luxuries thanks in part to companies such as GrubHub. Americans love it, but restaurants partnering with the food delivery giant are discovering that GrubHub's questionable business practices are hurting their bottom line.
GrubHub currently is fending off new competitors such as DoorDash, Postmates, Uber Eats and even Amazon. News of GrubHub's business strategy may erode consumer trust in the company.
We will explain what GrubHub is doing and look at other meal delivery services, as well as the innovative ways some companies are experimenting with deliveries.
Fake websites, higher commissions
An investigation by New Food Economy found that GrubHub is registering web domain names that sound very much like those of the restaurants affiliated with the service. On top of that, GrubHub is using those domain names to build shadow websites with fake phone numbers of the restaurants already working with GrubHub.
Over the years, GrubHub has registered more than 23,000 web domains. Its subsidiary, Seamless, has registered thousands.
So what's wrong with GrubHub building a fake web page for one of its restaurants as long as the eateries get the money from the sale? It all comes down to GrubHub's commission model.
If you find out about a restaurant through GrubHub's app or one of its promotions, the company can charge the restaurant a higher commission because it's bringing in new business.
But what if you don't find the restaurant on the app and you call the restaurant directly? GrubHub will still deliver the meal, but it will get a smaller commission and the restaurant will make more money.
That's where the fake websites come in. If a customer lands on a restaurant's fake website and calls the fake number, GrubHub will forward the call to the real restaurant. You see, GrubHub receives a commission for every phone call it handles for a restaurant and charges a higher commission.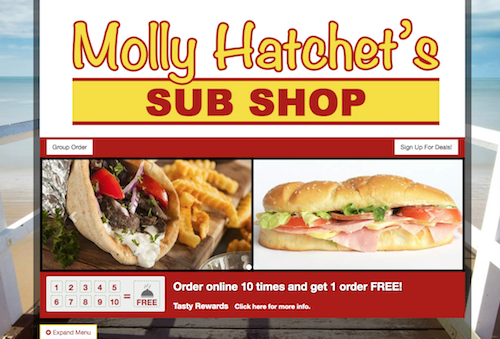 Real Molly Hatchet's Sub Shop website

GrubHub's Molly Hatchet's website
To add insult to injury, even the phone numbers you see displayed in the GrubHub app typically aren't a restaurant's actual phone number. They connect to GrubHub so it can inflate its commissions.
For consumers, the action doesn't change their experience. But for restaurants using GrubHub, the practice has allegedly ended up costing them thousands of dollars.
Millions in commissions investigated
At a recent hearing in New York City Hall, GrubHub executives estimated the company made $30 million in phone commissions last year alone. According to New Food Economy, the commission system uses an algorithm to find out whether a phone call resulted in an order. But the system is prone to costly mistakes.
GrubHub states that its restaurant partners can log into the back end of its site and listen to all phone recordings to make sure they aren't being charged for calls that didn't result in orders. The owner of one small restaurant did just that and found that GrubHub owes her about $30,000 in commission overcharges.
GrubHub issued this statement in response to the New Food Economy report:
"GrubHub has never cybersquatted, which is identified by ICANN (Internet Corporation for Assigned Names and Numbers) as 'generally bad faith registration of another person's trademark in a domain name.' As a service to our restaurants, we have created microsites for them as another source of orders and to increase their online brand presence.
'Additionally, we have registered domains on their behalf, consistent with our restaurant contracts. We no longer provide that service and it has always been our practice to transfer the domain to the restaurant as soon as they request it."
Related: Delivery wars heat up with new (and affordable!) grocery subscription plan
GrubHub competition
GrubHub's problems come at a time when the meal-delivery competition is heating up. EatStreet, Uber Eats, Postmates, and door DoorDash are starting to make inroads into GrubHub country. Although EatStreet recently hit a speed bump when its data was breached.
Developing new technology to take on GrubHub is Uber Eats. The company has announced a plan to deliver meals to apartment dwellers via drone.
Then there's Amazon. Yes, Amazon.
Some Arizona Prime Now service areas let you order food from restaurants with food delivered within two hours. Fees may vary based on the size of your order. If you can't wait two hours, you can upgrade to one-hour delivery for $7.99.
Other fast-food chains are experimenting with new delivery systems. For example, Domino's Pizza tested drones in New Zealand and is now testing robots in Germany.