Sales may have slowed for brick-and-mortar retail during the pandemic, but companies like Amazon have thrived — with the company posting recording profits in the second quarter of 2020.
It might be less convenient to shop without seeing the item you want in person, but there are plenty of ways that buying from Amazon beats real-life shopping. Tap or click here to see how to get more out of your Amazon account.
Consumers aren't the only ones paying attention to these trends. Scammers are using fake reviews to drive sales. According to reports from Bloomberg, a staggering 42% of all reviews posted to Amazon between March and September were fake.
If you want to shop safely on Amazon, it's important to know how to tell fake reviews from real ones. These tips can help you spot the junk before you click "Buy Now." Plus, we'll show you our favorite apps that can catch phony reviews automatically.
Analyzing Amazon reviews
In Bloomberg's report, researchers working for Fakespot Inc. found that fake Amazon reviews spiked 36% compared to this time last year. We're reaching holiday levels of fake reviews despite the holiday season being weeks away — and researchers expect it to get even worse.
Why the surge in fake reviews? Beyond pandemic-related shopping trends, Fakespot believes it has to do with an update Amazon made to star ratings called One Tap Reviews. One Tap Reviews let you apply a star rating to an item without having to comment. This means it's more important than ever to read through detailed reviews to get a clearer picture of what you're buying.
Here are a few things to watch for:
When reading reviews on Amazon, always use common sense. Note any unusual signs in the text like poor spelling and grammar, over-the-top praise or descriptions that don't match the listing.
If many reviews for a product were submitted within a short window of time, they might be part of a seller's campaign to improve their numbers with false ratings. If you see 50 five-star ratings within a half-hour period, those reviews are probably not real.
If there are many similar reviews with short comments, they might be fake.
If a review doesn't talk about the product itself or uses bland, generic language, it could be machine-written.
Overly negative reviews could also potentially be fake, too. This is a tactic that scammers use to sabotage other sellers.
Even with these tips in mind, it can still be hard to spot which reviews are fake and which are real. Fortunately, there are a few services that can help to sniff out the imposter feedback.
Fakespot
Fakespot is one of the most popular free Amazon review-checking services. It's easy to install as a browser extension on your Mac or PC, and you can download the app for free from the iOS App Store or Google Play.
To download to your computer:
Go to Fakespot.com
Click the button Add To Chrome
If you do not have Chrome or Edge as your browser, you will be prompted to download
Install and run
Choose your settings
Shop Amazon as usual
Fakespot began as an Amazon-only extension, but it can be used with other online retailers as well. In addition to helping you vet reviews, Fakespot can also help you to find the best prices on your favorite items.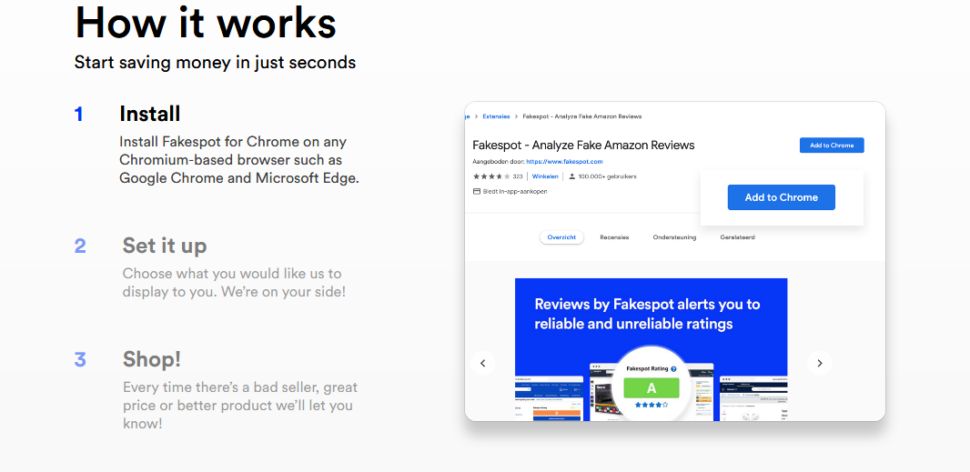 ReviewMeta
ReviewMeta works as both a browser extension and a standalone site that checks for fake reviews.
To use for single product reviews, go to ReviewMeta.com and copy and paste the Amazon product page URL. Within a few minutes, the site will generate a report for that product while sorting out potentially fake reviews. It may also update the product rating to more accurately reflect what it found.
To use as an extension on your browser:
Go to the ReviewMeta.com homepage
From the toolbar select Browser Extensions and click
Choose your browser and click to install
Follow prompts guiding you through installation
Go to Amazon.com
To use ReviewMeta click the icon on the upper right-hand corner of the Amazon page
Whether you choose to use a review checking service or not, it's always a good idea to read Amazon product reviews carefully. Always use skepticism and your best judgment when dealing with online reviews.
And remember, no matter what or where you are purchasing, buyer beware — especially online!