Holiday shopping may be fun, but it comes with its share of risks. In this time of giving, hackers, scammers and swindlers are lying in the wait to take advantage of people's kindness and make a quick buck at your expense. Tap or click here to see some of the biggest holiday scams this season.
But another way scammers are ripping folks off this year includes counterfeit goods. Research has shown that a specific category of goods is rife with fakes and low-quality knockoffs — and people continue to fall for it.
Here's what we know about this season's counterfeit good epidemic. Plus, we'll show you the red flags to look for so you can spot these fake items for yourself.
Fake toys and electronics are an epidemic this holiday season
According to reports from shopping researchers at OnBuy.com, an epidemic of counterfeit products is hitting American shoppers — with fake goods clogging up online marketplaces. Of those surveyed, 70% reported they received fake products at some point while shopping, with toys and electronics making up 74% of cases.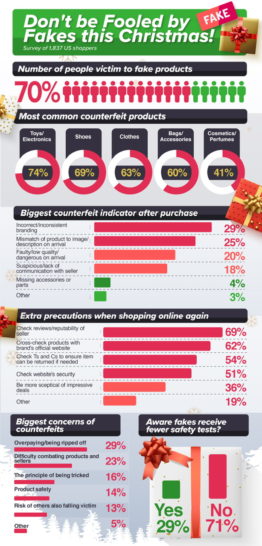 Customers who received knockoff goods reported incorrect branding on packages, as well as mismatched box art, poor or shoddy quality, and lack of communication with sellers.
These incidents are far more common on auction websites and open online marketplaces, where overseas sellers can take advantage of language barriers and lack of transparency to peddle their phony wares.
What can I do to avoid getting ripped off this holiday season?
There are a couple of red flags for counterfeits you should keep an eye out for when shopping online. With mass-produced products like toys, electronics and game consoles, major marketplaces like Amazon and eBay are breeding grounds for cheap knockoffs.
Many counterfeit sellers get away with their shady business by hiding the fact that their items are replicas or third party deep in the product description. Look for those words and read the product listings as carefully as possible.
Always check the listing's photos against common stock images. If the same image is found in multiple listings, there's a good chance it's fake. If possible, attempt to communicate with the seller and ask for fresh photos to verify authenticity.
Speaking of communication, it's worth noting many of these fraudsters base their operations out of China — where factories pump out knockoffs almost constantly.
Poor English can be a sign of a con artist, so if the language skills don't match the location of the seller, use caution. Sellers located in China aren't always selling knockoffs, but you should always be careful to make sure the listings detail that the product is authentic before clicking "Buy."
Bonus: What can I do if I get ripped off?
If you're buying from an open marketplace like on Facebook or if you used a gift card, you'll be out of luck. There is very little recourse in these cases, which is why the experts recommend making all of your online transactions using a secure payment service like PayPal.
PayPal offers buyer protection for select purchases on platforms like eBay, which means you can file a dispute if you find yourself ripped off. In many cases, even if the seller goes AWOL, PayPal will still honor your refund.
For more detailed information on secure ways to pay, tap or click to see our picks for the best ways to pay and send money online.