What comes to mind when you think of Amazon's website? Everything? Yep, us too.
One of Amazon's main selling points is it offers everything under the sun, and much of it ships for free if you're a Prime member. Dishes? Check. Korean beauty products? Check. Renewed electronics at a lower price? Check. You can find anything you need or want on the pages of Amazon — including this year's hottest tech gifts under $100.
And that list of available products is always expanding. In fact, Amazon just added a new health-related branch of its business to the mix. If you're tired of paying high prices for prescription drugs, you're going to want to pay attention to what it is and how it works.
Amazon's new pharmacy business
You've probably ordered shoes, some hard to find pantry items, and even some tools or board games from Amazon over the last few months. What you haven't ordered, though, are prescription drugs. Until now, that wasn't an option.
It is now, though. Amazon is officially entering the drugstore business with Amazon Pharmacy, a new online shop that allows customers to order home delivery of prescription drugs. And yes, shipping will be free for Prime members.
This new online pharmacy has been years in the making. Amazon acquired PillPack back in 2018 and has been slowly building its pharmacy offerings for the last couple of years. Given the pharmacy business's sensitive nature, though, it's taken some time to get there.
Here's how it works. Customers over the age of 18 will be able to access the pharmacy service on Amazon as of this week. The initial rollout is open to customers in 45 states — excluding Illinois, Kentucky, Hawaii, Louisiana and Minnesota. If you live in one of the five excluded states, Amazon expects to open up pharmacy services to you soon.
Once the service is up and running, Amazon Pharmacy will accept most forms of insurance. It will fill most commonly prescribed medications, like insulin, antibiotics, steroid creams, metformin and migraine medicine. What it will not fill are Schedule II controlled medications, which include most opioids.
Discounts for Prime members are significant. You can get up to 80% off generic and 40% off brand name medications when paying without insurance. The overall discounted cost of generics and other drugs through this service could also help save non-Prime members' money.
Related: Top deals on the hottest holiday toys of 2020
The most significant savings are offered to Amazon Prime customers, who also get free two-day delivery on medications. Customers who don't have Prime will still get free delivery, but the window of time is extended within five days. There's also the option to pay $5.99 to upgrade to two-day delivery.
You don't have to worry about the hassle of transferring prescriptions to Amazon Pharmacy, either. Your doctor will be able to send prescriptions directly to Amazon Pharmacy, saving you time and money. If you've got an ongoing prescription, you can request a transfer to Amazon Pharmacy, too. Your script will be verified and then sent out.
Pretty simple, right? Yes, but you'll have to jump through a couple of hoops before you start your order. When you log in for the first time, you'll need to answer a few health-related questions like whether you're pregnant, your date of birth and your assigned gender.
Those are all questions required by law, and while they may include private health information, Amazon says you don't need to worry about the security of your personal info. Pharmacy profiles are secure and your information is protected.
The one downside is it's an online-only pharmacy, which means there are no brick and mortar locations to visit. You'll have to wait two days to receive your scripts in most cases, but it may be worth the wait for the lower price of prescription drugs.
How to get started with Amazon Pharmacy
If you want to get started with Amazon Pharmacy, the enrollment process is simple.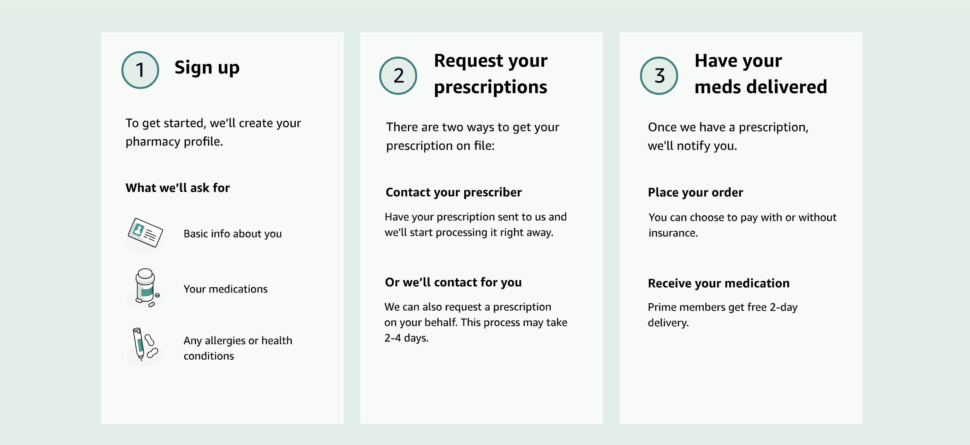 Sign up by creating a pharmacy profile.

You'll be asked to enter information on your health history, medications, and allergies during your account setup.

Once your account is set up, you'll request your prescriptions.

You can do this in one of two ways: contacting the prescriber or asking Amazon to contact them for you. If you opt for the latter, you can expect to wait up to four days for verified and transferred prescriptions.

Once you have a prescription in your account, Amazon will notify you. You'll log in to your account and choose how to pay, whether to use insurance and decide on your shipping method (if you're a non-Prime member).
That's it!
You can find out more about Amazon Pharmacy by visiting https://pharmacy.amazon.com/.