Q. Just found out today that if you have an Amazon account for purchases or video streaming, Amazon automatically creates a PUBLIC PROFILE for social networking – whether you want it or not. And, like Google+, it uses your real name unless you change your profile. Excuse me??? I thought this was a merchandising site!!! Is there any way to opt out of social networking altogether at Amazon?
-Patricia from Fort Myers, Florida, listens to Kim's show on 92.5 FM WFSX
A. Thanks for the question, Patricia. This is a little confusing because there are two things going on here. Yes, Amazon does create a public profile for your account, and yes it has a "Your Social Settings" section in your account, but they're two different things. We'll cover both.
Amazon is a site to buy products, whether it's books, music, clothes or furniture. Of course, it's increasingly more than that. It has the streaming TV service Prime Video, which streams original content like "Transparent" and "Hand Of God," plus old TV shows and movies. You can also listen to Amazon's million-plus songs whenever you want, or listen to many of them by genre, as you would a radio station.
Amazon is not a typical social networking site like Facebook and Twitter. It isn't a place where people post photos or videos, share family vacation adventures, or even "Find Friends."
However, it did just launch a new feature dubbed Amazon Spark. It's reminiscent of the social networking apps Instagram or Pinterest. I'll give you details of Spark later in this article.
Let's begin by answering, why does Amazon have a "Your Social Settings" section in your account? And why is Amazon making a public profile for you?
Until Amazon Spark launched, the only social networking that Amazon offered was connecting your Amazon account to your Facebook and Twitter accounts. It has a few good reasons to do that and some just-OK reasons. Among the good reasons is so you can share your Wish Lists with your friends and family, so they know what to get you for birthdays and other events.
Amazon can also recommend books, music, movies and TV shows for you to purchase, based on your Facebook "favorites" and "likes." Plus, you can share highlights from Amazon books you're reading on Kindle with your friends on social media.
In addition, linking them lets you save the photos and videos you have on Facebook and Twitter to the Amazon cloud. Amazon Prime members get a huge perk: free, unlimited photo storage on Amazon Cloud Drive.
Bonus tip: Click here to see how cloud services compare.
Patricia, you'll be happy to know that Amazon doesn't post any of this information unless you specifically tell it to. And you have to choose to connect your Facebook and Twitter accounts to your Amazon account in the first place.
Even if you allow all or some of your Amazon activity to be shared with other people on Amazon, Facebook or Twitter, you should know that Amazon will "never share what you browse or purchase on Amazon." In other words, browse to your heart's content, knowing that only you will know what you're in the market for.
Of course, it never hurts to double-check that these settings are the way you want them. And after these instructions, we'll tackle your Amazon public profile.
Make sure Amazon isn't posting to Facebook or Twitter
If you want to make sure that Amazon isn't sharing your information with Facebook or Twitter, follow these steps.
From Amazon.com, put your cursor over the "Account & Lists" button in the upper right-hand corner and click on "Your Account." Scroll down to the "Ordering and shopping preferences" section and click on the "Social media preferences" link.
If your Amazon account is connected to your Facebook or Twitter accounts, you'll see two links that say "Disconnect my Facebook account from Amazon," or "Disconnect my Twitter …" in separate tabs. Click the links, then "OK" to disconnect. It's that simple.
Note: By default, your Amazon account is not connected to Facebook or Twitter.
How to choose to share on Facebook and Twitter
If you want to connect your Amazon account to Facebook or Twitter, follow the steps above. Except, on Your Social Settings page, you will see links to "Connect with" Facebook or Twitter, in separate tabs. If you want to connect Amazon to these social media sites, click on "Connect with," then log into Facebook and Twitter. That's it.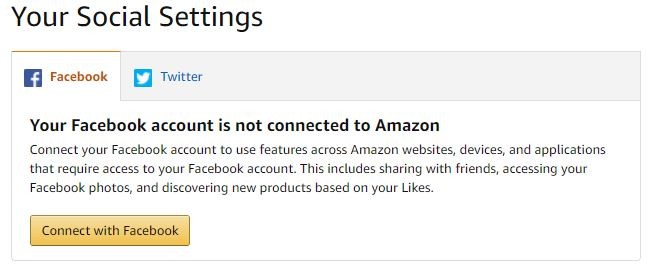 With that settled, there's still the matter of the public profile Amazon creates for you.
When you create an account, Amazon does create a public profile that lists your comments, ratings, public Wish Lists, any biographical information you've provided and other site interaction, NOT including purchases and browsing history. There are a few reasons Amazon does this.
One is that it lets your friends search for your Wish Lists without requiring you to send them a link. Or maybe you wrote a thoughtful review on a product and someone wants to see if you've written more helpful reviews. They can click your Amazon username in your review and see what else you've written. It's not a real privacy problem, but let's make sure you aren't sharing more than you want.
Amazon Profile Privacy Settings
If you want to control what activity is visible on your profile, put your cursor on the "Account & Lists," button and then click on "Your Account." Scroll down to the "Ordering and shopping preferences" section. Click the "Profile" link, which is right above the social media preferences link we used earlier.
Click on the link in the orange box to the right that says, "Edit your profile." Click the Edit privacy settings tab.
It looks like this:
You can select or deselect items like Reviews, Questions, Who You Follow, Public Wish Lists, Baby Registry, and others. To simplify this, there's also a handy option to "Hide all activity on your profile," which turns everything off at once.
If you want a quick look at what information you're sharing publicly, click "View your profile as a visitor." You can tell at a glance if you're sharing anything you don't want to share.
If your profile is showing your real name, or other biographical information you don't want, go back to the profile page settings page and click the Edit profile tab, it's located right next to the Edit privacy settings tab.
You can edit or delete any information like your Bio, Occupation, Location and more. You can even change the "public name" on your profile and post reviews anonymously.
Amazon Spark
Amazon recently launched its Spark feature to compete with other social networking shops like the Facebook Marketplace. Users are able to share images of products, stories and ideas. Other users can react to those posts with comments and "smiles," similar to Facebook's Like button.
Amazon describes Spark as, "A place to discover things from people who share your interests. Whether you're looking for inspiration for home décor or seeking advice for the best long-distance running shoes, Spark makes it easy to discover-and shop-stories and ideas from a community that likes what you like."
If you're concerned about your online privacy, don't worry. You don't have to participate in Amazon Spark. To use the feature you need to turn it on before it's active on your account. Let's look at how to do that.
Note: Currently Amazon Spark is only available through the Amazon App. It's not set up for desktop use as of now. Also, it's only available for Apple gadgets. There's no word on when or if it will be available for Android.
To begin using Amazon Spark, follow these steps:
Open the Amazon app
Click the menu bar located in the upper left
Tap "Programs & Features"
Tap "Amazon Spark"
Select interests – You need to choose at least five or more interest to personalize your experience. You can always follow more or change your selections later.
Tap Next
Confirm your profile name
Notifications – The last step is choosing whether to receive notifications from Spark or not. If you enable notifications, you will receive alerts when others respond to your posts and comments.
It's that simple. Once you've completed the previous steps you're ready to use Amazon Spark. After your first use, the feature will show up when you click the menu bar located in the upper left of the Amazon app.
Once you've completed all the steps from this article, your Amazon account will be as private as you want it to be. Happy shopping!
More tips you can't miss:
Two Amazon tools that help you make sure you're getting the best deal
5 extremely useful Alexa skills to help you in the kitchen