Are you about to celebrate turning 55? Already passed up the double nickel milestone? If you belong to this group of almost 90 million people, you are in great company.
Hand's down, one of the notable advantages of being part of this senior club is the discounts or free goodies. While younger counterparts pay full price, you can delight in the bargains at restaurants, grocery stores, gyms, hotels, among other businesses by merely flashing an ID to prove your eligibility.
To add to the variety of daily deals and freebies, wireless carriers are getting into the savings for seniors foray with discounted plans for those over 55. While this industry-wide move to recognize seniors is long overdue, it is admirable and worthy of a gander. Below is a comparison of the top options.
(Note: Offer/coverage may not be available everywhere and may be subjected to credit and activation fees. A contract may be required. Rates may not include taxes, surcharges and roaming fees. Other rules and restrictions may apply. Visit the provider's website or contact customer support for complete details.)
T-Mobile

One of the nation's top wireless providers, T-Mobile, recently announced three affordable plans created specifically for new or existing customers 55 and over.
For a limited time, T-Mobile is offering the Essentials Unlimited 55 plan for $40 for a single line or $55 for two lines with autopay. Fees and taxes are excluded.
Here's a rundown of the plan's features:
Unlimited talk, text, and smartphone data
Unlimited 2G data in Mexico and Canada
SD streaming
3G mobile hotspot (up to 600kbps)
Free texting and low flat rate calling abroad
Dedicated customer care team
Free stuff (requires T-Mobile Tuesdays app)
T-Mobile's second plan, Magenta Unlimited 55, also has two pricing tiers, $35 for one line or $70 for two lines (taxes and fees are included). As with the Essentials Unlimited plan, you will be required to enroll in autopay to be eligible.
Benefits include:
Unlimited talk, text, and smartphone data
Data and texting abroad
Dedicated customer service team
Free stuff (requires T-Mobile Tuesdays app)
SD streaming
3GB of 4G LTE mobile hotspot data
5GB of 4G data in Mexico and Canada
One-hour in-flight Wi-Fi
The final T-Mobile plan for seniors is the Magenta Plus Unlimited 55. This premium plan option ranges from $45 for a single line to $90 for two lines with autopay (taxes and fees are included).
Check out the bells and whistles:
Unlimited talk, text, and smartphone data
2x data speed and texting abroad
Dedicated customer service team
Free stuff (requires T-Mobile Tuesdays app)
HD streaming
20GB of 4G LTE mobile hotspot data
5GB of 4G data in Mexico and Canada
Unlimited in-flight Wi-Fi
Netflix on Us: Standard, two screens in HD
Name ID
Voicemail to text
None of these plans require a service contract. Current or new customers can sign up online, in-store, or by phone. For further information on T-Mobile's 55+ plans, visit T-Mobile's website.
Sprint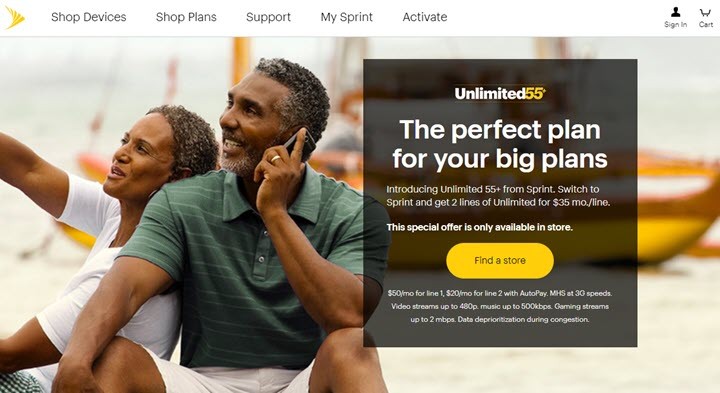 Not to be outdone by T-Mobile, Sprint offers a plan for seniors called Sprint Unlimited 55. This plan will run you $50 a month for the first line and an extra $20 a month for a second line. To receive these monthly rates, you are required to enroll in e-bill.
Features include:
Unlimited talk, text, and data
DVD quality streaming
Unlimited mobile hotspot
Video streams up to 480p
Music up to 500kbps
Gaming streams up to 2Mbps
Unfortunately, the Sprint Unlimited 55 plan is only available in-store for new customers. If you have any questions regarding this plan, chat with a Sprint representative at sprint.com/swwsupport.
You may also like: 10 best video games for people over 55
Verizon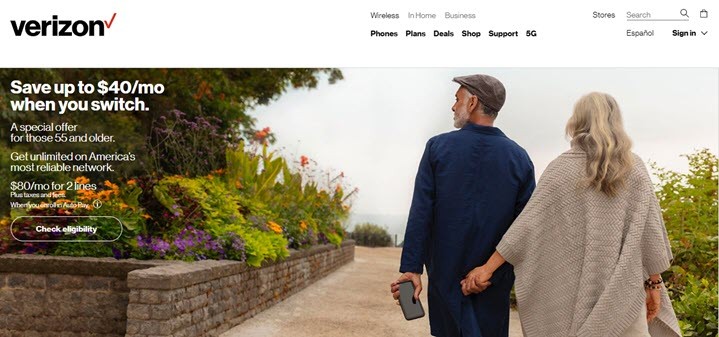 While T-Mobile and Sprint provide sensible plans for seniors across the nation, Verizon has chosen to introduce a trial offer of its Verizon 55+ Unlimited plan to a fraction of seniors.
Although the plan rates of $60 for one line and $80 for two lines (plus taxes and fees) are relatively comparable to Verizon's competitors, there is one major caveat; you must be a resident of Florida to be eligible for this plan. In addition, to receive these rates, you must enroll in autopay.
Let's see what Floridian seniors can expect:
Unlimited 4G LTE Data
Unlimited Talk & Text
DVD-Quality Streaming
Unlimited Mobile Hotspot (600 Kbps)
Verizon Up Rewards (participation of Verizon Selects required)
Unlimited calling to Mexico and Canada
For further information about this plan visit Verizon's 55+ Unlimited plan FAQ page.
You may also like: Best jobs for people over 50
AT&T
Alas, like Verizon, AT&T is short-changing some seniors when it comes to its plan. Dubbed Senior Nation it is offered to those aged 65 and over with rates of $29.99 for one line and $60 for two lines.
Plan features include:
200 anytime minutes
Unlimited nationwide calling to AT&T mobility customers
500 nights and weekend minutes
$.45 per additional minute
Nationwide long distance and roaming, voicemail, call forwarding, call waiting, conference calling and Caller ID
This plan is only eligible for basic phones and will not work with smartphones or tablets.
For further details visit an AT&T store, call 1-800-331-0500 (611 from your AT&T wireless phone), or chat with a representative using the Chat live button on AT&T's website.
The verdict
Staying loyal to your existing provider might play a big part in your decision, and you should definitely consider everything that goes into changing carriers for a more affordable rate. That can include having to purchase an entirely new phone and other fees that come along with changing service.
However, there are notable differences when simply comparing each carrier's plans. For instance, monthly rates can vary widely based on a single line versus two lines for each carrier, but overall pricing stays fairly competitive — although AT&T's plan has considerable device limitations.
As far as the number of options available, what's included in those plans and flexibility when it comes to travel, the clear standout is T-Mobile. Just keep in mind that the promotional pricing they're offering right now could change soon.