Do you love Amazon? Most of us do. We're crazy for all those discounts on our favorite products and two-day or same-day (Prime membership required) shipping.
It turns out 63% of Americans have purchased something from the retail juggernaut. That's a lot of data shared with the retail giant. Any time you complete a transaction online, remember to protect your personal data. Tap or click to discover the four essential steps to safer online shopping and banking.
Prime Days, coupon codes, lightning deals and seasonal steals all offer great discounts, but did you know there's one trick that can save you up to 70% off on Amazon purchases year-round? Here's the scoop.
What's the trick?
If you want to enjoy some serious savings, look no further than the online retailer's secret store: Amazon Warehouse.
This section of the company's website isn't really advertised but it houses thousands of discounted items. While plenty of deals exist, there are a few caveats you need to know about this bargain shopper's paradise.
Want to save more money? Tap or click to learn the four ways to get cash back on Amazon.
How to search Amazon Warehouse deals
Whether you're casually browsing or looking for a specific item, Amazon Warehouse likely has what you want.
For fun browsing, head over to Amazon's homepage and type "Amazon Warehouse" or "Warehouse Deals" in the search bar. Once redirected, you can shop by category.
Already know what you want? Locate the item's product page and look for offerings such as "Used & new" or "Buy used." Not all products have this selection available, but if your item does, click the link to open up the used pricing and buying options.
Each listing includes information about the item's condition, its seller and manner of shipping. If you're a Prime member, look for Amazon Warehouse as the seller and Prime shipping to ship your item for free.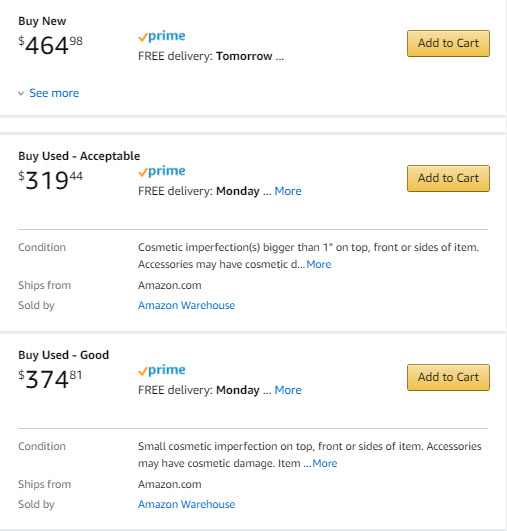 Why prices are so affordable
Nothing in the Amazon Warehouse is brand new. It is all used merchandise. Now, before you assume everything is broken, dented or damaged, you should know Amazon must sell every returned item as used, regardless of condition, the reason for its return or whether someone opened its packaging.
This means someone could have opened the packaging and learned just a little too late that the tech they purchased isn't compatible with their other devices. Or it could mean someone used it for a week and decided they didn't want it anymore.
Quality ratings
Amazon's price listings are determined by the item's quality ratings. These ratings give shoppers an idea of an item's condition. There are five different grades:
Renewed: Similar to what other companies classify as refurbished. The product is carefully inspected and includes a 90-day replacement or refund guarantee. You may also find some listings designated as Certified Refurbished. Items have minimal signs of wear or cosmetic damage when held from 12 inches away.
Used, Like New: The item is in perfect working condition. Packaging may be damaged, incomplete or missing. All accessories are present.
Used, Very Good: Item has been lightly used but is in good working condition. May show visible signs of wear and tear. Packaging may be damaged, incomplete or missing. Could be missing some accessories. Missing accessories are clearly defined.
Used, Good: Item shows wear but is in good working condition. It may have markings on it or cosmetic damage. Packaging may be damaged, incomplete or missing. Item may be missing some parts, accessories, instruction manuals or assembly tools.
Used, Acceptable: Well-worn but fully functional. Substantial cosmetic defects. Might be missing parts, accessories, instructions and packaging. May be missing multiple parts, accessories, instruction manuals or assembly tools.
The intended purpose for the item will help you determine which quality rating to go with. If the product is to be on display, such as a clock, you should opt for either Very Good or Like New. But if you want an item merely for its functionality and not appearance, go with Good or Renewed.
Can I return a returned item?
Even though Amazon Warehouse products are used and do not qualify for a manufacturer's warranty, Amazon extends its standard 30-day replacement or refund return policy for Warehouse purchases.
You may also like: 4 essential steps to safer online shopping and banking
So if an item falls short of your expectations, return it. It is essential to note you may have trouble returning some items, such as Kindles, once they are registered to someone.
Current tech deals
Although you can find bargains in any one of the 16 categories, none are guaranteed to be there next time you shop. Here are a few current tech picks you may want to check out before they are gone.
Ring Video Doorbell Pro
Looking for the latest in home security options but don't want to spend a fortune? Amazon has the Ring Video Doorbell Pro with HD video and activated alerts listed with a retail price of $249.00.
You can grab a great deal with a Certified Refurbished model, available for $179.00. And an Acceptable unit is currently available for $161.08 in Amazon Warehouse. All options include Prime shipping for Prime members.
Instant Pot Duo Nova
If you are ready to try out Instant Pot cooking, Amazon Warehouse has a deal for you. Check out the 6-QT Instant Pot Duo Nova with 14 One-Touch programs.
While this kitchen appliance retails for $79.99, you can save $20 if you opt to buy one rated Good for $55.00. Do this with several items and the savings will definitely pile up.
Canon Digital SLR Camera Kit
Photography buffs may want to take notice of this deal for the Canon Digital SLR Camera Kit (EOS Rebel T6) with two zoom lenses (EF-S 18-55mm and EF 75-300mm).
Its retail price comes in at $343.00, whereas a Like New model in Amazon Warehouse is available for $240.00.
YABER Native 1080P projector
Projectors are gaining popularity for outdoor events, indoor viewing and lots of fun. This YABER Native 1080P projector lets you view full HD, supports 4K and is compatible with TV Stick, HDMI, VGA, USBs, smartphones, PCs and Xbox.
If you're willing to purchase from Amazon Warehouse, you can walk away with a great deal. Save more than $100 buying an Acceptable model, or about $80 for one in Good condition.
Now that you know how to get the best deals, it's time to go shopping! Want a little extra security? Tap or click here for how to check out online without your credit card.
By clicking our links, you're supporting our research, as we may earn a very small commission. Recommendations are not part of any business incentives.