Digital wallets are more useful than they've ever been. Between the pandemic and the change shortage, we're all looking for safer and easier ways to pay for stuff.
One of the safest ways to do that is to use a digital wallet to send money or pay for items. There are tons of different options out there — Apple Pay, PayPal, Venmo and Google Pay, for starters — and they all make it simple to complete contactless transactions. Even Amazon has gotten in on the contactless pay action.
So how do you decide which one works best for you? One of these digital wallets aims to replace not only your payment apps but also your bank, which may make it easier to choose. Let's take a look at how Google Pay is making moves to stand out.
The revamp of Google Pay
You're probably familiar with Google Pay. But while you may occasionally use this digital wallet to make contactless purchases, what you may not know is that it recently got a complete revamp. Google Pay is now poised to better take on the competition and your bank.
A new version of the Google Pay app launched recently in the U.S. for both Android and iOS. This update elevates Google Pay from a simple payment app to a full-blown personal finance app with awesome new features, including: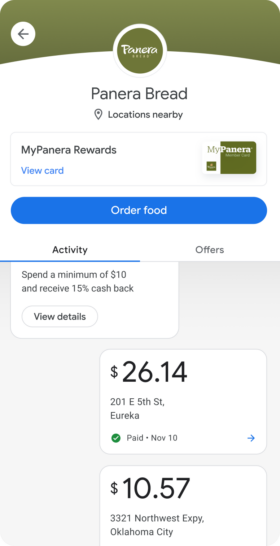 Spending insights
One of the coolest new features is spending insights, which lets you opt-in to having your inbox and photos scanned for receipts. Google Pay will log these numbers and give you insights into your spending habits, just like you'd get with Mint or a similar app.
Targeted offers
You can use this feature to get personalized deals and coupons. Google will base suggestions on your shopping habits. This won't affect your data being sold or shared, though — according to Google, Google Pay will never sell your data to third parties or share your transaction history with the rest of Google for targeted ads.
According to Google, you can expect to see offers from brands like Burger King, Etsy, REI Co-op, Sweetgreen, Target, Warby Parker and more in the app. You can activate them with a tap, and they'll be automatically applied when you pay in-store or online.
Frequent transaction information
The old Google Pay app logged all your transactions, but the revamped version focuses on frequent transaction information. If you have friends and businesses that you regularly complete transactions with, you'll be able to easily see old transactions and find offers related to businesses you shop with.
Your transactions will also be organized by category. If you want to see how much you spent on food last month, you can look in your Google Pay app. The same goes for entertainment and other categories.
Keep tabs on who's paying the tab
You can also keep track of who's paying what with the new Google Pay app. Let's say you can't remember who paid the bill the last time your group went out. You can check whose turn it is in Google Pay or keep track of who's paying this time in the app. You can also do the math on who owes what to whom or pay your share directly to friends through the app.
Contactless pay right from the app
Contactless pay isn't going anywhere, but it is getting an upgrade. You can now use Google Pay to order food at over 100,000 restaurants or buy gas at over 30,000 gas stations. You can also pay for parking in over 400 cities, all from within the app. Other related features are rolling out soon, too.
A rival to your bank
The biggest change with this update, though, was a new banking feature. The app was limited in scope before the revamp, but it will soon be able to replace your bank. Plex will be rolling out in the coming weeks. It's a new mobile-first bank account integrated into Google Pay.
RELATED: How to set up mobile payments
How will Plex work?
Plex Accounts will be offered by banks and credit unions and will include checking and savings accounts with no monthly fees, overdraft charges or minimum balance requirements. You'll also be able to use your Plex account to save toward goals more easily.
According to Google, 11 banks and credit unions, including minority-owned depository banks in the U.S., will start offering Plex Accounts in Google Pay. Green Dot, BBVA, SEFCU, Stanford Federal Credit Union, BMO, Seattle Bank, Coastal Community Bank, The Harbor Bank of Maryland, BankMobile and First Independent Bank are all pairing with Google Pay as a part of Plex.
What that means in layman's terms is that you'll be able to use Google Pay as your checking and savings account via Plex. Sounds great, right? There will be some fees involved, including a new fee for transferring money using a debit card.
According to the Google support page, if you want to transfer money out of your Google Pay account via your debit card, you will now be charged a fee of 1.5% or a minimum of 31 cents. Transfers to bank accounts are still free but can take up to three business days, while debit card transfers are nearly instantaneous.
How can I sign up?
If you want to get started with Plex, you won't be able to do that until the new feature rolls out in 2021. In the meantime, you can join the waitlist on the app and be one of the first to apply for a Plex Account from Citi or SFCU.
If you want to take advantage of the other features in Google Pay, you'll need to download the app and set up your account. These new features are only available via the new Google Pay app — they won't roll out on your old Google Pay.
In fact, you won't be able to use that old app beyond January 2021, so if you're using Google Pay and plan to continue, you'll need to download the overhauled version to replace your old one.
Ready to get started with the new Google Pay? You can get it from  Google Play for Android or Apple's App Store right now.