Who couldn't use a little extra cash nowadays? Especially if you're a retiree on a budget. Finding a way to add to your cash-flow can be a challenge.
One way people have found to bring in some extra bucks recently is to drive for a ride-share company like Uber or Lyft. However, you might be disappointed to find out that it's not as lucrative as expected. Studies show the estimated average hourly wage is just over $15 and you have to cover all expenses to your vehicle. Yikes!
Now, if you're a little tech savvy, there are some great ways to make money online. Click here to learn 8 easy and safe ways to do so.
If none of those options sound right for you, there is a simpler way. Have you ever thought about renting out your home or a spare room? It might be easier and more profitable than you think.
That's why you need to know how some older Airbnb hosts are making a pretty penny sharing their extra space.
There are some impressive Airbnb success stories
One great Airbnb success story is that of Evan Kimbrell. He's made so much money from renting out his place that he was able to retire from his 9-to-5 job. Kimbrell even started an online course dubbed "Hacking Airbnb" to help others learn how to profit from renting their place out.
He told his story a couple years ago to an online publication. At that time, Kimbrell was averaging nearly $9,500 per month from renting his San Francisco home on Airbnb. He made a little more than $11,000 during his best month and about $6,000 on his worst month.
Kimbrell claims that if you take his course, you'll learn how to turn your spare room into a rental income of up to $250 per night, how to price your listing in a way that gets bookings without reviews, turn your entire place into a rental income of up to $600 per night, and more.
Another success story is that of Dan Brower from Miami. He began renting a spare room in his home a few years ago and now averages bringing in around $7,000 per month.
Sometimes he will rent his entire home while he's on vacation himself and earns even more money. That's right, Brower basically gets paid to spend a month in Paris.
There are tons of Airbnb success stories like these out there. Once you've done some research, you too can start bringing in extra cash all from the comfort of home.
Retirees are making huge money on Airbnb
According to AARP, adults 60 and older are the fastest-growing demographic of Airbnb hosts and are making tons of money doing it. Nearly 16 percent of all Airbnb hosts are older adults and in 2016 alone, earned almost $750 million. Impressive!
Last year, those 60 and older individuals earned $5.5 million as Airbnb hosts in Washington, D.C. That's a 50 percent increase from the previous year. The average earnings in the age bracket and location is $10,600 per year.
In Boston, older adults earned $5.3 million in 2016, which is a 94 percent increase from 2015. The typical host here earned an average of $13,400.
A typical senior-hosted listing in San Diego is booked for about 41 days per year. There, the host earns an average of $11,256 per year. All of these statistics are fantastic and it's happening all over the country, and not just big cities but rural areas too.
An Airbnb rep said, "By home sharing, seniors can age in place without facing economic strains, or can simply take home some supplemental income that can be applied toward living expenses or home modifications that make aging at home safer and more comfortable."
They added, "Older Americans aren't just embracing home sharing for the economic potential, but as a way to maintain social connections as they age. As a result, they are some of Airbnb's most energetic, enthusiastic and welcoming hosts.
"The outstanding hosting by older adults on Airbnb means that not only are older Americans benefiting from participating as hosts because of the supplemental income, but also the overall Airbnb community is benefiting from their participation due to the high-quality listings they offer."
How does it work?
One of the easiest side hustles these days is to rent out a spare room in your home. You might not believe how much money you can actually make by doing this.
The best place to bring in revenue from renting your home is Airbnb. Start by downloading the free Airbnb app.
It's also a great way to find cheap places to stay when you're on vacation. When you're traveling, instead of paying top dollar for a fine hotel, find a reasonably priced rental through Airbnb.
Through the Airbnb app, you're able to find travel adventures and new places to go far away or near to you, and access vacation home rentals, new experiences, and places to visit all around the world. Book everything for your trip, or start earning money as a host.
Here are some of the app's features:
For hosts:
Share your extra space or host experiences that showcase what makes your city great.
Update your listing and calendar availability.
Share what's special about your neighborhood with a host guidebook.
Message guests and manage their reservations.
The Airbnb app is free to download and available for both iOS and Android. Click here to learn more about the app and download it.
Check out these amazing Airbnb listings
A key to being a successful Airbnb host is having spectacular pictures of your rental and an eye popping description. It's all about marketing your dwelling to its fullest potential.
There's a good chance that you live in what most would consider a traditional home. However, there are some pretty awesome rental properties available around the world on Airbnb that you could rent on your next excursion. Check these listings out.
Stunning all bamboo house on Pristine Valley edge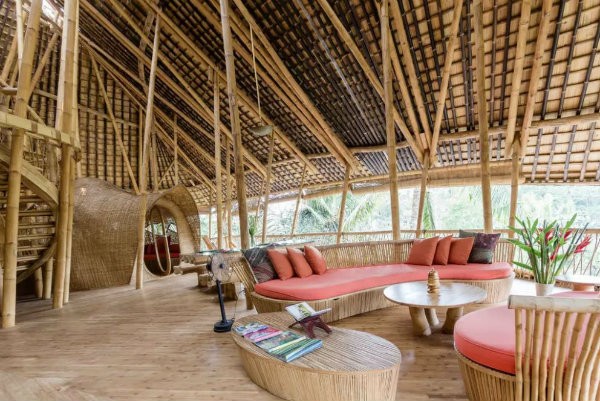 Here is one of Airbnb's top picks. This Sunrise house has been delighting guests and celebrities from all over. In a tranquil setting, often with a gentle breeze, guests are soothed into sitting back, relaxing and marveling.
It's located in Abiansemal, Bali, Indonesia. The rent is $335 per night and hosts up to 8 guests. It features a hot tub, kitchen, Wi-Fi, breakfast and free parking on the premises.
Mushroom Dome Cabin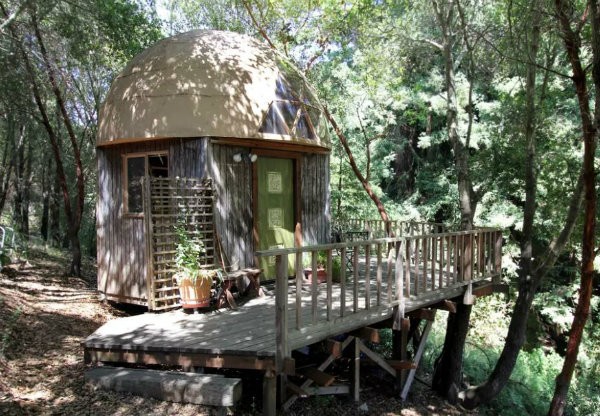 With a geodesic dome loft and a large deck in the trees, you'll feel like you're in a tree house in the woods. It's a quiet yet convenient location, shaded by Oak and Madrone trees and next to a Redwood grove. You're able to enjoy everything the outdoors have to offer, right from its glorious deck.
The rental costs $130 per night and hosts up to three guests. This cool property is located in Aptos, CA.
World Famous Seashell House
The world famous Seashell house is a gated property, the owners/architects live next door. You will have a private pool, two king beds, kitchenette and BBQ. Both shells include Wi-Fi and air conditioning. The residential area is on a cliff side of the tiny island to allow privacy.
This amazing piece of architecture is located in Isla Mujeres, Mexico. It rents for $308 per night.
You probably don't own a Seashell house, but wherever you live there's opportunity to make some extra money. Now that you know how Airbnb works, give it a try and supplement your income the easy way.
Speaking of money, here are some tech-savvy ways to save on your household budget
Have you noticed how much everyday expenses have risen over the past few years? It's not just big-ticket items that are emptying our pockets either. Don't look now but gas prices are on the way up. And you know what that means. It won't be long before groceries, clothing, and other essential items see a hike in costs. With all that, it can be difficult just to have some extra coins in your pocket after paying the monthly expenses.
Click here to see how tech can help you save a few bucks here and there.