While it's true that shopping online is a terrific exposure to lots of money savings sites, if not done right, the process can be hectic. After all, there are deals out there, but how can you find them?
Going through website after website searching for the best deal can be time-consuming and tiresome.
We're going to tell you about five browser extensions that can help you save time and get the best price possible every time you shop.
1. Honey

The Honey app saves your time and money by aggregating the best available coupons for you at different retail online stores. This plug-in is equipped with interesting features such as the Droplist, a price notification tool, which notifies you when prices fall. You can even set up your desired price range and get notified when the prices drop that level.
The other feature that may like is the Honey Price Tracker, which tells you when the price of an item last changed. It also gives you a graph of the product's price changes over time.
The app also has an icon that notifies you when it finds deals you would like on online stores of your choice. All you have to do is click the icon, and you can access the deals. This extension is supported by Chrome, Firefox, Safari and Opera browsers.
2. Amazon Assistant
Amazon Assistant is Amazon's official browser extension that makes your shopping experience on the website fulfilling. It not only compares product prices on the website but also notifies you about deals and discounts available through push notifications.
Amazon Assistant has an amazing feature called the Universal Wish List that allows you to save items from any website – not just Amazon – to look at them at a later time. This way, you cut down on both time and money when it comes to your shopping experience.
This plug-in also comes in handy in connecting you to AmazonSmile, a program that enables you to donate some of your purchases to different charities at no extra cost. Amazon Assistant is accessible through Chrome, FireFox, Safari, and Opera.
3. Invisible Hand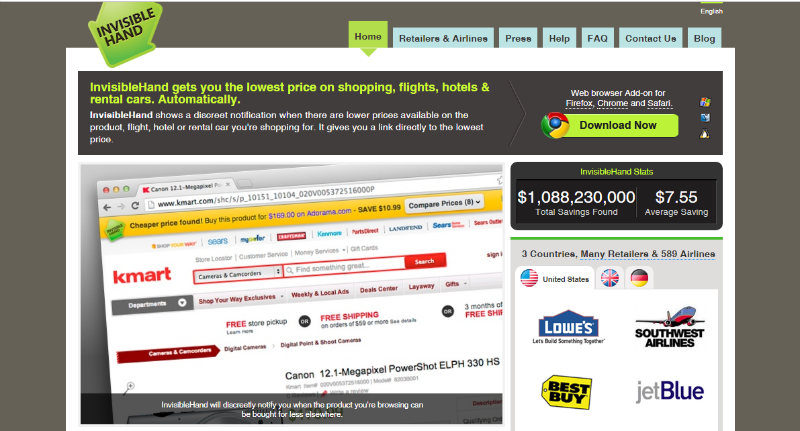 Just as the name suggests, Invisible Hand is a browser extension that works in the shadows, like ninjas. It stays invisible as it tracks down the best prices for items, car rentals and flights while you shop online until it finds you a deal. The good news is that this happens instantaneously as you shop, thus offering you a smooth shopping experience.
Invisible Hand suggests active coupons you may consider and compares prices across various websites just to get you the best available deals. For instance, if you are looking for a specific printer ink, the plug-in will show you online stores where you can get it at a lower price. It is accessible through Chrome, Firefox, and Safari.
4. Price Alarm
Sometimes, all you need to find the best deal for an item is a price alarm. Price Alarm tracks down the best prices for items on Amazon and eBay, which helps you access the best deals quickly and easily.
How things work here is simple. First, find the item you would like to purchase, next, click on the Price Alarm button and set your preferred price for the item you want. Once the product reaches your threshold, you get notified through an email or tweet. Price Alarm is accessible through Chrome and Firefox.
5. Price Blink
Price Blink is another coupon/price comparison app. It searches the internet to bring you the best coupons. It also allows you to compare prices across a plethora of websites, and even read customers reviews to help you make better shopping decisions.
Using this extension, you can also create a wish list for items you intend or hope to buy in the future, check on shopping costs and possible sales tax so that you know how much you are likely to spend well in advance before you make the purchase. Price Blink is accessible through Chrome, Firefox, and Safari.
As you can see, browser extensions such as the ones mentioned above go a long way in enhancing your online shopping experience. They take advantages of online coupons and search through a plethora of online retailers to offer you the best deals. The best part: most of them are absolutely free!