People always call the show and ask, "How do I make money with online surveys?" I tell them two things: First, you'll probably earn gift cards instead of actual cash, and second, those gift cards could be worth $50 with the right sites.
Notice how I said "the right sites." Look up survey sites and you'll inevitably see lists with Swagbucks or Survey Junkie at the top. But if we're being realistic, even a diehard user of Survey Junkie will likely only make $40 a month. It's not much — but there are sites that will give you $50 for a single survey.
Expert tips for earning money through online surveys
Your background impacts how much money you'll make. Sites that give out big gift cards care about your experience. They'll want to know what you do for a living and what you're an expert at.
Others care about your position in life. If you're a small business owner, what challenges are you facing? Are you really into fitness? Are you taking these essential security steps?
The best sites that pay you to take surveys require some effort. You can't immediately sign up for an account and take a million surveys. You have to apply and wait to be approved. But the effort is worth it since they pay much better than InboxDollars, Swagbucks, MyPoints or Survey Junkie.
Does LinkedIn pay for surveys?
Okay, so you can't take surveys directly through LinkedIn. But you can connect your LinkedIn account to third-party survey websites like The Expert Cafe, which focuses on marketing research.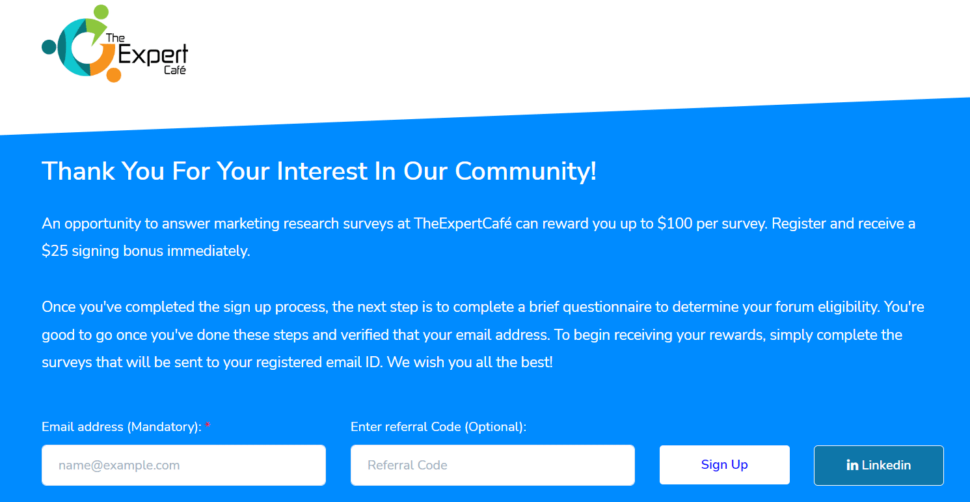 Get this: You can earn up to $100 per survey. After you register, you must fill out a short questionnaire to see if you're eligible. Once you've verified your address, The Expert Cafe will email you about available surveys.
Another site worth checking out is User Interviews, a platform that connects companies with market research participants. You'll earn anywhere from $5 to $200 an hour on this site.
But don't think you could just sit down and answer a few questions. It requires more of a time commitment since these are in place of in-person focus groups. You may have to sit in front of your computer, turn on your webcam and participate in a group discussion.
RELATED: Five fun and off-the-wall ways to make money online
How to make money with these online surveys
Sign in and scroll through the available studies that match your interests and demographics. Fill out a questionnaire to see if you qualify. If you're selected, you have the option to join a research session in a few different ways, including the following:
Completing written surveys online.
Talking over the phone and being interviewed.
Testing products or services.
Here's what some of the surveys may look like: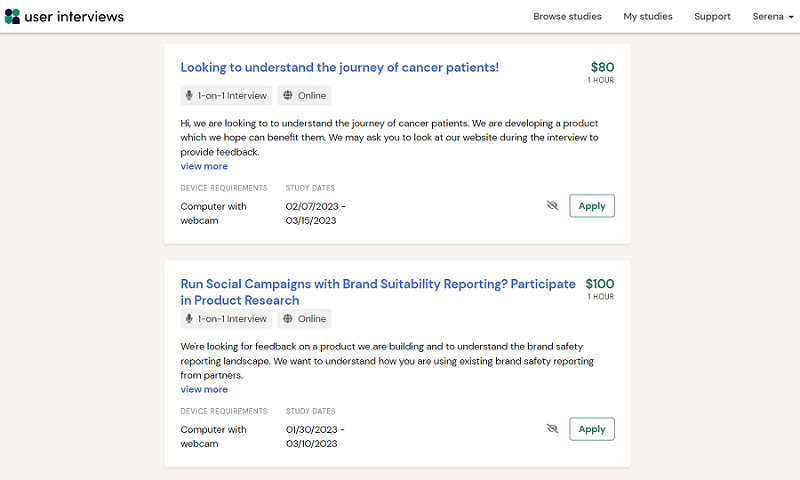 Business owners can make $500 an hour with Respondent.io
Bookmark this popular survey site, which does consumer research studies, too. Although the average is $100/hr, your expertise bumps up the money.
Get this: If you're a higher-level executive in a company, you can even make $700 per hour. (I told Barry about this when Allie discussed it on my Kim Komando Today podcast.)
Fill out surveys on this site and you'll make quite a bit of money. Yes, they often pay out in gift cards, but sometimes you'll get a VISA or an Amazon gift card. They're just as good as cash, so check it out!
BONUS: Do you own a business in need of employees?
Small businesses have unique needs, and having the right people on your team is more important than ever. That's why I trust my sponsor LinkedIn Jobs to help. LinkedIn Jobs matches your open role with qualified candidates and puts your post in front of members daily, so you hire the right person faster.
Find the perfect fit for your business with LinkedIn Jobs. And, for a limited time, post a job for free — just visit LinkedIn.com/kim to get started today!