If you have $99 to spare, one of the best deals on the internet is Amazon Prime. The benefits you can reap with an annual subscription are beyond comparison, and you earn them the second you sign up.
It's no surprise that Amazon Prime has attracted so many subscribers. It's estimated that there are nearly 90 million Amazon Prime members in the U.S. That's impressive!
There are so many benefits; it's a safe bet that subscribers don't know them all. Aside from free two-day shipping and movies, did you know that free books and free photo storage are also part of the deal?
Bonus tip: Everything you get with an Amazon Prime membership.
As we said, free two-day shipping comes with each Amazon Prime purchase. But what happens if the delivery doesn't make it on time?
If that happens to you, there's a little-known trick that can be super beneficial.
What if your Amazon Prime delivery is late?
If your Amazon Prime delivery doesn't make it to you on time, there's a good chance that the company will extend your membership by a month. It's a great move by customer service to keep its subscribers happy.
All that you need to do is contact Amazon's customer service. You can either call 888-280-4331 or click here to contact Amazon through its website. When you choose to go through the website there are a few simple steps.
First, under the Contact Us header, you'll see, "What can we help you with?" Click on the "An order I placed" tab.
The second step is, "Tell us more about your issue." You'll see two drop-down boxes. In the first, select "Where's my stuff?" In the second, select "Shipment is late."

The final step is, "How would you like to contact us?" Select email, phone or chat.
If you're lucky, the end result will be this response: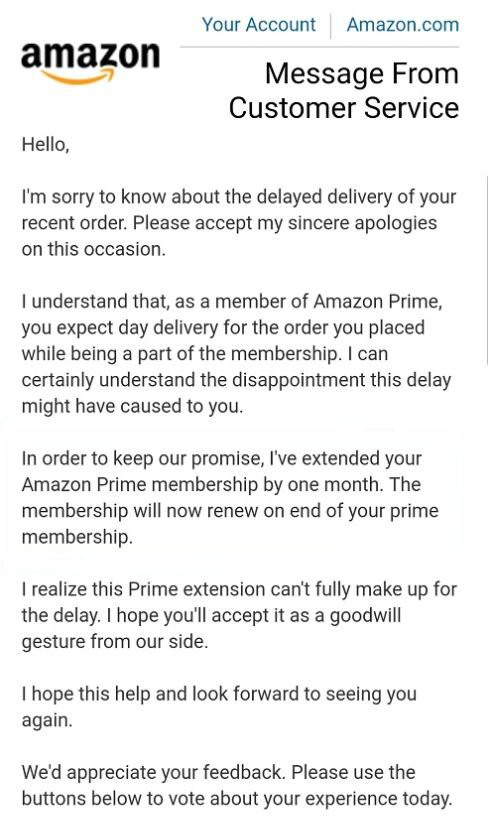 Just like that, you've received an additional month of your Amazon Prime subscription at no charge. Not too shabby for a quick contact with customer service.
Keep in mind, there's no guarantee that Amazon will offer this for every late delivery. However, what do you have to lose? It only takes a few minutes of your time and it's totally worth it for a free month of service.
Want to save even more money? Here's how to get cash back without even trying when buying gifts this year
Cashback. Those two words should be music to your ears. You're going to shop anyway, so you might as well be rewarded for it. Saving money doesn't have to involve a fiesta of coupon-clipping or rebate-searching. There are some super simple ways to get cash back that require little to no effort on your part.
Click here for the three best places to get money-saving promo codes online.