Free samples are fun. You get to test out products you might not otherwise try. Maybe you find a new favorite shampoo.
Maybe you discover that floral-smelling perfume is just not right for you. You don't have to head to a store to try out some free samples.
Amazon wants to hook you up in the comfort of your own home.
A world of samples
Amazon's Sample Box program is an intriguing idea. You can choose from among a dozen different options, including luxury beauty items, cat food samples, dog treats, skin care, nutrition, and men's grooming supplies. The product page for each box gives you a good idea of what will be inside, but Amazon may substitute some of the products if necessary.
How it works
Each box comes with free shipping for Prime members, but there is a catch. You pay the price for the sample box up front, but you then get a credit to your account for a future purchase that is equal to what you just paid. The sample boxes are not returnable, so be sure you're interested in the contents before you order.
The credit is good toward select items. Amazon will send you instructions for redeeming your promotional credit a week after your box ships out. There's a limit of one promo credit per customer, so you can't just stock up on multiples of the same box. As long as you use the credit up, your samples work out to cost you nothing.
Learn how to score Amazon Prime perks at a discount.
What you get
Let's take a peek at what's inside some of the boxes.
Nutrition & wellness sample box
This sample box will run you $6.99 and contains eight or more samples from participating brands. Sizes and flavors may vary, but you can expect some nutrition bars, cookies, protein mixes and other items meant to improve your way of life. Purchase one of these boxes today before you forget by tapping or clicking here.
Dog food and treats sample box
This sampler is available with a focus on either wet or dry food and will run you $8.01. The wet food version typically comes with a couple cans of dog food, a selection of hard food, a dental care chewable, and small bags of treats. Thrill your four-legged friend by ordering one of these sample boxes today, simply tap or click here.
Luxury skin care sample box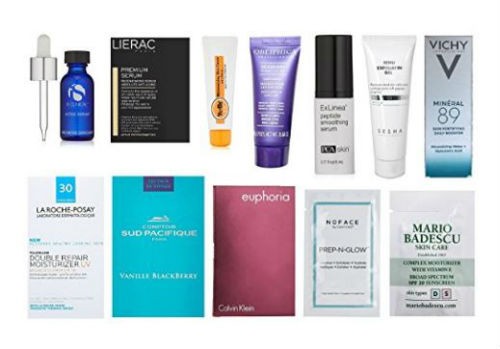 Looking to have some nice feeling skin? This box costs $19.99. You will get a promotional credit towards your next purchase of select luxury beauty products. Along with that, the box will contain 10 or more items, including cloths, sprays, skin cream, face moisturizer and other things that will benefit your skin. If interested, tap or click here.
Women's beauty sample box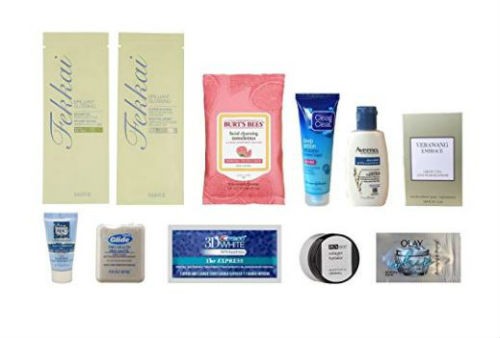 For a limited time, this box costs $9.99 and will let you receive an equivalent credit toward the purchase of select products shipped and sold from Amazon.com. The box itself will hold at least 10 items, including light face moisturizer, skin relief lotion, collagen hydrating cream and olive oil shampoo. If you want to snag this, tap or click here.
Find out how much you really spent on Amazon over the last year.
Beyond boxes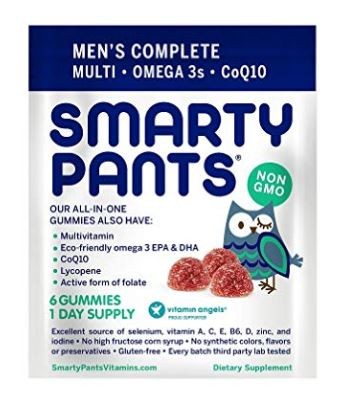 While the sample boxes are a great way to try a variety of products, you can also do some more focused sampling through Amazon. The retailer breaks its individual sample offerings out into categories, including personal care & household, beauty and grooming, baby, beverages and food, and sports nutrition. You will find everything from beauty products to vitamins and nutritional drinks.
Again, the single samples are for Prime members only, but they work just like the boxes do. You buy a sample and then receive a credit for a future purchase of select products within a category.
For example, you can order a $2 sample of Smarty Pants vitamin gummies. You then get a $2 promo credit toward certain items sold in Amazon's laundry category. Don't wait too long, though. The credit expires 180 days after your sample ships. As with the boxes, you only get one credit per sample so you can't just stock up on single-use products for free.
To see what kind of individual samples Amazon has for its Prime members, tap or click here.
The samples system can work well for people who rely on Amazon to stock their household supplies and kitchen pantry. Chances are good you will find a use for that promo credit and you'll get to test out some new products as a bonus.
Here's a quick recap of the program.