Imagine waking up in the middle of the night to the sound of fire alarms blaring. You quickly realize your home is on fire and rush your family out of the house safely. Then you realize you never took inventory of your belongings.
Take a moment to think about all the valuable things in your home. Have you written them down so you can remember everything you own and how much it is worth? If your answer's "No," scroll down for ways to create a free home inventory spreadsheet.
These can save you time, money, and heartache in the event of a disaster
A home inventory spreadsheet is a detailed list of all the items you own in your home. It helps keep track of your possessions and their value, which can be necessary for insurance purposes.
It can save your hide if a fire or flood destroys your belongings. Writing this detailed list beforehand makes the insurance claim process smoother and faster.
On top of that, creating a home inventory spreadsheet can help track your spending and budgeting. It is a clever way to avoid unnecessary purchases and save money. These three budgeting apps are other helpful tools at your fingertips.
You don't need expensive software to organize your belongings, though. You can download a free template online. Here are some top options.
Free home inventory spreadsheets
This template from Vertex42 includes everyday household items and locations you shouldn't overlook. (For example, there's an "Electronics" section for all your gadgets. There's also a separate column for spots like your garage, kitchen, family room and more.)
It's best to list each item separately with its price, serial number and model number to make it easier for insurance claims. You can download it for Excel or Google Sheets.
RELATED: These 10 bad habits are destroying your home appliances
If you want to create a personalized spreadsheet on Jotform, you're in luck. You can edit a home inventory template with color-coded areas and item types online. There's even a date of purchase column you can add.
Also, there's a section where you can add photos, pricing and warranty information. It's a perfect and colorful way to keep an eye on your important stuff.
You can even customize the spreadsheet by adding tabs or color-coding items. With just a glance, you can see which items are the oldest, most expensive or still under warranty.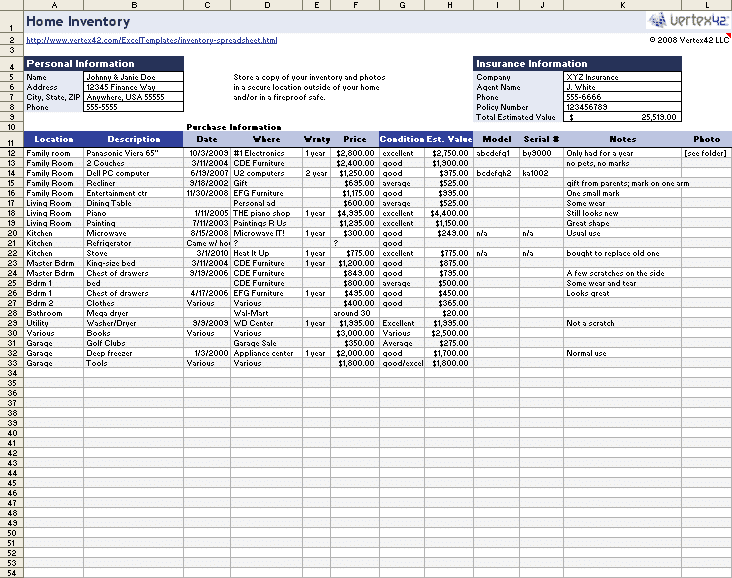 Get organized with Jotform today.
RELATED: How to remove private info from real estate sites
Taking inventory is also vital for business owners
Get ready to win the game of business with our sponsor NetSuite by Oracle. Upgrade from outdated finance software and spreadsheets to gain control and visibility of your financials, inventory, HR, planning, budgeting and more.
With NetSuite, you can streamline processes and stay ahead of the competition. Join over 32,000 businesses who have upgraded to NetSuite and increase your visibility and control by up to 93%.
Head to NetSuite.com/KIM for this special, one-of-a-kind financing offer on the No. 1 financial system for growing businesses.