You're always on the computer. You use your laptop at work and your kids use laptops at school and home.
You have letters to write, presentations to create and spreadsheets to keep track of your budget. Which means you're most likely using Microsoft Office.
You're not alone. More than 1.2 billion people use Microsoft Office.
You use it on your PC, Mac or laptop for Word documents, Excel spreadsheets, PowerPoint presentations, Outlook email, Visio for diagrams and Publisher for your newsletter. Office has been around for decades, and it continues to make you more productive.
Yet, it can be expensive.
Its online suite, Office 365 Personal, costs $69.99 a year, and Office 365 Home costs $99.99 a year. The Office Home & Student 2019 that you install onto your PC or Mac, which was released a couple of months ago, costs $149.99 for a one-time purchase.
Don't worry about those costs. We have a few tips to get Microsoft Office for free, and we're talking about the real Microsoft Office, not comparable services like LibreOffice that are also free and are pretty good substitutes.
Tip in a tip: Microsoft Office 2019 is NOT the version you want to buy
Free apps
Psst! You'll feel like you're cheating Microsoft out of money with the free website, Office Online.
You can use familiar apps like Word, Excel, PowerPoint, OneNote and Sway. Or if you're an IT pro, Docs.com.
You'll notice this compelling promise at the bottom of the Office Online page. "No install required. Choose your favorite app. It's free."
You start by clicking on an app like Word Online. It will prompt you to sign into your Microsoft account or to create an account.
This is great. You use Word Online and the other apps just like you would the traditional versions that you pay for.
There are some limitations in functionality, but you won't even notice them if you're an everyday user. Plus, you'll get templates on Word Online for things like birthday cards, flyers, reports, resumes, calendars and collaborative reports.
You'll see templates such as Personal monthly budget on Excel Online. You'll see templates for other apps like PowerPoint Online.
You can also click on the blank document to start fresh. You'll see a lot of the features you're accustomed to using, like font styles and size, spellcheck and line spacing.
It's easy to get started because each app is so similar to the ones you've been using for years. Plus, it's free, so there's no reason not to use it.
Free Office 365
Microsoft is best known for its software programs like Office that you used to buy at a store. You'd pick up the latest version for more than $100 and you'd have limited permission to download it to just a handful of PCs or laptops.
These days, Microsoft is pushing its online version, Office 365. It's more frequently updated than Office 2019 and you can access it from any internet-connected device.
In fact, Microsoft touted Office 365 as a better option than Office 2019 in its official Office 2019 release! They said, "Office 365 ProPlus, the cloud-connected version of Office, delivers the most productive and most secure Office experience—with the lowest total cost of ownership for deployment and management."
There are good reasons for you to invest in Office 365 Personal and Office 365 Home. Each version comes with Word, Excel, PowerPoint, Outlook, Publisher, Access, OneDrive and Skype.
They also come with more features than the Office Home & Student 2019 that costs $149.99 for one PC or Mac. Those perks include 1 TB of cloud storage on OneDrive plus access to customer service at no cost for the duration of your subscription. Customer service support ends after two months with Office 2019.
So, what does all this have to do with getting Office for free? You can give Office 365 Home a test run for a month.
Go to Products.Office.com/en-us/try. Scroll down to where it says Try 1-month free.
You'll have to input credit card information, so make sure you cancel it before your 30 days are up. Otherwise, you'll be charged the annual fee of $99.99.
Free student version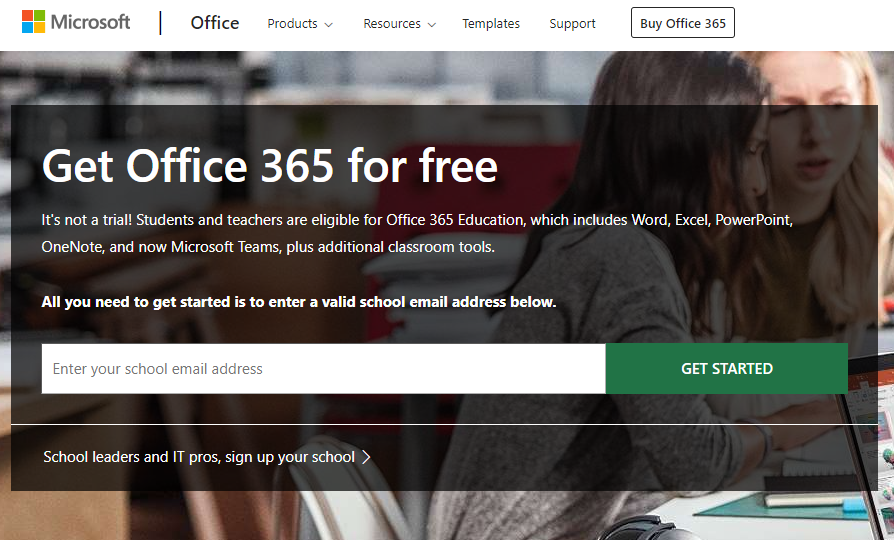 You can easily get a free version of the Office 365 Education edition with Word, Excel, PowerPoint and OneNote if you're a student or work at a school. You'll just need an email address from that school.
Do a quick search for Office 365 Education. Click on the site and then input your school email address to get your free version.
This isn't a trial. It's a free version of Office.
Free Evaluation Center
There's a free version of Office that's geared toward IT professionals, but anyone can use it. It's call the Evaluation Center.
You can test out Office apps like Office 365 ProPlus by signing up with your name, phone number and email address. But, be careful, the service is designed for a short-run test, so it will end in 30 days or 60 days.