There's never a wrong time to save some money, but it's been a crucial task during the pandemic. 
Gas prices are high, and every cent you can save on a gallon adds up by the end of the year. One way to save is to use the pumps at big-box stores like Costco and Sam's Club. A membership to shop and fuel up there isn't free, but it could offset some of your expenses at the pump. Tap or click here to learn more.
A "Kim Komando Show" listener called in with a question about EveryDollar, an app that helps users save money, set up financial goals, track expenses and more. Is it any good? Keep reading for the definitive answer.
Answering the call
Rich called in wondering about finance expert Dave Ramsey's budgeting app EveryDollar. He wanted to know if the app could deliver on its promises. "And what's the catch," he asked, "if it's free?"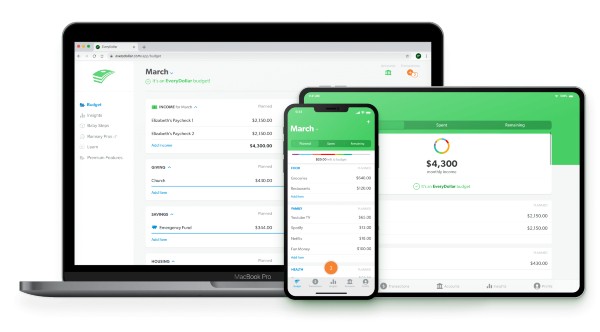 EveryDollar makes it easy to personalize your monthly budget by manually entering the numbers. Separate your expenses by category, set up savings funds and goals, set billing due dates to avoid late fees, track payments and more. This is all included in the free version of the app.
You can check on your budget anytime through your desktop or the mobile app. Here are some features you get with the free version:
Budgeting Made Easy
Create a monthly budget in just a few minutes.
Customize your budget in a way that makes sense for you.
Set up savings funds and goals for larger expenses.
Check your budget from anywhere through your desktop browser or the mobile app.
Expense Tracking
Add expenses on the go from anywhere.
Split receipts and expenses across multiple budget lines.
Set due dates for regular bills and expenses.
Check your remaining item balances at a glance.
Next, let's look at the various options for upgrading to Premium, which unlocks every feature the app has to offer.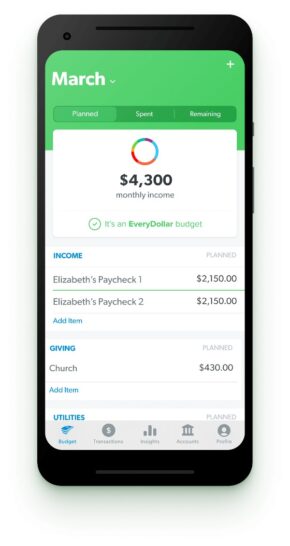 RELATED: Money tip: 7 apps that pay for your opinions and time
What you get for going Premium
The pro version of EveryDollar costs $9.99 for the month or $99.99 per year after a 14-day free trial. It comes with the following upgrades:
Connect to your bank for automatic transfers straight from your account.
Get custom reporting on income and spending habits.
Export your transactions and download them as a CSV file
Get automatic balance updates.
Get priority callback support.
Set due date reminders three days before a bill is due (iOS only).
You can also unlock the Premium version of EveryDollar as part of a subscription to Ramsey+. This service costs $59.99 for three months, $99.99 for six months or $129.99 for a year. This also includes a free 14-day trial.
In addition to unlocking the full potential of EveryDollar, Ramsey+ gets you full access to Dave's Financial Peace University, financial coaching, free tax filing software, audiobooks and bonus content.
Depending on your financial situation, Ramsey+ can save you money. The official website states that "The average EveryDollar user finds $332 in their first month's budget."
Try EveryDollar if you want to get a handle on your spending. You can try the premium version and cancel at any time. The EveryDollar app is available for iOS and Android.
The EveryDollar app is rated 4.8 out of 5 on Apple's App Store, and the reviews are glowing. It is easy to use and can help you stick to whatever your budget needs. We recommend giving it a try.
You may also like: Travel tech tip: How to pause cable and internet service while you're away