"Click here for a free trial!" Who hasn't seen these words pop up on their screen? Everyone has signed up for a free trial before, and we all know we need to provide our credit card information so if we like the service, we can just let the free trial lapse and we'll automatically subscribe.
Free trials can be anywhere from a few days to a few months, which gives you time to decide whether you want to keep the service. Not sure which streaming site is the best? Tap or click to view our streaming music comparison: Spotify vs Apple vs Pandora vs Amazon.
There's no question free trials are enjoyable. But once they're up, companies hope you'll forget to cancel so they can automatically charge you a monthly subscription. If only there was a way to prevent this from happening. Oh wait, there is!
Say Hello to DoNotPay
DoNotPay is an iOS app that helps you fight legal issues, including traffic tickets, find hidden money and sue anyone who owes you more than $500. It also offers a virtual credit card you can use to sign up for free trials.
Why use a virtual credit card? This way, you won't need to provide any personal information — not even your name. And when the free trial periods end, the charge to the fake credit card will be declined so you won't have to pay a cent.
What's the catch?
There's one caveat: You do have to divulge your bank or credit card info when you create a DoNotPay account. This will allow the app to automatically draw its $3 monthly service charge.
Although you must provide this info before you can access the app, you will not be charged until you actually use the virtual card generated just for you.
How to use DoNotPay
Once downloaded and installed, launch DoNotPay >> enter your phone number >> enter 2FA verification code >> Continue. Select to connect either your bank account or credit card to DoNotPay and follow the onscreen instructions. Tap the "Got it, I understand!" button.
Related: The biggest mistake people make when signing up for streaming services
Select the "Your free trial card" at the top of the screen. Next, create a temporary email address that can be associated with your virtual card. To do this, type in your authentic email address and click Generate Fake Email >> Activate Card.
Choose the service you want a free trial with or type in the name of the service in the search bar. Once finished, you will return to the Card Benefits screen.
The card information you receive is a one-time use for the site you selected in the previous step. Each site you get a free trial for will require its own fake credit card number.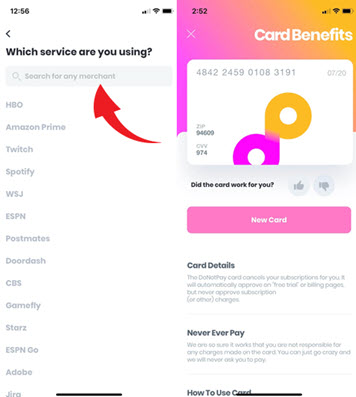 Go to the service you chose and enter your information into the free trial signup form. Hit subscribe and enjoy your free trial without worries of finding a charge on your real credit card or checking account just because you forgot to cancel.
Don't forget DoNotPay
If you want to use the DoNotPay app for additional free trial offers from other services, click New Card and select the new service. As before, the app will present you with a new virtual card to input in the free trial signup form.
While DoNotPay eliminates the need to remember every free trial you signed up for, the app itself is a subscription, so don't forget to cancel if you no longer want to utilize the app.
When you want to unsubscribe, you'll have to jump through a few hoops via its chatbot, but it's still a relatively easy process. Tap on the Account icon >> Help >> Manage my account in the Customer Support chat.
Next, tap Manage subscription and type "Cancel" in the text box. Select Cancel Subscription and choose one of the options provided. If you chose Cost too much, the app will attempt to lure you into staying by making you an offer of a lower subscription price. Tap Cancel Anyway >> Cancel Subscription.
No need to sign up for a free trial with Kim's newsletter subscriptions because they're all free! Tap or click to sign up for one of Kim's free newsletters.