There's nothing more important than the safety of a child.
With so many dangers out in the real world, it's extremely important to keep our loved ones safe at home. Today's technology can be a great resource in keeping kids safe.
One particularly helpful device is a nanny cam. These hidden cameras are designed to act as another set of eyes that let you keep tabs on what's happening at home while you're away.
That's why you need to know which are the best nanny cams available.
Let's start with important features that make a nanny cam great.
Video quality – Clarity, contrast and color are important factors when choosing a nanny cam. You really want to capture high-quality video.
User friendly – It's important that you select a gadget that is easy to set up and use.
Easily disguised – A nanny cam must be easily concealed to get the desired results. You don't want a potential perpetrator to know they're being watched.
Now we'll move on and tell you about some great options. You'll want to share this article with all of your friends and family who have kids and elderly parents.
AC Power Adapter Hidden Spy Camera
The SpygearGadgets 1080P Full HD AC Power Adapter/Wall Charger Hidden Spy Camera is a unique covert surveillance camera that allows you to monitor your home or business while you're away. Whether you need to keep an eye on the babysitter or nanny, or just general home security, the HC400 is the perfect camera.
Built into this fully functional wall charger is a mini pinhole HD camera lens that records spectacularly clear video. You can choose between motion activated or continuous recording mode. There's even a handy remote included.
Here are some product details:
1080P HD video 
Motion activated or continuous recording
Records to micro SD card
Simple to use – It is ready to go right out of the box. Just insert a memory card and plug it into a wall outlet (or extension cord) and use the remote to turn it on and select a recording mode
Lifetime warranty and unlimited lifetime tech support
This device ranges in price from $125 to $150, depending on where you find it. Click here to get full details and order from Amazon.
Clock Radio/HD Hidden Nanny Camera
This alarm clock/nanny cam by AES Spy Cameras is just the device you need for a covert camera on the go. It looks exactly like any other alarm clock, but it also contains a built-in camera.
You can place it anywhere and nobody will suspect it's anything but a clock. It supports up to 32GB Micros SD cards and offers full color, high-quality video and full motion detection.
Here are some product details:
720p HD 1280 x 720 resolution
16GB Micro SD card included – Supports up to 32GB Micro SD card
Motion detect recording – There is also a continuous recording option
Alarm clock features work
Easy to use – 100 percent plug-n-play, no setup required
This nanny cam costs around $150. Click here to get full details and order from Amazon.
Hidden Camera/Photo Frame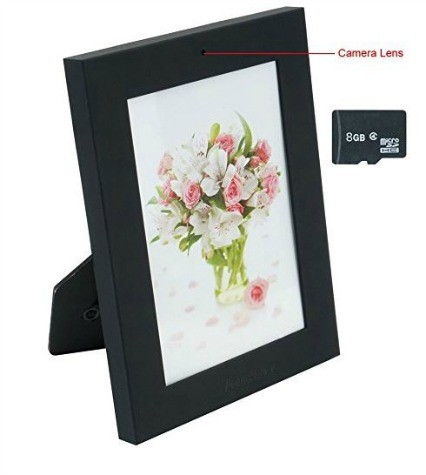 The Toughsty mini spy camera is disguised as a photo frame. It has a pinhole camera built-in that allows you to record video without anyone realizing it. It's also motion activated, which is perfect for home surveillance.
Here are some product details:
Video resolution – 1280 x 960
Motion detection recording
8GB Micro SD card included – Supports up to 32GB SD card
This hidden camera/photo frame costs around $40. Click here to get full details and order from Amazon.
Bonus tip: SimpliSafe Security Camera
Did you know that our sponsor SimpliSafe now offers security cameras for its home monitoring systems? Click here for all the details, it really is a great option.
One of the main reasons we love SimpliSafe is because it offers 24/7 professional monitoring without annual contracts. SimpliSafe has always offered sensors, on-the-go mobile control, SMS text and email alerts, power outage protection, smoke and fire protection, and more. But now, a product has been added to the SimpliSafe lineup that makes coverage even better: cameras!
Security cameras can now be added onto any SimpliSafe package for just $99. These cameras will help you keep an eye on your home whether you're away on a trip, or just out picking up groceries.
SimpliSafe's new cameras stream in glorious 720p HD video and work seamlessly with the rest of your system. Storage for the footage captured by the cameras is also not a problem. The cameras use what's called "Intelligent Recording," which means they only activate when the system detects activity.
Whenever your system is armed or disarmed, the camera will activate. It will also activate if someone triggers your alarm, so you can catch the intruder in the act. Night vision is also included, so your home is protected even when it's dark out.
You can also live stream the footage if you'd like. Otherwise, anything captured by the cameras will be stored for 30 days.
Because some people are concerned about installing a camera in their home due to personal privacy, SimpliSafe cameras offer "Extreme Privacy Control," which gives the user complete control over when the lens is open and closed.
Don't leave your home unattended! Click here to get smarter home protection, FREE shipping, plus a FREE keychain remote.
Please share this article with anyone you know who has kids, elderly parents or just want to keep their home secure.
More tips you can't miss:
Is your webcam open to peeping Toms?
Do this before giving an iPad to a kid