The deeper we get into summer, the more enticing that pool, lake or river will seem. After all, few things are as refreshing as a dip into the cool water during a sweltering hot day.
Yet as great as that may seem, the good times can be quickly be ruined by the realization that you forgot to take the phone out of your pocket or some other tech you have with you has also gone for a swim. Oops.
While many gadgets are not meant to get wet, plenty are. So if you plan on spending some time near or in the water this summer, you will want to check these out. That is, unless you want to leave your tech at home or worry about it all getting ruined.
Record your adventure
By now we've all probably heard of GoPro and at least have a rough idea of what they do. Essentially they are small cameras meant for those who spent plenty of time outdoors.
Small and durable, they can go pretty much anywhere you do. This one in particular comes in a rugged and waterproof design that houses a 1080p video camera and 8 MP photo camera.
If you have any outdoor adventures planned for the summer, this is a great way to make sure you remember it.
Read without fear of water
Maybe you want to be near the water but not actually go in. Instead you'd rather read, but know water will ruin a book and is not really all that good for a tablet.
The Kindle Oasis is for you. With a 7-inch high-resolution display, 8GB of storage, Wi-Fi capabilities, this waterproof tablet is perfect for someone who wants to get their reading done without any fear of water.
Keep your non-waterproof stuff dry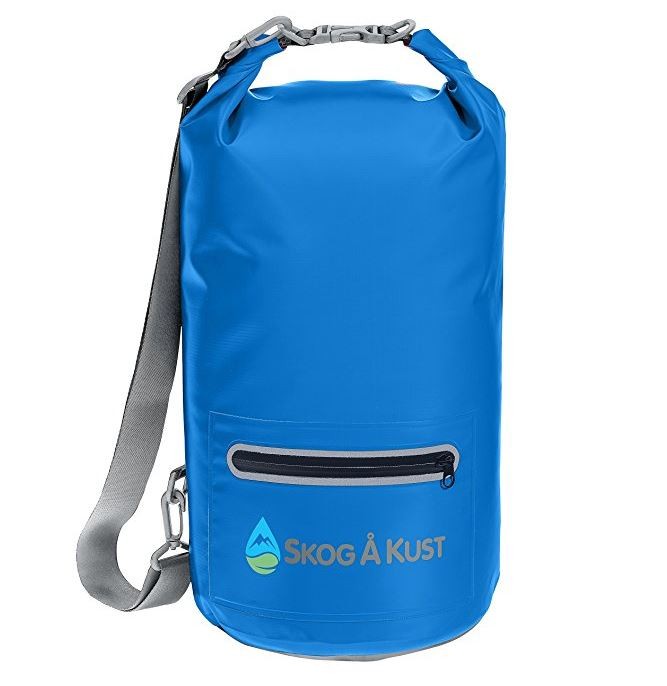 No matter how hard you try, it would be really difficult to make sure everything you have to take with you is waterproof. If you have a lot of stuff and you need to make sure it doesn't get wet, you'll need a waterproof bag to put them in.
Enter the DrySak Waterproof Dry Bag, which is made from heavy duty 500-denier PVC, which helps to seal out elements. It is watertight and will keep everything inside of it protected and dry. A big bag, it has a smaller splash-proof front pocket so you can have easy access to essentials while keeping them dry.
You can get it in nine different colors and in either 10 Liter or 20 Liter sizes.
Your tunes can come with you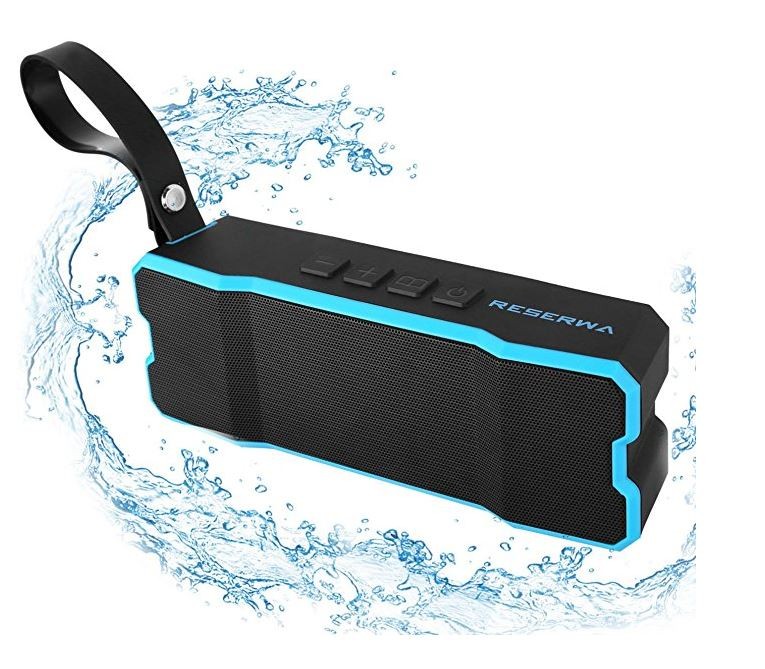 What is a party by the pool or the lake without music? Still a party, but significantly less fun.
With the Reserwa Bluetooth Speakers, you get 3-D stereo speakers inside a waterproof, dust-proof and shock-proof design. It has a built-in mic and Bluetooth range up to 33 feet, meaning your phone can be far away from the danger of water while you are rocking out.
Planning on exercising in the pool?
For people who want to get in shape or live a healthier lifestyle, fitness watches or bands are a great accessory. When it comes to runners or people who play sports, most of them work just fine.
But if you plan on getting your workout done in the pool, the Fitbit Flex 2 is the way to go. Why? Because unlike most other bands, it can be worn in the pool, ocean, shower, lake or wherever.
It's not just for water, of course. It will track steps like a normal FitBit, too.
Listen to your jams in the water
Waterproof speakers are great, but using them assumes everyone else around wants to listen to the same thing. If you have unique taste in music or are a swimmer, waterproof headphones may be the way to go.
A good option is the Swimbuds SPORT Waterproof Headphones. Designed romt he ground up, they offer great fit, comfort and a rugged design that will survive a dip or workout in the pool.
There are four different earbud styles to choose from, giving you the chance to find the right fit for whatever you are doing.
Bring your tunes with you into the water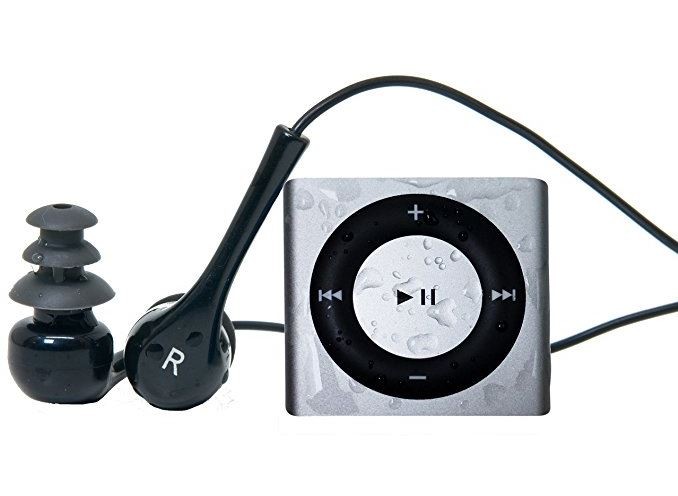 Unfortunately for as many devices as there are that can play music, not many could survive much time in the water.
There is, however, a waterproof iPod Shuffle. Well, it's actually an iPod Shuffle that is made to be waterproof. Corrosion-proof and depth tested, the iPod will be ready for the pool the second it arrives.
The iPod will hold hundreds of songs and has 15 hours of battery life.
Or, make sure your non-waterproof phone survives the water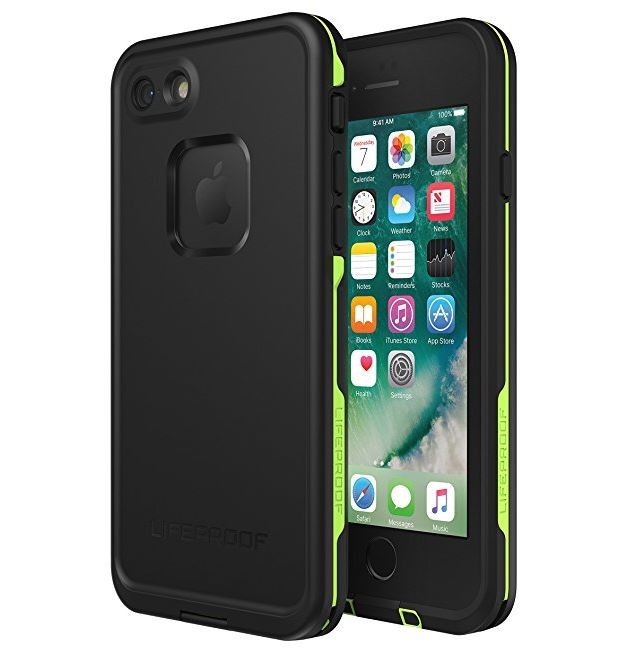 So many people have horror stories of their iPhones going for a swim and then taking a rice bath. Don't let yours go through a similar experience.
With a Lifeproof FRE Series Waterproof Case, your phone will be properly protected from the elements, including water and snow. It can be submerged up to nearly 7 m for one hour, and also protects from dirt and dust particles.
The cases come in different colors and for different phones, so make sure you find the one that works best for you.
Then again, some phones can handle the water
It's true that most phones are not meant for the water, but that doesn't mean all of them will succumb to a little H2O. In fact, the iPhone 8, iPhone 8 Plus and iPhone X are all water resistant, as are the Google Pixel 2 and Google Pixel 2 XL.
We're not going to tell you which of the phones to buy, but just know that if you need a phone but are often around water, you have some excellent options to choose from.
Planning on traveling by plane? Make sure your luggage comes out first
Waiting at baggage claim is no fun, but we never know when our bag will come out onto the carousel. Sometimes it is early, but other times it is late. Either way, the randomness is not enjoyable. It doesn't have to be random, though. Click here to learn about this genius trick that will let your bags come out first.