With class-action lawsuits, there can be so many people getting paid, it may not seem worth it to go in and get your share if the suit applies to you. How many times have you heard about people receiving settlement checks for $1.50?
The good news is that isn't always the case. Kim Komando recently received a class-action settlement check for over a thousand dollars. That's a nice chunk of change!
Even though not all class-action lawsuits will have that kind of payoff, they're worth checking out to see how much you could actually get.
Keep reading to see what class-action lawsuits are paying out now and how you can benefit from them.
Big settlements that are paying out now
Here's an image of Kim's settlement check: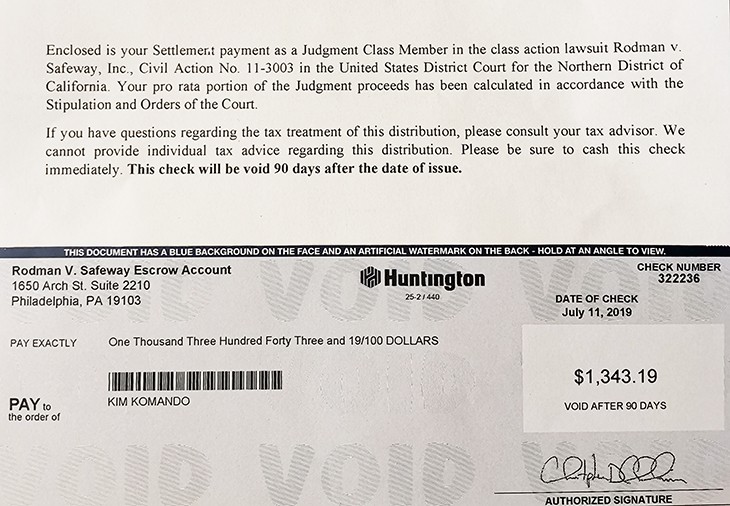 More class-action lawsuits paying out right now:
ARCO
If you've filled up at an ARCO gas station in Oregon in the past, you could be eligible for a check as part of a class-action lawsuit paying out right now. The suit was over the fact that customers paying for gas with debit cards were charged $0.35 more per fill when that wasn't advertised. That forced the company to pay out millions of dollars to ARCO gas station customers, netting them $91.94 this year.
Perhaps that's a low amount compared to Kim's payout, but the suit will be paying a second check next year that could net you $185 total. That's almost $200 for very little effort on your part, so contact Oregon Legal Aid, Oregon Consumer Justice, or the Scharfstein v. BP West Coast Products LLC website to see if you're owed some of the as-yet unclaimed funds.
Related: 4 best sites to find unclaimed funds
Seagram's Ginger Ale
Have you bought a Seagram's Ginger Ale since 2013? Coca-Cola might owe you some cash. Evidently, the soda giant advertised that Seagram's was made with "real ginger" when that wasn't the case.
People who submit claims should get up to $0.80 per unit of Seagram's Ginger Ale they purchased in the past 6 years, with payouts being larger if you can prove your purchases took place, but still netting you some amount even if you don't have every receipt (you just can't claim above a certain number of units without proof of purchase).
Submit your claim to the Seagram's Ginger Ale Settlement by September 5th, 2019 to get your portion of the payout and get that check in the mail just for enjoying some soda.
MyFord Touch or MyLincoln Touch
If you bought a Ford vehicle prior to 2013 that had MyFord Touch or MyLincoln Touch installed, you might be owed as much as $400. That's for your Touch device not responding to voice commands, providing inaccurate directions, not connecting with your mobile device, misreading the location of your vehicle, and/or for freezing or crashing and causing other parts of the car not to function.
Submit your claim to MyFord Touch Class-Action Settlement Website by September 24th, 2019 and to get your check.
As you can see, class-action lawsuits can be pretty specific, but that's what can make their payouts very high or very low. What you really need to do is make sure you know when lawsuits are paying out, so you don't lose out by not claiming money that is owed to you.
How to find class-action lawsuits you can benefit from
If you want to check out class-action lawsuits with open claims at any time, check out the Consumer Action Class Action Database.
This site lists class-action suits that are closed (ones that have awarded amounts to people and already paid out), pending (ones that are still in arbitration, letting you keep track of big ones that might be coming down the line), and ones that are currently open to claims (ones that are paying outright at this moment).
Related: 4 places you have to check for missing money
The open to claims page lists out open class-action suits and the deadlines you have to reach out to lawyers and law groups to get a check as part of the suit. To see the list, click the direct link here, or go to the Class-Action Database page and click the "Open To Claims" status.
The lawsuits will all be listed there, and they include the claim deadlines in big, underlined text. When you click on the claim deadline, you'll actually be navigated to where you input your information to get your check from the lawsuit, so the site makes it very easy to get the money you are owed.
After you've been through the current class-action suits, make sure you check back at other times to see when new ones pop up so you can keep getting checks. After all, one of them might be like Kim's and get you over $1,000!
And don't forget, class-action lawsuits are only some of the unclaimed money you may have lying around waiting for you. Check out our article on four places to look for your unclaimed money, and start seeing payouts from those places, as well as class-action lawsuits.
Little amounts from different places add up over time and who knows, you could be sitting on a big payout and just not know it!