As more products become available on Amazon, and thanks to Amazon Prime's free 2-day shipping, many consumers have made Amazon their primary shopping destination. With a couple of clicks and a brief glance at some reviews, you can select the precise item you're looking for and have it delivered right to your door in as little as one day.
But what happens after you click that final button and place your order? You wait.
In today's fast-paced lifestyle, we've become impatient. Despite how far technology has come, we have yet to replicate Star Trek's famous Transporter – the device that can instantly transport people and objects from one place to another.
In the meantime, there are ways to put our impatient minds at ease. A little reassurance can go a long way. Amazon's tracking features keep shoppers informed on where their delivery is, providing updates along the way.
If you can't have your order instantly, at least tracking its path can pass the time.
Desktop tracking
If you use Amazon on your desktop web browser, you can track packages through the Your Orders page by following these simple steps:
Click on Your Orders.
Click on the order you want to track.
Click Track Package
Please note that, while most packages on Amazon are easily trackable, there may be scenarios in which tracking is unavailable. Scroll down to read the No tracking information? section below for more details.
Mobile tracking
The Amazon mobile app makes it easier than ever to order the items you need and track them along the way. Even if you placed the order on a desktop or a different device, the app will provide you access to all orders on your account. Follow the steps below to track your package through the Amazon app:
On the Amazon iPhone/iPad App, tap More or from the Android Amazon App, tap the three horizontal bars in the upper left of the home screen.
Tap on Your Orders.
On the order you wish to track, tap View, change, or track order.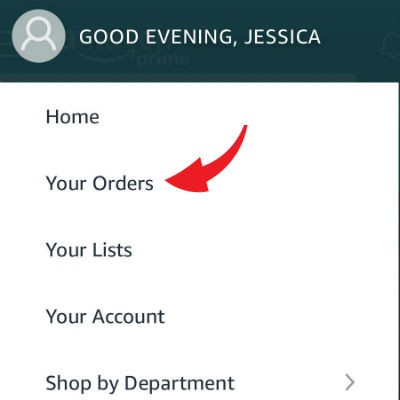 Amazon map tracking
Most major cities in the U.S. now support Amazon's map tracking feature. This new feature offers real-time tracking, an estimated delivery time, and view the number of stops along the way.
Only packages delivered by Amazon Logistics are eligible for this live tracking so if your package is arriving via FedEx, UPS or USPS, you won't be able to take advantage of the feature, at least not yet.
To access map tracking, you can follow the same process you would to track a non-eligible package. Additionally, Amazon App users can receive a push notification informing them that their package is close and that live tracking is now available. So, if you're expecting that important package to arrive "sometime today," you can now make sure you are there to receive it immediately upon arrival.
No tracking information?
Amazon orders are nearly always trackable, but there are some scenarios in which tracking information is not available.
Standard international shipments cannot be tracked and some marketplace sellers may not provide the package tracking information to Amazon. Occasionally, you may also be unable to track a package due to the package scan. Either the package may not be scanned until it is delivered or tracking may be delayed due to the first scan not being completed until the package arrives at a regional hub near the delivery location.
It's clear that Amazon is working toward a better consumer experience as it continues to roll out a variety of convenience-related features and increased visibility into package tracking. The Amazon Key program even provides Prime members in eligible locations to take advantage of in-home or in-car delivery of eligible Prime items.
So, if the Star Trek Transporter comes to fruition down the line, it's likely Amazon will be among the first to bring its benefits to consumers.