Amazon sells just about everything you can imagine, so understandably they have a pretty great return policy to accommodate its great variety of purchases and potential item defects. However, even the Internet giant has its limits, and some items just can't be returned.
Some of these non-returnable items are more surprising than others, so it's good to look over the list and avoid unpleasant surprises. Few things are more time-consuming or headache inducing than trying to return an item. If Amazon will accept the return, you can start by clicking here.
If it doesn't, this list has some suggestions of what to do when Amazon won't take an item. Read on for these suggestions, and to know what items Amazon won't accept as returns when you're done shopping.
1. Items classified as hazardous materials or use flammable liquids or gases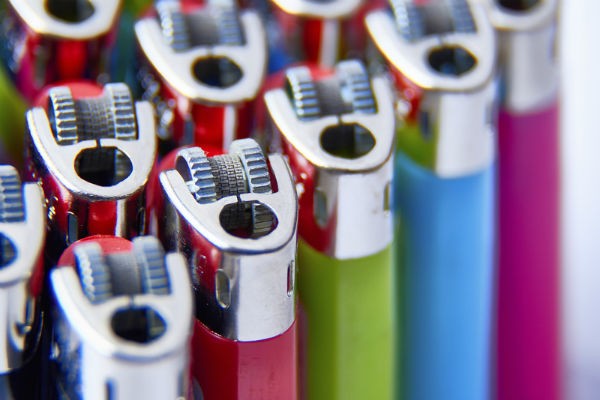 While you can definitely get lighters and camp stoves on Amazon, you can't return them if you're not planning to use them. Shipping these items can be pretty hazardous, and if these items are damaged in any way, on their way to you or on their way back to the warehouse, they can't be safely sold again either.
If you really need a return or refund on an item of this nature, contact the manufacturer directly for service, warranty, return and refund information. They can help you out, while Amazon can't.
Bonus: Amazon extends free holiday shipping offer to cheers of procrastinators everywhere
2. Any product missing the serial number or UPC
Returning a duplicate or damaged item to Amazon is fairly easy, just make sure the serial number or Universal Product Code (also known as UPC; the barcode on an item, or its packaging) is somewhere on what you're returning. If you don't have that number, or the UPC, to verify what the item is, Amazon unfortunately can't accept it. So hang on to packaging, and make sure electronics have serial numbers when you receive them!
3. Downloadable products
It's pretty hard to return an item you download straight to your computer. In fact, it's impossible. So if you buy software, video, or music from Amazon as direct downloads, you can't return them, or necessarily get a refund on them either. That's why Amazon asks for your confirmation before you commit to the download.
Really decide if a purchase is worth it before you make that download, then; you'll be happier to have saved money beforehand, than to definitely not get it back after.
Bonus: Download free Christmas music from Amazon
4. Online subscriptions after they have been accessed
If you sign up for a subscription service through Amazon, you can cancel at any time, and often get unspent money you've put down for a subscription back—in other words, get refunded for months you don't use. However, for months of a subscription you've used, or for subscription boxes or Subscribe & Save products you've opened, returns and refunds are not possible. It's a policy that prevents people from returning open subscription boxes just because they don't like the contents.
So to truly return a subscription, you can't use it at all. Otherwise, you might get some money back, but not all, and you'll have to keep the products you got in the process.
5. Gift cards
Gift cards to Amazon, or bought on Amazon, are generally nonrefundable, and non-returnable as items. There are laws in some states and countries that can make these returns possible; you can check out the laws for your state by clicking here. But on the whole, gift cards can't go back to Amazon, or be exchanged or refunded. Therefore, make sure you're getting the right gift card for yourself or someone else when you make the purchase. If you really want a refund, try going to the gift card manufacturer for help.
Bonus: How to get free Amazon gift cards
6. Prepaid game cards (World of Warcraft, Xbox Live, Wii Points, etc.)
Much like with gift cards, prepaid game cards you get on Amazon can't be returned or refunded by Amazon. Amazon can't verify that codes on the purchased cards haven't been shared, after all, so reselling the cards after purchase really isn't an option for the company.
The people to contact if a prepaid game card is having problems or isn't wanted are the people who made the game or console the card goes to. Their customer service team could verify that a code isn't used, and actually issue you a return and refund. Amazon just can't.
7. Pay As You Go (or prepaid) phone cards
Unfortunately, money you've spent on Pay As You Go or prepaid phone cards stays on the card, and that card can't be returned for anything of equal value. Once you buy a phone card, it's yours, until you use up all the minutes.
If you have some issues with a phone card purchase, and a return or refund is necessary, try contacting the phone card carrier, or a local authorize dealer, directly. They might be able to help you out since Amazon can't.
8. Some jewelry orders
Most jewelry purchased on Amazon can be returned right to Amazon, often for free. However, if a jewelry item has been resized, damaged, or altered in some way, or if it's returned without its original documentation, Amazon won't accept the return. So hang on to everything from the box, and be sure you really like something before you do anything to change it; otherwise, you might jeopardize a future return.
Bonus: Jewelry website was hacked, leaked shoppers' information
9. Some health and personal care items
Unopened health and personal care items are usually safe to return to Amazon, but within that, the items have to have seals intact. Any item with a damaged seal, or that's been used in any amount, can no longer be returned to Amazon.
Importantly, though, like most non-returnable items, you can possibly still get a refund on these products, so it's worth reaching out to Amazon for that. From there, you can dispose of your opened and/or used health and personal care items.
10. Grocery products
Food you buy on Amazon, including AmazonFresh and Prime Pantry products, can't be returned to Amazon, even if it's unopened. A lot of food might not survive multiple trips back and forth, after all, particularly if it's perishable and has a short shelf life. And it's also hard to guarantee a product will return to Amazon in a resellable condition.
If a grocery item spills or spoils on its way to you, it's possible to get a refund from Amazon for it. You just can't give the item back to the company. Need a place to send food you just don't want though? Check out the policies on your local food pantries and homeless shelters, and see if they can accept what you have.
Bonus: Amazon opens a game-changing grocery store
11. Fresh flowers and live indoor plants
Shipping live plants to certain regions can actually be illegal, so Amazon just doesn't put itself at risk, and doesn't accept them as returns. They may be refundable though, so just reach out to Amazon to see about that.
Need to ditch the plants though? Try talking to your local community garden, or your plant-enthusiast friends, they might take them off your hands. As for fresh flowers, give them to a loved one, a co-worker, someone you know that's under the weather — someone will be happy to have them, just not Amazon!
12. Open software
Like with the prepaid game cards, the issue with opened software products is the codes within it, which verify that the software was purchased in a legal way, could have been compromised. Since Amazon can't resell a potentially unusable product, they can't accept it as a return.
If you have issues with your opened software though, you can contact the manufacturer for assistance getting it working.
13. Items with special shipping restrictions imposed by the U.S. Department of Transportation
Shipping is always the most hazardous part of online shopping, and Amazon tries to make it easier with Prime 2-day shipping, and listing shipping difficulties on its product detail pages. Within these product detail pages, Amazon will list if there are shipping restrictions on items from the U.S. Department of Transportation.
For these items, because shipping is restricted, it just won't be possible to return through Amazon. Contact the manufacturer for help with returns, if you need to make one.
Bonus: Amazon vs. Best Buy vs. Target vs. Walmart: Which has the best shipping?
14. Live insects
Remember how shipping plants can get a little dicey to some regions? Same thing with live insects, which, also like plants, could escape in transport and damage an environment. They could also just get damaged themselves, and given insects relatively short lives, it might not be possible to resell them. So I'm afraid you're stuck with ants you get for an ant farm on Amazon, although it's very likely they're refundable.
If you really don't want the insects, though, so long as they exist naturally in your region, you might just be able to put them outside. Check the internet, and with your local parks service, to verify.
15. Items from third-party sellers
Amazon is peppered with third-party sellers that use Amazon as a storefront. For items purchased from these sellers, you cannot return straight to Amazon. You must contact the third-party seller, and coordinate returns through them. Most third-party sellers are eager to have good Amazon reviews, so they'll likely do a lot to help you out.
Bonus: How Amazon and Kirkland batteries stand up against the competition