Can you put a price on love? Well, for Americans it's almost $70 billion.
We're talking about our love of pets. According to a survey by the American Pet Products Association, U.S. pet owners spent $69.51 billion on pet products in 2017.
If you're eager to buy some tech gadgets for your dog Rover or your cat Fluffy, we have you covered. Here are 10 gadgets we found that can keep your pets entertained, well behaved and always in sight.
With your Furbo Dog Camera, you can livestream video to your phone so you can monitor your pet whenever you're not at home. This is great for indoor pets.
With two-way audio, Furbo's barking sensor will send barking push notifications to your smartphone when it detects barking. Using your phone you can talk to your dog to calm them down and stop the barking.
And if Fido is being a good boy, the Furbo will toss him a treat. Just fill the Furbo with your dogs' favorite treats via the free Furbo app for iOS and Android.

It's not like you want to create a surveillance state for your dog, but let's face it, indoor pets can do quite a bit of damage when they're home alone. Petcube Play 2 Smart Pet Camera has a built-in Alexa that is triggered by sound and motion and you can check through your smartphone to see what your pet is up to.
Two-way audio allows you to hear and speak to your pet from your phone. You can say hello and let them know you love them or tell them to knock it off if they are up to no good.
The Petcube Play 2 also has a built-in interactive pet-safe laser toy that can be controlled by your phone. On your phone, touch the spot in your room or swipe across the screen and the laser will follow your finger in real-time. It's a great way to get your pet exercising.
I love my cat, but whenever I have a flashlight or a laser pointer in my hand I just can't help watching her running around trying to catch the light. Obviously, I'm not the only one who likes to do this because that's exactly what the PetSafe Zoom rotating laser cat toy does.
It uses two lasers that rotate 360 degrees so multiple cats can chase the lights. The Zoom operates with minimal electronic sounds so even the timidest of cats can enjoy chasing the laser lights.
Powered by three AAA batteries all you have to do is press the on/off button. The Zoom automatically shuts off after 15 minutes so your cats don't get over-stimulated.
If your dog loves to play fetch but you're not at home or you just don't want to play along, the iFetch Interactive Ball Launcher lets your dog play fetch to their hearts' content. The iFetch comes in sizes to suit large and small dogs.
Once tennis balls are placed into the top of the iFetch, the product throws the ball 10, 25 or 40 feet. The iFetch for large dogs uses standard-size tennis balls while the model for smaller dogs uses smaller tennis balls for tiny mouths.
You will have to set aside some time to train your dog to drop the ball back into the iFetch so they can keep the fun going.
If your dog is a barker that is annoying neighbors, the HoomDirect Anti Barking Device may be just what you need. The anti-barking device has three range levels of ultrasonic sound to disrupt barking.
The ultrasonic frequency is not harmful to pets and is completely inaudible to humans. It's a great training tool for your dog or even your neighbor's noisy dog.
The device is designed like a birdhouse and you can hang or mount it on a tree, wall or fence post. You should be aware that the effectiveness of this device depends on your dog's age, hearing ability and temperament.
One of my dogs gets anxious when he hears thunder, firecrackers and the like. My other dog tends to get aggressive and protective.
Believe it or not, there is actually a New Agey product to soothe their nerves. The Agon CozyVest includes a music player, lavender and chamomile essential oil crystals and is adjustable so it can provide the right pressure for your dog.
Along with calming your dog when there are loud sounds, the vest helps with separation anxiety, travel, vet visits and more. It's also good for preventing nonstop barking, aggression, and fighting.
No training or medication is needed. Just put the vest on your pup. It's also considered great for rescue dogs.
How many of us have left the TV or radio on to comfort your pets at home when we're away? Try the iCalmDog speaker that comes pre-loaded with four hours of special music.
It's BioAcoustically re-arranged music that can help relieve canine anxiety by creating a warm and safe-feeling home. The music auto-repeats for continuous play.
Most of us don't let our dogs wander around the neighborhood. It's dangerous and you're just asking for animal control to give Rover some time behind bars.
But, let's face it. If a dog really wants to get out, she'll find a way — as my chewed up wooden fence can attest. That's where the Whistle 3 / GPS Pet Tracker & Activity Monitor comes very much in handy.
Whistle can pinpoint your pet's location with its SMART GPS activity tracker anywhere that AT&T 3G cellular service is available. You even get text or email notifications letting you know your dog left the yard.
The tracker attaches to any harness or collar and can be used on pets that weigh more than 8 pounds. Whistle also monitors your pet's daily activities so you can see how she measures up to other dogs her age, weight, and breed.

If you have an outdoor kitty, here's a way she can go outside and keep other critters out of your home. The SureFlap Microchip Cat Flap uses RFID to read your cat's ID microchip, allowing your cat to come in and out of the house.
SureFlap learns up to 32 identities so unwanted strays don't wander into your home. Programmable collar tags are sold separately for cats without microchips.
SureFlap works with nine, 10 and 15-digit microchip numbers. If you don't know your pet's microchip number, you can check with your veterinarian or a pet shelter.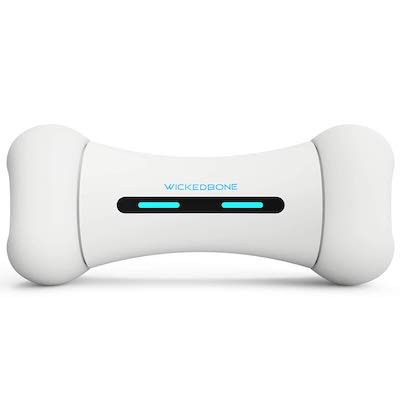 Puppies are the best. They're also a lot of work.
You come home from work tired but your fur baby wants to play. With Wickedbone Smart Bone, you can choose between interactive auto-play modes or control the toy by using a virtual joystick via the app, which is available for iOS and Android.
Wickedbone Smart Bone is programmed to attract your dog's attention. It also automatically adjusts how it reacts based on your puppy's different actions.
As an Amazon Association, Komando.com may earn a commission from qualifying purchases made on Amazon.com