Shopping online is incredibly convenient, but hackers and malware can make inputting your credit card information online dangerous. Thankfully, there are ways to buy things online without using your credit or debit card.
The danger of inputting your credit card information on a shopping site is hackers to that site, or to your computer, could see that information and use it themselves — or sell your information to others who will use it. The more you can protect your credit card number the better, so try using these methods of paying without directly using your bank account or credit card.
These methods can also help you budget if that's something you want to easily keep track of. Read on to see our tips on how to check out online without using your credit card.
Indirectly use your card or bank account
The easiest way to buy things online without using your credit card is to join a service that lets you use your card or bank account indirectly in a secure way. One of the most popular services like this is Privacy, which generates virtual credit cards for you to use on purchases wherever you shop online.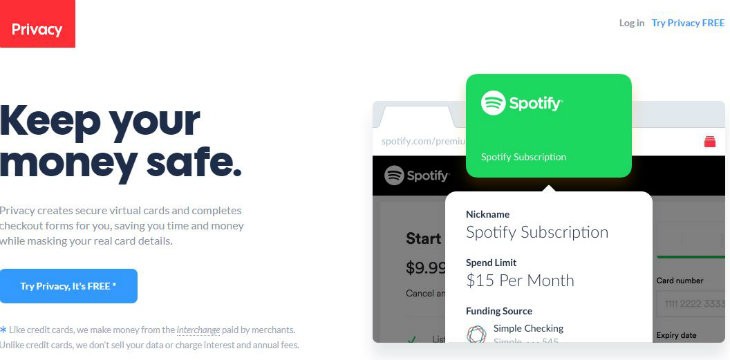 When you sign up for Privacy, you input your bank account or credit card information once, on a secure webpage. This keeps it in a safe place on the site, where it can't be accessed by outsiders (at least not easily).
Related: Data leak exposes thousands of unencrypted credit card numbers
From there, the site helps you create virtual credit cards that you can use for any and all of your online purchases. You can pause these virtual cards at any time, making fraudulent purchases with them almost impossible.
Simply unpause them when you want to use them again. Or, you can close a card entirely if you decide never to use it again.
If you're really worried about someone accessing your virtual card, you can put a spending limit on it. This can help if you want to pay regular subscription fees securely or set a firm budget on your online shopping.
With a virtual card set on a spending limit, subscription services can't raise their prices without you noticing, as the transaction won't go through. As for budgeting, with a limit, you won't be able to overspend on Amazon or your favorite clothing sites.
Privacy is a great way to keep track of your online shopping while you avoid being a casualty of a retailer data breach, which leaves credit card and debit card information accessible to wily and opportunistic hackers and identity thieves. And the best part? It's totally free!
Privacy makes its money by charging merchants and websites a small fee, much like regular credit cards do. So you won't pay a cent to have secure, virtual credit cards through Privacy. Tap or click here to sign up for an account and start shopping more safely right here.
Keep those credit cards hidden
The other major service you can sign up for that allows you to input your information once and then shop securely without typing your credit card number again is PayPal. A secure way to send money to people in your life, PayPal also lets you send money to merchants.
Signing up for PayPal is free. You input a credit card, or your bank account information and then you're good to start making purchases. Simply click the PayPal option when you're checking out while online shopping, which again is an option most major retailers have.
You'll be prompted to log in to your PayPal account and confirm the purchase. With the confirmation, you'll get a special PayPal receipt to your email, on top of whatever receipt the actual site gives you.
In giving you secure and faster ways to pay for things online, and ways to send money to friends and family with ease, PayPal is a great option — the only downside is, not every place you shop online will have PayPal as an option at checkout.
If you haven't signed up for a PayPal account yet but want to, tap or click here.
Safest online shopping solution you've never thought of
For a less digital way of securely checking out without your credit card, try using gift cards when you shop online. These cards can be purchased for a particular retailer, or you can get general gift cards, like ones from Visa and American Express, to make your online purchases.
With set amounts on the cards, you can once again keep your online spending down by using these just as much as you can keep your purchases secure. After all, if these numbers get hacked, you'll only lose the amount left on the card — perhaps not an insignificant amount of money, but far less than if you input your credit or debit card information on a site.
The only downside to this option is you may need to keep a few cards on hand at any given time, and they can expire if you don't utilize them. Privacy and PayPal might be more convenient and easier to access on a daily basis but to keep yourself truly safe, use gift cards in your checkout instead of your credit card.