Here at the Komando HQ, we're always cooking up new tips for small business owners. We love helping you find new ways to connect to your teammates and customers. Sometimes, though, nothing beats a good deal. That's why you should know about the huge Labor Day sale of 2022 from our sponsor, Dell!
Savvy spenders know all about Dell's famous 40% off deals. Labor Day is a good day to buy a computer and laptop because many companies slash prices. Before you buy, take this one-minute quiz to find the best laptop for your needs.
Now is a great time to score steep discounts on appliances, 4K TVs, computers, laptops, desktops and more. The Labor Day event from Dell Technologies is one of our favorite sales. That's because you're getting top-of-the-line gadgets for affordable prices!
You can't afford to miss out
Consider this a sign if you've been holding onto your money and waiting for the perfect time to buy. Now that prices have dropped up to 40% on the tech you need, it's time to upgrade your devices. Take your productivity to another level with fast, powerful and sturdy devices that work just as hard as you do.
Small business owners, make note of this. Outdated machines can slow your team down significantly. Remember, time is money.
Think of every wasted minute as wasted money. Investing in newer equipment can do your business a world of good. That's why you should end the summer strong by upgrading your growing business to the latest tech.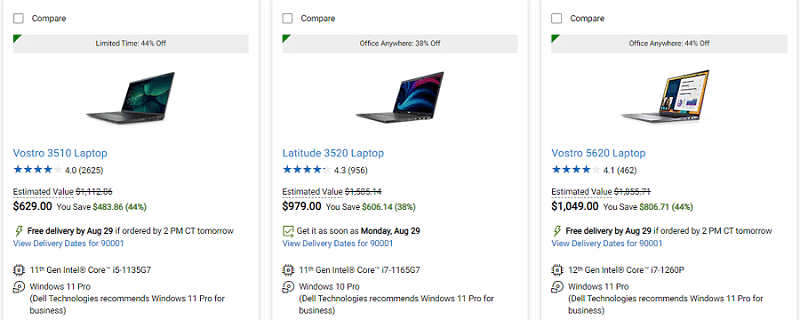 This new season begins with up to 48% off top-performance laptops, like Vostro, taking performance to the next level with 12th Gen Intel Core processors. You'll also save big on monitors, docks, mice, and more must-have accessories.
Oh, and if the deal couldn't sound any sweeter, you also get free shipping on everything! Check it out now:
It's the perfect time to get ahead
The year is more than halfway over. You can still upgrade your business to bring in record-breaking revenue numbers by the year's end. You just need to invest in powerful tech designed to keep you motivated throughout the year.
These devices are also specifically geared towards encouraging small businesses. They're great for fostering collaboration and innovation among your team. That's why Dell's Labor Day sales are worth waiting for.
Now, you can get top-notch tech at special prices — but only for a limited time.
Summer might be gone, but it's just the beginning. What's next for you? Upgrade today by calling 877-ASK-DELL. That's 877-ASK-DELL to save up to 48% on our latest technology.
What's holding you back?
If you're concerned about what to do with your old computer when you replace it, don't be. There are lots of inventive and useful ways to recycle old devices.
For example, let's say you shop the 2022 Dell Labor Day Sale and find your dream device. But you don't have enough room for your new and old computer. Concerns about clutter or waste might stop you from improving your digital life, but there are clever solutions we can share.
Instead of throwing out your older computer, revive it into a file server or a streaming machine. You can even turn an old PC into a home media server! Tap or click here for six smart things to do with your old computer.