Remember the days of going out with the family not to the theaters but to the video store, grabbing those couple of movies you wanted to see and grabbing snacks to go? OK, so it's not just me then.
Even though technology has become more prevalent and on-demand internet streaming has become more readily available for those who want to get more bang for their buck, there still are some video stores out there.
Blockbuster was one of those massive chains that no one thought was going anywhere but slowly it has been shutting down. Blockbuster prospered in the '80s and '90s but closed down the last corporate-owned stores in 2014.
The final Blockbuster store is located in Bend, Oregon, and is still going strong. This location is thriving and not for the reasons you'd commonly think.
What's special about this store?
"What's so special is that it continues to survive because of its loyal pool of older customers who 'can't use Netflix,'" a store manager said.
General Manager Sandi Harding stated, "I'm proud that we've survived!" What really keeps the store afloat is what big streaming services like Netflix, Redbox or Hulu just don't carry.
Upon visiting their website, you'll find that their community really supports local business. The T-shirts, hoodies and everything else they sell in the store to support the business is all made locally as well. The merchandise displays their triumph at being the Last Blockbuster in America and now really, the world.
The store survives from a wave of nostalgia from visitors, locals, posting selfies in from of the store which has decidedly not changed it's iconic blue and yellow lettering. Even its computer systems are original with the old IBM computers, and the same floppy disks from the 1990s.
"No one can hack these computers, so that's a good thing," Harding said.
Previously, there was only one other store left, in Australia, but that one is shuttering its doors at the end of the month. That makes Oregon the place to go if you still have that Blockbuster card handy.
We just got off the phone with an Australian radio station. The last Blockbuster in Australia is closing at the end of this month making our Bend Oregon Store the Last Blockbuster on the Planet!!!! #LastBlockbuster #IntheWorld

— Blockbuster Bend (@BlockbusterBend) March 5, 2019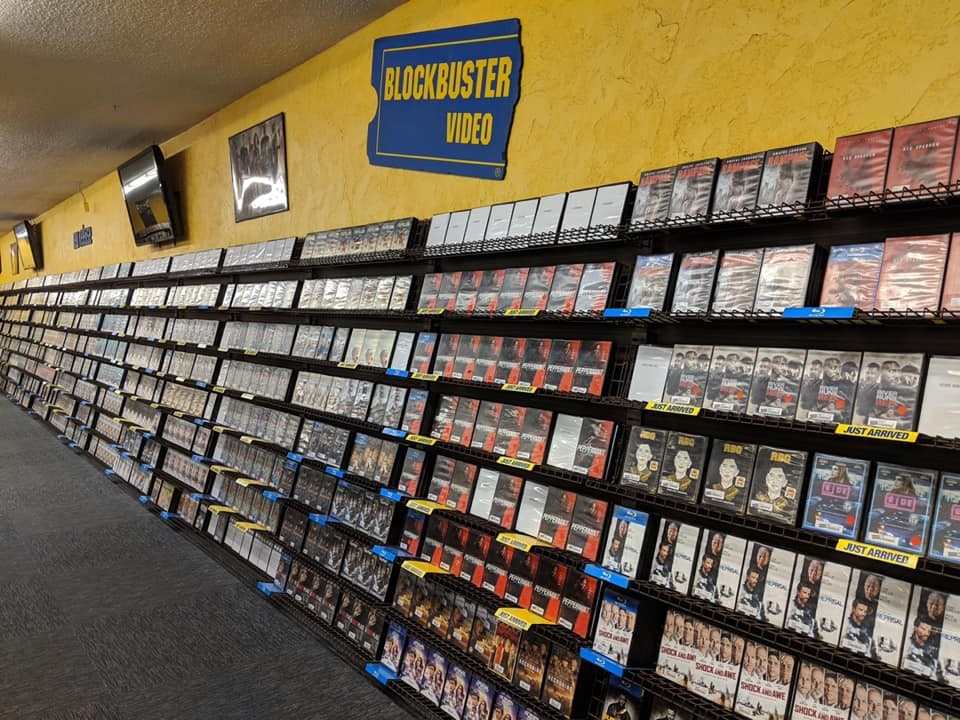 The final Blockbuster
With the all the streaming, binge-watchable, on-demand programming available now, it remains to be seen how much longer the video rental market can survive. But in Bend, Blockbuster seems to be surviving comfortably, providing a family Blockbuster night still to this day. It's great to see at least one still sticking around despite all that has changed, preserving a piece of video rental history.
The Bend store, although independent from their original corporate entity, they still has to pay a licensing fee to Dish Network. Dish Network purchased Blockbuster Video back in 2011 for $320 million before closing locations down.
Video stores used to be the only way to rent movies back in the day. Many people have spent a weekend evening at Blockbuster Video, renting movies and buying snacks with the family. In this day and age, technology has taken over the home movie business with streaming services. But Blockbuster isn't quite dead yet.
The last Blockbuster Video store on earth