With so many jobs lost in the fallout of the COVID-19 pandemic, people across the country are searching for new ways to earn an income. With policies like social distancing and touch-free transactions in place, former retail and service workers may find themselves in unfamiliar territory as they apply for new jobs that fit the economy.
Many industries have now fully or partially transitioned to at work from home positions, and for better or worse, the pandemic has opened up new opportunities that didn't exist before. Tap or click here to see how you can get a job as a contact tracer.
When it comes to getting jobs, the hiring process is no doubt the most stressful part. Thankfully, a good attitude and a solid resume can make it easier to overcome. But what if the human element was completely removed from the hiring process? Would it be fairer, or less biased? Try this online quiz for yourself to see if you can pass an interview with a robot.
AI hiring managers: A bright future, or a dystopian nightmare?
It's been said that the future of the workplace lies in automation, and some analysts speculate that millions of jobs will be replaced with robotic or AI-based workers. Whether this is a good or bad thing depends on your point of view, but one thing is for certain: The consequences will be significant.
For proof, you don't have to look much further than this scary online quiz created by digital artist Carrie Sijia Wang. Part satire, part game and all-too-real for our taste, Wang's "virtual hiring session" gives you a sneak peek into a nightmarish future where the human element is completely removed from the workplace.
You may also like: Online banking scams to watch out for
To take the quiz, you'll need to give your browser access to your camera and microphone. This is done to make the experience more immersive, and the website will not collect or retain your data once you're finished taking the quiz.
When you first boot up the "virtual interview," you're greeted with a corporate pitch about the merits of the fictional Open Mind corporation. The largest "and soon to be only, general-purpose company in the world."
From here, the interview is carried out by a pleasant-sounding AI named Alex, which tests your pattern recognition skills, among other things, as a test of your aptitude. At the conclusion of the test, you're asked a series of bizarre questions that run the gamut from "Tell us about your secret addiction" to "What is your relationship with your mother."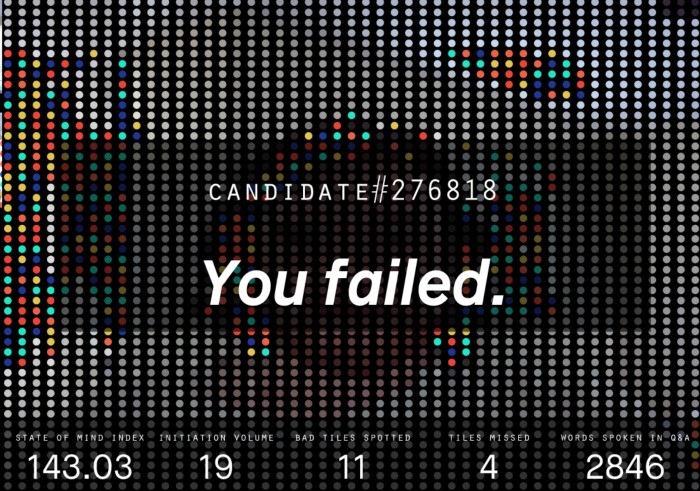 In the end, you're finally evaluated based on your score and informed if you got the job or not. We weren't able to pass, but based on the narrative, you must score within the top 15% of applicants in order to qualify for the job.
Unfortunately, we don't have any information about what the correct answers to the questions were — or whether there even were correct answers in the first place!
Why is the test so hard? Will interviews really be like this in the future?
The great unknown that comes with any algorithm or AI software is what makes them tick behind the scenes. Because you aren't interacting with a real person in this "interview," there's no way of knowing what kinds of biases or hiring criteria lie beneath the surface.
It goes to show you just how dangerous it can be to totally leave humans out of the equation when it comes to people's safety and livelihoods. Tap or click here to see how YouTube's algorithm actually puts children in danger.
Based on what we can see in this quiz, we hope hiring managers, at the very least, aren't replaced by AI. Otherwise, you might end up seeing more jobless Americans than when we have human ones. Can you convince Alex AI to hire you?