Believe it or not, Windows was the hot new operating system a few decades ago. Its popularity with businesses and consumers alike made it an attractive platform for software developers, including some of the earliest PC video game designers. Click or tap to see one title from this era that's still popular today.
That said, many of these games have vanished into obscurity. Several require outdated operating systems to run, and many won't even function on modern computers without special tools and software.
But that's all in the past, thanks to the hard work of the Internet Archive. This organization has preserved and uploaded thousands beloved MS-DOS games to its website — and they're all available to play free of charge. If you love games, here's why the Internet Archive is a must-visit platform for digital fun. And good news Mac users: you don't even need a PC to play.
Party like it's the '90s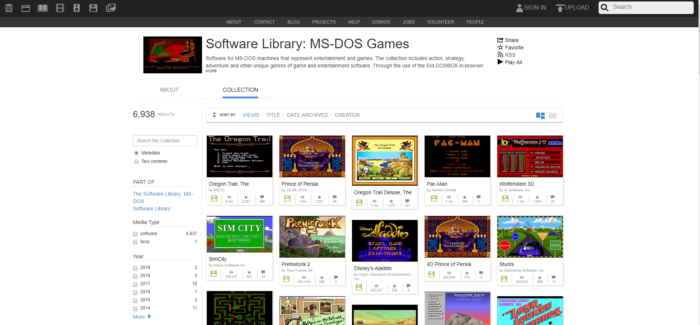 The Internet Archive has announced it's releasing 2,500 retro Windows games for free on its platform at Archive.org. Most of these games date back to the early '90s, and include the PC ports of popular titles like Tetris, Pac-Man and Donkey Kong, as well as cult classics like Doom, Oregon Trail and Carmen Sandiego.
The website is considered an internet staple, and hosts many now-defunct websites that have been removed or forgotten with time.
The games run inside an emulator in your browser, so you won't need to download any special software to play them. This means Macs have access to these games, despite the fact these titles were originally exclusive to Windows. Click or tap here to visit the Internet Archive's extensive library of MS-DOS games.
Are these games family friendly? Can my kids play?
There are many games on Archive.org that are perfect for kids, like Disney's Aladdin and Sim City, but they're not the only games hosted there. MS-DOS was a prolific platform for adult games as well, so the Internet Archive made sure to include those as part of their mission to document the olden days of the web.
If you want to play any of these games with your kids, make sure to scan through the archive and pick out which you want before launching them. Some of the adult games contain violent and sexual content, so tread cautiously.
You can also download the game files if you want to keep your kids focused on the games and not on the website they're hosted on. You'll need to be on a PC to do this, though, since the files are in .exe format.
The Internet Archive doesn't just have old computer games on its website — it also has a lineup of famous arcade games from the 1980s and beyond. Click or tap to check out the Internet Archive's trove of classic arcade games.