Sometimes, a change of scenery is all you need to boost your mood. That's why we're sharing the happiest states in America. Of course, we'll also tell you the important stuff, like how to be happy no matter where you live.
Before we dive into the happiest states of 2022, let's focus on sleep. After all, Harvard University says sleep deprivation leads to more irritability and a shorter temper. Tap or click here to find out which states have the most sleep problems.
So if you've been feeling down in the dumps lately, try to get more shut-eye. Then again, maybe a quick trip would help you just as much. Mark your maps: You might find some travel inspiration.
It's all in the smile
Let's say you type this into your favorite browser: "What is the happiest state in the U.S.?" Most of the results will say Hawaii. That's because many popular studies get their data from surveys.
However, not all surveys are accurate. According to Cornell University, people may lie to make themselves look better on surveys. Sometimes, people give answers that make themselves look better, and others look worse.
This means people might lie on surveys about happiness and claim they're more joyful than they really are. Luckily for researchers, there are many more ways to analyze happiness. Instead of relying on surveys, they can also use AI to analyze your social media selfies.
RELATED: How facial recognition works – and why U.S. Border Patrol loves it
Big Tech knows when you're faking a smile
A recent study from HouseFresh pinpointed the happiest cities and states in the U.S. They collected the data with Azure, Microsoft's facial recognition tool. Azure processed thousands of geotagged Instagram selfies from around the U.S.
Data analysts wanted to distinguish between genuine and forced smiles. They used an algorithm based on key facial features, like anger, fear, surprise and more. This way, they could better tell which states had the most genuinely happy people. Check it out:
Now that we've explained how it works, you're probably dying to know which states rank the highest in HouseFresh's research.
These are the happiest states in the U.S.
Utah
Wisconsin
Nebraska
Vermont
Iowa
Wyoming
Colorado
North Dakota
Washington
Idaho
On the opposite end of the spectrum, here are the 10 least happy states:
California
New Jersey
Pennsylvania
Indiana
Louisiana
Georgia
New Mexico
Connecticut
Maryland
Massachusetts
It goes against the stereotype of happy Californians, but the Golden State is dead last. If you want to find out why that is, share this article on social media and see what your friends think. Just be sure to tag Kim on Facebook, Twitter, Instagram and Pinterest.
Want to check to see where your state ranks?
Maybe your state wasn't on either list. We've got you covered if you're anxious and want to know where your state sits on the spectrum. Check out this infographic to see how your happiness ranks: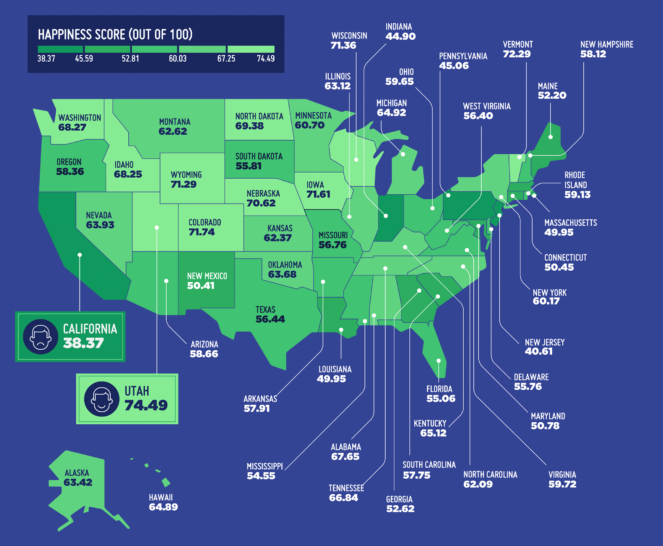 Or, if you'd prefer, you can look for your state on an interactive table. Our friends at HouseFresh made a special tool you can use to see where your city and state compare to the rest of the country in terms of happiness. Check it out below!
Get more details on the happiest states in America
If you want more information on the methodology and sources, head to HouseFresh.com. You'll get all the details on how the researchers found their answers. You'll find a few more colorful infographics investigating the state of happiness in the U.S. as of 2022.
Channel your artistic side
How to share facts in interesting and beautiful ways
5 ways to make the best designs and graphics for free on Canva