Products get recalled all the time, but it seems worse when it's something that we eat. Especially if the recall was due to a rodent infestation. Tap or click here for details on this particularly gross recall.
There have been many food-related recalls lately. From potentially dangerous vegetables to a mysterious salmonella outbreak, thousands of people have fallen ill.
Unfortunately, you need to add ground beef to the list of product recalls. Read on to find out what caused the recall and what to do next.
Here's the backstory
The Escherichia coli bacteria, better known as E. coli, is naturally occurring and is often present in the environment and foods. Some strains of the bacteria are harmless, but a few will make you very sick.
Lakeside Refrigerated Services found one dangerous strain in its ground beef, causing a recall spanning more than 120,000 pounds of meat. Thankfully, there are no reports of illnesses yet, but the strain is described as "particularly rare but dangerous."
Retailers around the country stocked the ground beef, produced from Feb. 1, 2022, through April 8, 2022, and packaged it under the brand names:
Marketside
Nature's Reserve
Seg
Tajima
Thomas Farms
Weis
An undisclosed amount was also shipped to stores and repackaged without a brand name or label. The source of the beef is unclear, but according to a statement from the Food Safety and Inspection Service (FSIS), the bacteria showed up in "routine FSIS testing of imported products."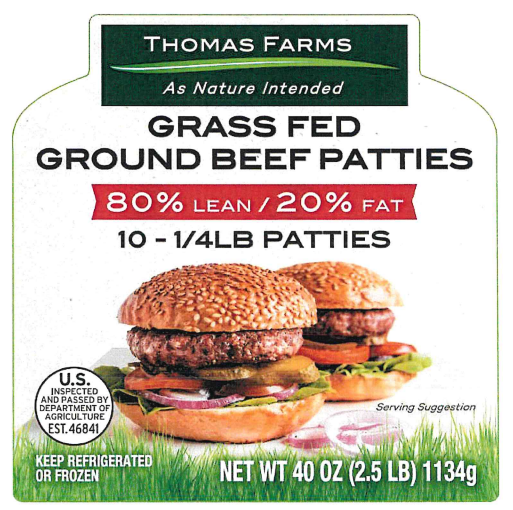 What you can do about it
You should never ingest or continue to use a recalled product. Check your fridge for any of the brand names on the list. Note the Department of Agriculture mark of inspection for the establishment number – which in this case is EST. 46841.
A comprehensive list of all the products affected by the recall can be found on the FSIS website.
If the ground beef in your fridge matches the establishment number, throw it out. Don't put it on a countertop or work surface, as E. coli can quickly spread to other areas when mishandled.
Alternatively, you can return the ground beef to the store where you bought it for a full refund. Symptoms of E. coli infection can include severe stomach cramps, diarrhea, vomiting and fever. Most infected people recover in about a week.
If you have questions about the recall, you can call Lakeside Refrigerated Services at 800-493-9042 or email customercare@lakesiderefrigerated.com. You can also call the toll-free USDA Meat and Poultry Hotline at 888-MPHotline (888-674-6854).
Keep reading
Are you in danger? Ford, Toyota and Lexus recall over 1 MILLION cars over mechanical and software issues
Check your bathroom! Jergens lotion recalled over harmful bacteria