Not too many people print photos these days. While we might have had walls of framed photos and entire albums dedicated to our family pictures in the past, it's much easier today just to pass the ol' iPhone around during family get-togethers.
But that's not to say nobody prints at all anymore — it just seems a lot more complicated to print directly from your smartphone than it really needs to be. Tap or click here to learn how to print from your smartphone.
If you have a Google Photos account, you might be getting a brand new option for printing and saving your favorite pics. A new subscription service is rolling out where Google's AI picks your "best" photos each month and mails them to you. But would you trust it to pick the right ones?
Google Photos goes old school
Gone are the days of 1-hour photo booths, but leave it to Google to try to bring physical photographs back. A new trial subscription service is being rolled out to select Google Photos users that sends them 10 high-quality prints for just $8.00 a month. The catch: the photos are chosen by a robot.
Here's how it works: If you're chosen to participate, you'll see a banner when you log into Google Photos on your computer that says You're invited to the monthly photo prints trial. If you see this when you log in, click it to join the program.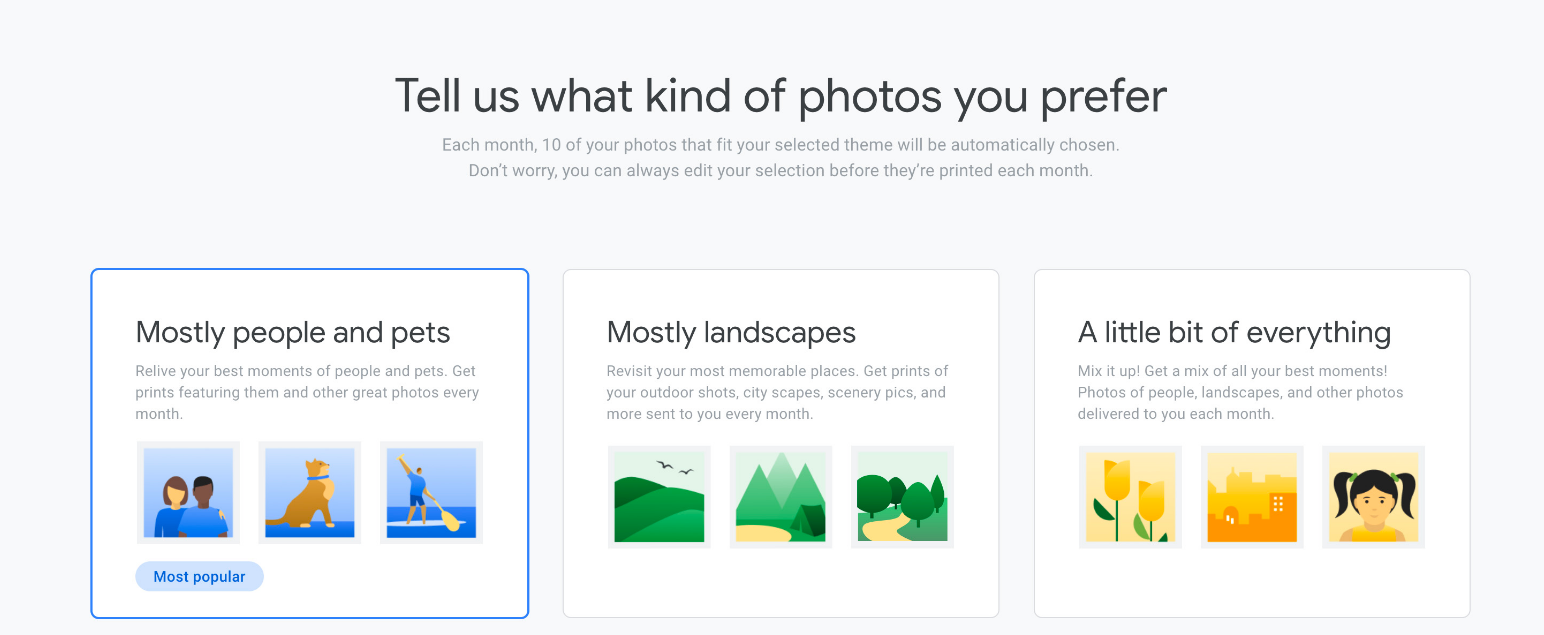 Once you accept the invite, you can choose your theme. This tells the AI what kinds of photos you'd prefer to be printed. You'll also get the ability to edit these photos before they're printed and mailed out.
When your package arrives, you'll get 4×6 pictures printed on matte white cardstock with an 1/8-inch border. In Google's words, they're "…perfect to put on the fridge, in a frame, or to give as gifts."
I'm not seeing the banner at the top of my Google Photos page. What can I do?
If you don't see an invitation, it simply means your account was not chosen to be part of the trial. Google tests its various services on a small sample of users before breaking it out to the wider market. As a result, many of these preliminary services may have bugs needing to be tweaked.
But don't despair, photo subscriptions should be getting a wider release later this year. In the meantime, stores like Walgreens have specialized apps that let you print photos directly from its in-store kiosks.
All this comes at a time when Google is putting a good deal of effort into adding a "human touch" to its library of products. Although the company has faced some criticism for its privacy missteps, moves like these remind us the best tech out there puts people first, not profits.
Tap or click to see Google's emotional Super Bowl ad, along with how to do all the things it showed with your account.