NASA has big plans for Mars in the coming decades. While humanity has been relatively grounded on Earth since our last rendezvous with the Moon in the late 1970s, our unmanned program is more expansive than ever.
And now, for 2020, we're launching a brand new rover to Mars that will survey the red planet in brand new ways. Not only is it carrying some of the highest resolution cameras available on a spacecraft, but it's also sampling soil for signs of ancient Martian life. Tap or click here to find out more about the new Mars rover.
But if you want to participate in the Mars 2020 program beyond watching livestreams, NASA has opened up a website that lets you submit your name to be transported to Mars. Would you want your name to be a part of astronomical history? We'll show you how.
Mars awaits
NASA's new Perseverance rover has successfully launched into space, kicking off the space agency's Mars 2020 program after years of planning. Aside from a couple of snags, such as the craft going into "safe mode" briefly after launch, Perseverance is on its way to Mars with an estimated arrival date of February 2021.
The craft, which represents the latest generation of NASA's robotic probes, has a mission set for Jerezo Crater. This region of Mars appears to be the remnants of a dried-up lake bed, and scientists believe there may be hidden evidence of ancient life or traces of water from eons past.
Did you know Kim gave a talk to NASA employees? Tap or click here to see what she taught them about cybersecurity.
Unlike probes we've sent before, Perseverance isn't scheduled to stay on Mars forever. In fact, it's supposed to return to Earth with samples for us to study some time around 2031. But before it comes back, it's carrying with it some very precious cargo: The names of thousands of supporters who register with NASA.
As part of the Mars 2020 program, NASA is accepting the names of supporters and fans that will be carried on the rover for the duration of its mission. Perseverance is carrying 190 million names to Mars as we speak, but that doesn't mean NASA is ending the program any time soon.
I want my name to go to Mars. Is there still time to register?
With more missions to Mars scheduled, it's not too late to register your name for a chance to have it included in the next launch. Participants get access to a cool Martian boarding pass from NASA, and several other pieces of educational material like maps and rover information. There's even a section for "frequent fliers" who've given their names out before.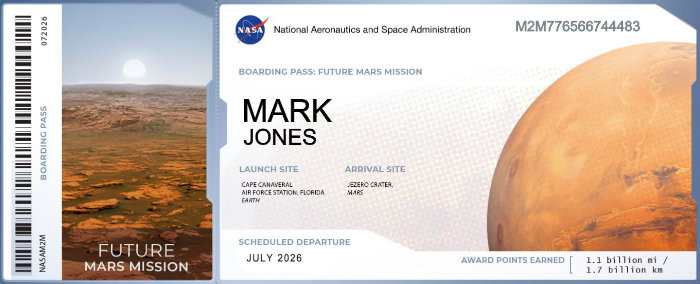 To register, all you need to do is tap or click here to visit NASA's website and enter your first name, last name, country, ZIP code and email address. Once you're registered, you'll be all set to have your name carried to Mars just in time for the next flight.
Best of all, there's no charge to do it. For just a little bit of your time, you can make your name a part of space exploration history. And, honestly, what's cooler than playing a part in one of mankind's proudest peaceful accomplishments?