This optical illusion is a hoot and a half. It challenges you to a game: find the hidden animal. If you spot the real hidden owl among toy owls, you'll prove you have eyes as sharp as an owl's.
If you didn't know, that's a compliment. Although eagle eyes are famous for being some of the sharpest in the animal kingdom, owls also have impressive eyesight. According to the Audubon, the Northern Hawk Owl can detect a vole up to half a mile away.
Check to see how sharp your eye is with this visual scavenger hunt. It's a fun test of your visual proficiency that will take puzzle masters less than a minute to complete. After you're done, challenge yourself to spot the many hidden faces in these seven optical illusions.
Prove you're a know-it-owl by solving this visual puzzle
Birdwatchers should have an easy time spotting this owl. But if you aren't obsessed with avians, you might squint so hard you feel like you have a bird brain. After all, the stuffed owls look pretty convincing.
This visual brainteaser is all thanks to a British photographer named Katielee Arrowsmith. She found a funny sight while visiting the Scottish Owl Centre in West Lothian, U.K. "Spectacle owl hiding among soft toys," she wrote in an Instagram caption.
Optical illusion lovers all around the internet are whipping out their glasses to spot the real owl among the fakes. Test your eyes and have fun with this.
As you can tell, these plushies represent different species of owls. One plushie looks like Hedwig, the iconic white owl from Harry Potter.
WANT MORE TIPS LIKE THIS? Every iPhone and Android user should know these genius commands
The owl on the far right looks just like one of the heroes of "The Guardians of Ga'Hoole," a children's movie about owls going on adventures. Yet these fictional owls are made of soft fabric and cotton. They're nothing like the flesh-and-blood owl hiding among the fluffy fakes.
Maybe you want to see a bigger version of the picture. A larger photo might help you spot the real owl hidden among the fakes. Here's the original image.
Can't find the hidden animal? Here's the answer
The real owl is sitting snugly in the upper-right of the image. If you still can't find him, don't worry. We zoomed in.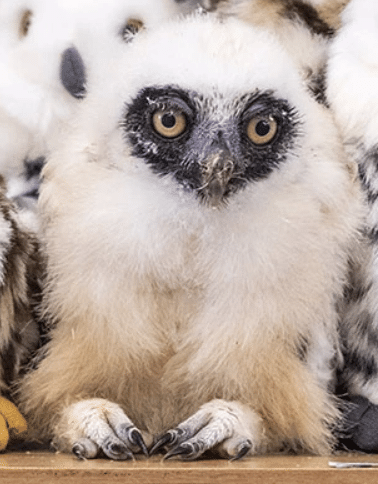 According to a bird keeper, this particular bird loves getting attention. Maybe that's why he's sitting among a bunch of fake owls. He wanted to stand out and be unique!
Unfortunately, his attention-seeking backfired. He wound up blending in among the feathery facsimiles. Luckily, this five-week-old chick has plenty of time to improve his hiding skills.
Now that it's owl over, you probably want to test your eyes some more. You're in luck: We have a ton of brainteasers you can use to challenge your brain. Here are some of our favorites!
Keep testing yourself
Spot the cash! See how fast you can solve this optical illusion
Personality test: Can you spot the four hidden images in this optical illusion?
Only puzzle experts can spot the hidden second tiger in this visual brainteaser