COVID-19 isn't taking a break for flu season. Unlike previous years, Americans now have two viruses to worry about every time they leave home.
Just like COVID-19, the flu is extremely easy to catch. Fortunately, flu vaccines are widely available to protect you. Tap or click here to see why a viral video connecting flu vaccines with COVID-19 is nonsense.
You might think preventing and treating the flu is as easy as jumping on Google and looking up "flu remedies." Unfortunately, scammers are taking advantage of the season to peddle phony products and cures. We'll show you the safest ways to get medicine online.
Beware of shady online flu treatments
If you've been thinking of picking up some extra strong medicine to handle that annoying runny nose, be careful what you search for online. The FDA is warning that many unapproved flu products are flooding online channels as flu season starts.
The FDA evaluates drugs for safety, and unapproved products could harm you and your loved ones. Depending on the ingredients, using these products can lead to unintended side effects and dangerous interactions with other medicines.
Unapproved flu treatments tend to exaggerate what they can treat and how effective they are. Be on the lookout for any drugs, supplements or treatments that make the following claims:
Reduce the severity and length of flu or other viral infections. Real flu treatments address the symptoms of the disease, not the cause.
Boost your immunity naturally without a flu vaccine. What makes the flu so dangerous is how the virus mutates every year. That's the reason you can catch it multiple times in your life. A boosted immune system will not protect your body from a virus that it's unfamiliar with.
Act as a safe and effective alternative to the flu vaccine. Flu vaccines are the only FDA-approved method of preventing the disease.
Prevent catching flu or viral infections. Antiviral drugs should only be purchased from genuine pharmacies.
Provide faster recovery from flu or viral infections. The speed of recovery from a viral infection depends on your own immune system.
Support your body's natural immune defenses to fight off flu or other viruses. There is little evidence that products making this claim make a difference against viral infections. Your immune system is still doing all the work.
Unapproved flu treatments may cause people to lower their guard and avoid treatments and preventative measures like vaccines that work. Some of the websites selling these fraud products may even be dangerous for your computer.
Tap or click here to see why sketchy online drug stores can be so dangerous.
Self-administering a flu vaccine purchased online can be dangerous. Visit the CDC's official vaccine homepage for information on vaccines, immunization and where to get vaccinated.
Where should I actually buy medicine online?
If you're staying at home to protect yourself from viral infections, buying medicine online is your best option to treat symptoms and mild illnesses.
That said, there are plenty of red flags to watch out for when it comes to online drug stores and pharmacies. Despite selling health products, not all of these websites have your best interests in mind. Look out for these red flags any time you go online to buy medicine.
Much lower prices than competitors. If pills are a few dollars less than on sites like Walgreens.com and CVS.com, that's fine. But significant price cuts on unfamiliar sites are a red flag to watch for, and the medicine for sale might even be counterfeit. If something sounds too good to be true, it probably is.
You don't see a pharmacist's contact information. Legitimate online pharmacies have a U.S. state-licensed pharmacist available for shoppers to contact. Look for a 1-800 number.
No prescription is required. Medication is highly regulated in the U.S., and legitimate pharmacies will need proof from a healthcare provider before they can sell you drugs. Over-the-counter medicine will not require a prescription, however.
There's no licensing information on the pharmacy's website. Legitimate pharmacies always feature licensing information somewhere on the website.
The pharmacy is located outside of the U.S. Foreign online pharmacies are not subject to U.S. regulations, and the products you buy could be counterfeits. Many scam pharmacies claim to be based in Canada despite being located in other parts of the world. Look for a valid American street address on any pharmacy you buy from.
To avoid scams and counterfeits, stick with mainstream websites and pharmacies. You can also keep an eye out for the Verified Internet Pharmacy Practice Sites (VIPPS) seal, which marks pharmacies that meet strict criteria, have an American street address and sell FDA-approved medicine.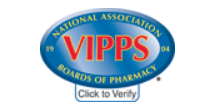 Every online pharmacy will have different delivery and pickup options, so choose the one that best fits your needs and preferences. You don't have to put your health at risk to feel better again.
Ready to order your medicine online? Tap or click here to see how to order prescriptions from the web's biggest pharmacies.