The beach is one of the best places for family fun during the summer. From building sand castles to playing sports, there are so many things to do. Here's one thing you can't do at the beach, though: try to spot the missing toy in this viral optical illusion.
When we're prancing around the sand and swimming in the ocean, it's easy to lose track of our things. Luckily, Bluetooth trackers like Apple AirTags can help us quickly find our lost things. Here are 10 clever new ways to use these handy trackers.
Sadly, the little red-haired girl with braids doesn't own an AirTag or a Tile tracker. Now she lost her doll and wants to find it so she can bring it home safely. She's looking around nervously, but she can't find what she's looking for amid all the hustle and bustle.
Can you help her spot the missing toy?
This tricky brain teaser challenges you to find a lost treasure. Sure, not everyone would consider a well-used doll to be a valuable treasure. But you should never underestimate the high cost of nostalgia.
In fact, many collectors will pay top dollar for old toys. Memorabilia that might have been cheap when you bought it could be worth millions now. You won't believe how much your old toys could be worth!
Now, it's time to test your eyes and train your brain. Try to find the hidden object in this colorful visual puzzle: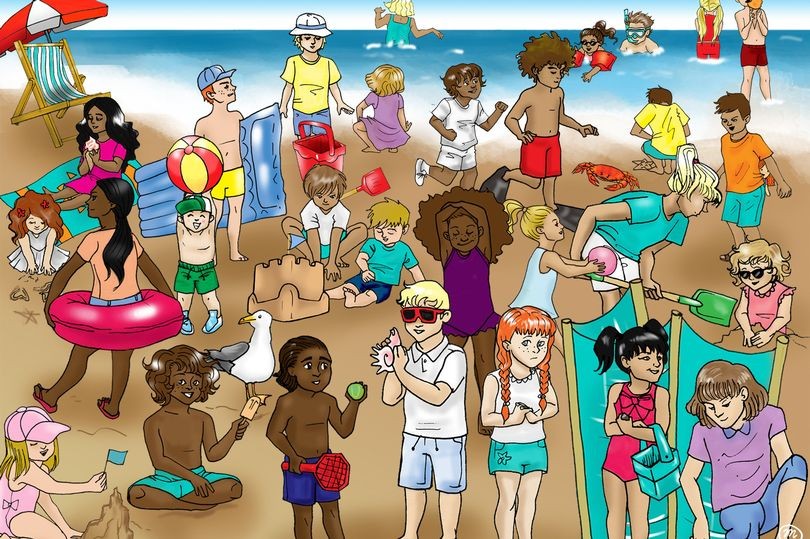 It looks pretty cluttered. But it also looks pretty fun! If this cheerful picture of people having fun at the beach is itching your inner wanderlust, we've got tons of travel tips for you.
For example, we love to round up some of the coolest places to visit. If you want to go on your own beach vacation, check out the seven best beaches in the world.
Or, if you love to find new places to say, we've got you covered on that, too. We collected some of the most drool-worthy properties you can rent out for your vacation, from French villas to an entire castle! Tap or click here for 10 luxury vacation rentals from around the world you can rent right now.
Still can't spot the missing toy? Here's the answer
We circled the answer in blue.
Can you see the doll now? If not, here's a closer look.
It looks like the little girl lost her toy somewhere in the sand. A boy with an orange shirt happened to stand in front of it, which made it hard to spot.
Thank goodness her dolly is safe!
When children lose their favorite toy, it can be stressful for them and the parents who try to find it or replace it. Many toys can help with emotional development, which is why some children bond with their toys. For example, many kids will humanize their dolls, thinking of them as friends or even children.
Basically, toys can help children develop empathy, according to Michigan State University. Emotional support toys range from play pretend dolls to fidget toys and exercise equipment like jump ropes. If you choose the right toy for your child, you can help them learn how to self-regulate emotions.
Of course, some children are much more energetic than others. Not all kids will be happy with a doll.
Others want something much more interactive and challenging, like a jungle gym. Good news: You can get a cheap obstacle course on Amazon. We highly recommend it as a good way to keep your kids active, healthy and busy!
More like this
Brainteaser: Can you spot the umbrella hiding among the ostriches?
You're a genius if you can spot the sleeping sheep in just 10 seconds