Can you easily spot a person in a crowd from a few yards away? If you are the person friends turn to when someone is lost, don't underestimate your ability to filter out clutter. You never know when it could come in handy. Tap or click here to see if you can find the curved line.
If your particular set of skills includes spotting hard-to-find things, give this optical illusion a try. It's a handful of lemons hidden in a gaggle of chicks. But it's more challenging than it sounds.
Read on to find out if your superpower is a fluke or if you really can spot a tick on a cow from 50 yards.
Here's the backstory
Created by Hungarian artist and illustrator Gergely Dudás, the visual puzzle below tasks you with finding all five lemons among the sea of little chickens (or possibly yellow penguins).
But while it might sound easy, as chicks and lemons look nothing alike, it's more complicated than you think.
The key is to look past the cute bird with the big eyes and the sharply-dressed critter with a bow tie. Instead, focus on inconsistencies in a broader view of the image. But when you spot one lemon, it becomes easier to recognize the other four as you know what to find.
Check it out: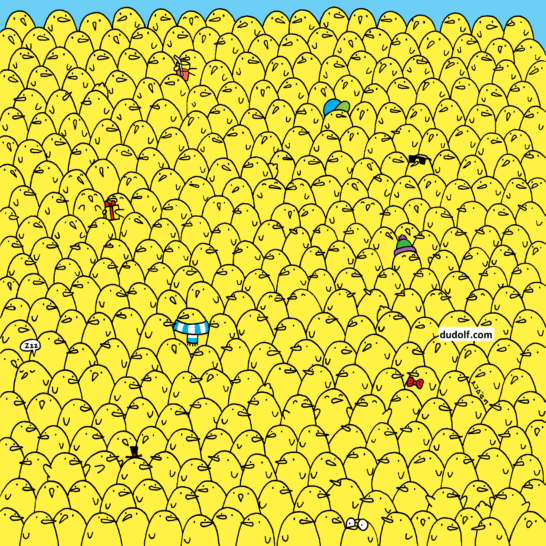 What you can do about it
How long did it take you to find all the lemons? Did you even see all of them or only some? Don't feel too bad if you missed a couple, as you are not alone. While some managed to identify all five in under a minute, others commented on the Instagram post that they failed miserably.  
Dudás regularly creates and uploads his creations to his Instagram profile, where many find glee (or dismay) in how tricky the sneaky creatures can be.
Keep reading
Can you spot the hidden second tiger in this optical illusion?
Optical illusion: Can you spot the elephant in this cartoon?