If you love cars as much as I do, you know the Barrett-Jackson auction is celebrating its 50th anniversary. Head to Scottsdale, Arizona, from Jan. 22 to Jan. 30 to see what paradise looks like for gear heads. Event leaders released a hardcover book to commemorate the milestone, which you can buy at the event or on the official website.
Car collectors have an especially shiny lineup to check out this year. One car won the Havana Grand Prius in 1957. If you ever wanted to share a seat with the greats, that bright red beauty is yours for the taking.
That's just one of the many luxurious, high-performing cars I want to highlight today. I never miss a show, and my husband Barry and I had a ton of fun checking out the most sought-after vehicles on the globe. Here are our top 10 favorite cars at the show — let me know which one is your favorite on Facebook or Twitter!
First, let's start with some cars you can actually afford
Before we dive in, you should know that these are all no-reserve cars. That means the owner doesn't have a specific price you must meet before selling it. The highest bid will win.
If you're new to car auctions, here's a quick explainer. Every once in a while, car sellers have reserves, or a minimum amount of cash they want to sell for. If the auctioneers don't reach that set number, the car won't sell.
Cars on this list drive down a different road. They aren't subject to reserves. They're going to sell no matter what, so look closely, because these are some red-hot rides.
We're starting from No. 10 before finishing strong with my top car. First, here are two vehicles that aren't extraordinarily expensive. If you want something not too expensive you can put on the road and drive, consider these!
Ford Broncos are incredibly popular. This blast from the past is an original, but it went through a complete ground-up restoration. The auction is underway now and it ends Saturday night. It's painted in victory red high gloss with a gorgeous custom interior.
Per the listing, "The suspension is new with a 4-inch Rough Country lift, rebuilt front end, the original transmission and transfer case have also been rebuilt." This is the perfect mix of new tech and classic style.
Tap or click here to see the car lot.
Car collectors can agree the 1969 Camaro is iconic. Between 1967 and 1993, it was the official Indianapolis 500 pace car four times.
This particular treasure has only had two owners over its lifespan. It has 7,000 miles on the odometer. Every single nut and bolt on this car was restored or replaced.
Plus, it's been completely rebuilt with a 427 cubic edge solid-lifter engine and a 560 horsepower engine. It even has a vintage-looking Bluetooth radio, so you can enjoy modern tunes with your old-school aesthetic.
Tap or click here to see the car lot.
8. Moving on to the big guns, this 2022 Karma GS-6 EV "305 Edition" comes from Mr. Worldwide himself
Here's where the pocket-busters start.
This car has 536 horsepower with a 360-mile range. It was created by California-based Karma Automotive exclusively for musical artist Pitbull, who is now putting it up for charity.
Wondering what the 305 in the name is for? It's the Miami area code, chosen because Pitbull is from Miami.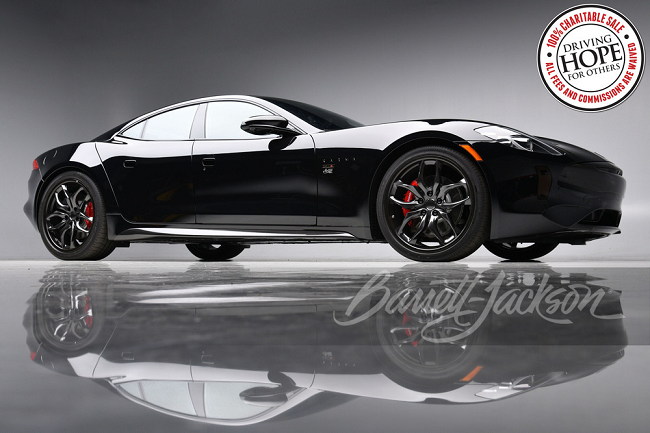 Proceeds will go to the adoption-focused Selfless Love Foundation as well as the SLAM! Foundation, which focuses on academic resources for students.
This car basically drives itself. It's all black on black, with a sleek interior and exterior.
Tap or click here to see the car lot.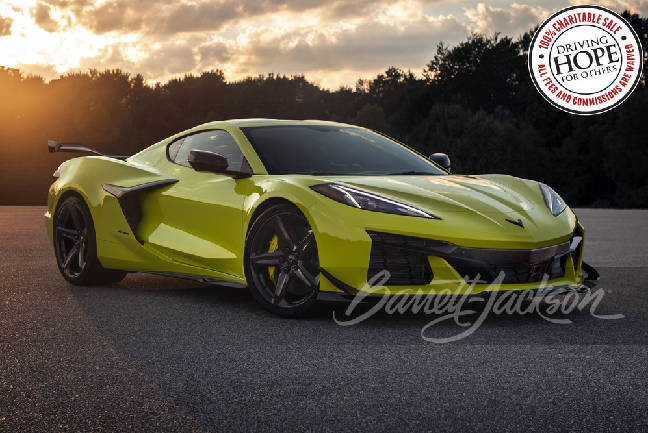 Do you love cars that are fresh off the assembly line? Then you'll love this ride. It was the very first 2023 Chevy Corvette, so when you buy this, you're getting the first retail production.
Per the site, "The new American supercar is set apart by its beating heart 00 the all-new 5.5-liter LT6, the highest-horsepower naturally aspirated V8 to hit the market in any production car, ever. An all-new flat-plane crankshaft design entices drivers to push the tachometer to a lofty 8,600 rpm, creating 670hp. Almost every exterior detail unique to the Z06 serves a purpose for aerodynamics, handling or cooling, with styling cues that accentuate the car's sense of motion."
Now that sounds special! Proceeds for this car will go to Operation Homefront, a nonprofit that helps military families thrive.
Tap or click here to see the car lot.
If you want a street-legal racecar, look no further than this visually stunning car. I love the blue and orange colors. It's powered by a 3.5-liter EcoBoost V6 engine with a 7-speed dual-clutch automatic transmission.
The Orange calipers and silver rearview mirror caps give it a stunning, unique look. And it's always great to get a car that's barely been driven before.
Fun fact: Its Gulf Oil racing livery is in homage to the Ford GT40. (That's the only postwar car to win the Le Mans race two years in a row, from 1968 to 1969.) I love how this car reflects history in a chic way.
Tap or click here to see the car lot.
This car comes with a 427-inch engine as well as a CSX 3356. It was originally sold by a company that doesn't exist anymore called Paradise Ford of Scottsdale in 1967. Fun fact: That's where the modern-day Scottsdale Fashion Square sits!
Tap or click here to see the car lot.
Few things make me happier than seeing the pop of iconic Mercedes-Benz Fire Engine Red paint. With a gray interior and a thorough restoration job, this car is a feast for the eyes. I always get happy smiles and waves when I drive old cars like this one.
Tap or click here to see the car lot.
Cool white on the inside, classy red on the outside, this ride is a true supercar in every way. Only 918 of these cars have ever been made, hence the name.
According to the car's description, "The 918 is powered by a naturally aspirated 4.6-liter V8 engine derived from the RS Spyder LMP2 race car and paired with Porsche's 7-speed PDK dual-clutch transmission."
It has two electric motors on the front and axels that work in concert with its engine. Overall it has a total power output of 887 horsepower. My guess is that this car, which has 377 miles, will sell for over $2 million.
Tap or click here to see the car lot.
Be still, my heart. This is a genuine racecar that just so happens to be street legal. This bad boy is an homage to the historic 1966 Le Mans-winning GT40 Mark II race car. (It shares this trait with No. 6 on this list!)
This black beauty's dark shell is lined with stunning silver stripes and bright white graphics. I like how its design is simple yet striking — and its powerful 647 horsepower, 3.5-liter twin-turbo EcoBoost V6 engine doesn't hurt either. It can zoom to 60 mph in just three seconds. At a top speed of over 216 mph, this car feels like lightning.
Did I mention it only has 36 miles on it? Since it's in flawless shape, I imagine it will sell for around $2.5 to 3 million.
Tap or click here to see the car lot.
I can't blame you for drooling. Professional racecar driver Santiago "Chaquito" Gonzales rode this cherry-red wonder to first place at the 1957 Havana Gran Prix National Race. The Ministry of Police in Havana, Cuba was its first owner.
Imported to the U.S. in 1961, this car only has 57,166 miles. It's bright red with a tan leather interior. Oh, and when you buy it, it comes with a matching set of 1955 Mercedes Benz luggage in the same tan leather.
Per the website, "This original body gullwing received a thorough restoration by the third owner in the 1990s at about 92,000 kilometers (57,166 miles), which included a bare-metal repaint, new interior, rebuilt gauges, redone brightwork, and rebuilt engine, transmission and brakes. A second engine rebuild was performed by the fourth owner in 2003. This 300SL now has 95,377 actual kilometers (59,265 miles)."
Oh, and it comes with thorough documentation. We estimate this is going for between $1.5 and 2.5 million.
Want to see if sitting in the seat will infuse you with the racing superstar energy? There's only one way to find out: Place a bid of your own!