Americans are making summer vacation plans and searching for places to stay. One of the most prominent websites to use is Airbnb, with about 70 million searches a month. But even with tons of homes available, it can be challenging to find the right place.
As summer gets into full swing, the company unveiled its most extensive website overhaul in a decade, introducing new features for searching and keeping guests safe. According to Airbnb's Report on Travel, 42% of guests traveled to coastal areas last summer.
That puts a lot of strain on hosts and guests if they can't find exactly what they are looking for, with guests choosing to stay longer in one place when they do find a suitable home. Other than location, the two biggest concerns for U.S. travelers are reasonable prices and safety during their stay.
These aspects played a crucial role in developing the new features available in the U.S. from today and rolling out globally during the following week. So if you are planning a trip this summer through Airbnb, here are the upgrades you'll see:
A new way to search
The previous way of searching didn't allow for many customizations or options. There were some options to include in your search, but the significant update now includes Airbnb Categories.
As the company explains, you'll see 56 categories that organize homes by style, location, or proximity to attractions. When searching for a city, results are organized by categories relevant to that city.
Over 4 million homes globally fall into the 56 categories gathered from machine learning through titles, written descriptions, and structured data from hosts. By showing you unique or interesting places to stay, Airbnb says it will "help alleviate over-tourism by redistributing travel to new locations beyond the same popular destinations."
Split your stay
If you want to explore a new city but don't want to be restricted to one location or geographical area, Split Stays is a great option. When you search for homes and stay longer than a week, Airbnb will suggest other homes to split your time.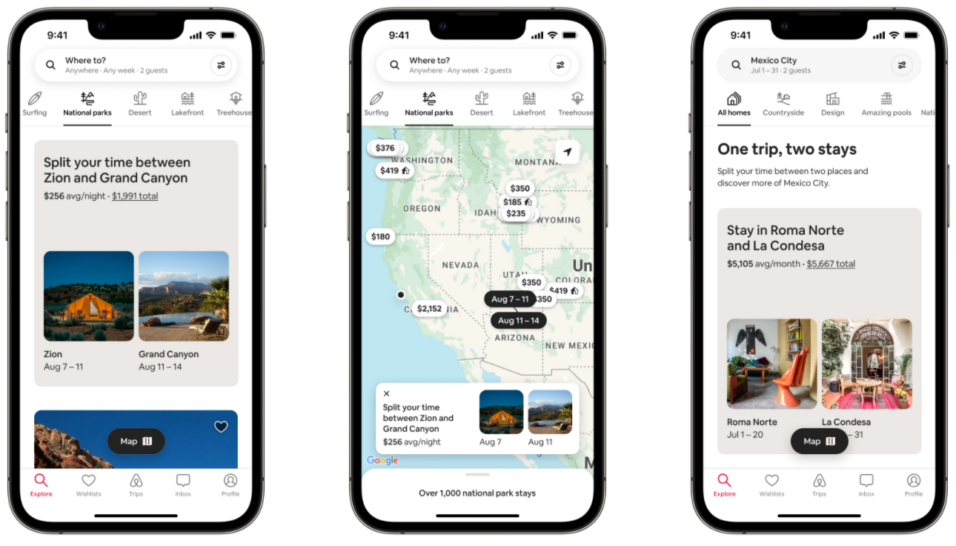 For example, if you search for a home in New York City for 14 days, Split Stays can show you a home available for the first seven days and a different home available for the last seven days. Then, you can book both places through an easy-to-use webpage.
AirCover
Many people will travel this summer for the first time in two years. Airbnb created a protection system to ensure that guests remain safe. AirCover is divided into four parts:
A booking protection guarantee where Airbnb will find you a similar or better home if the host cancels within 30 days of check-in. Alternatively, you'll get a refund.
If you can't check in to your home and the host doesn't fix the issue, Airbnb's Check-in guarantee will find you a similar or better home.
If the home isn't as advertised, you'll have three days to report it. Then, under the Get-What-You-Booked Guarantee, Airbnb will find you another place to stay.
The 24-hour Safety Line gets you priority access to specially-trained safety agents, day or night.
Keep reading
Pro Tip: Do a Nmap scan to find hidden cameras in an Airbnb or rental property
How to spot the worst Airbnb scams – and protect yourself next time you rent