"Look in between the cushions. Check under the pillows. Look on the counter." Sound familiar? Well, try this one, "Just use the phone."
That's right. If you're tired of constantly looking for the TV remote, you can use your smartphone as the remote from now on. How? There are apps that can easily turn your smartphone into a remote for your TV and other appliances.
There are a plethora of apps with this capability, along with a wide variety of TV brands. So, we've gathered up five of the best TV remote apps available on your smartphone. You should be able to find at least one that works for your TV.
Android TV Remote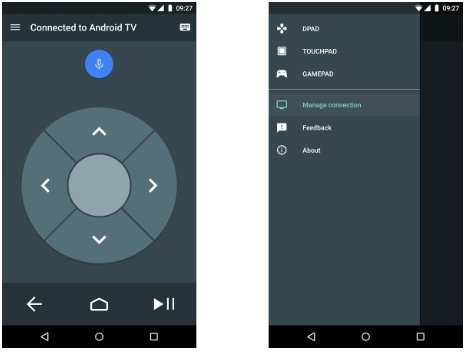 The Android TV remote is a generic universal remote that works to control any Android-powered TV. A basic D-pad and game-pad layout makes navigating through your TV interface easy. The app connects to your TV via your local network or Bluetooth.
With that, it can be used to control your other Android devices as well, just by being on the same Wi-Fi network. The app even supports voice control, which allows you to input text through your phone or tablet's virtual keyboard. Just speak into the phone to search for what you want to watch.
Related: 5 easy ways to add subtitles to the best movies and TV shows
Amazon Fire TV Remote
While the Fire TV box already includes a Wi-Fi-connected remote, you can make things a whole lot cooler and easier with this app.
The Amazon Fire TV remote app copies and captures the key functions of the original hand-held remote. It works best by converting your touchscreen into a navigation field, which comes with playback controls, a virtual keyboard and voice command capability.
The free app is available for both Apple and Android gadgets.
Universal TV Remote Control
This one is generic to the max, but it's simple and efficient and that's the way we like it. The Universal TV Remote Control app is able to send commands to over 300 different TV brands and models. So, universal truly means universal in this case. All you need is a Wi-Fi connection to pair it to your TV.
This one is only available for Android gadgets. Tap or click here to download it from Google Play.
Related: 3 ways to turn your TV into a smart TV
Peel smart remote
The Peel Mi Remote app tries to go one above the rest by acting as a replacement for your TV remote and a personalized TV guide app as well. By simply entering your ZIP code and provider into the app, you can bring up a list of upcoming shows and set a reminder so you don't miss the one that you want to see.
What makes Peel more desirable among users is its ability to control other appliances as well. Your satellite box, streaming box and even your air conditioning and central heating units can all be controlled from the app. Pretty cool, right?
This one is also only available for Android gadgets. Tap or click here to download from Google Play.
SURE Universal remote
This app works as a universal remote that can handle a variety of separate appliances. Everything from TVs, to set-top boxes, smart appliances and home automation systems can be accessed with the SURE Universal Smart TV Remote through your Wi-Fi network.
The architects of the app have stated that their remote supports almost a million different appliances, which can be easily controlled with just one tap of a button. As an added bonus, SURE is compatible with Amazon's Alexa as well.
SURE is available for both Apple and Android gadgets. Tap or click here to download for iOS. For Android, click or tap here.