Considering there are over one billion people who use Facebook Groups, you most likely belong to a few already.
While it's great to connect and share with others in a Group, sometimes the discussions can become lengthy and so numerous they take over the news feed on your homepage, leaving you scrolling for days just to find posts from non-Group friends.
Is there a way to turn off this annoying feature and save yourself from having to scroll through screen after screen? Yes there is, and we are here to show you how.
How to adjust your Group notification settings
Want to slow your roll — well, at least your Group's roll? Like with everything else Facebook, your Group notification options are simple yet confusing.
All Posts will notify you every time members post to the Group.
Highlights are notifications for suggested posts or posts with a high number of likes or comments. In addition, highlights can be posts from people you follow.
Off stops you from receiving any notifications when members post.
There are a few caveats here. If the Group is a Teams & Projects group, you have the option to mute the chat. If your Group has 250 or more members, notification settings are, by default, set to Highlights — don't worry, you can still turn this off. Last, but not least, if the group type is Announcement, regardless of member count, the default setting is All Posts.
To edit your Group notification settings visit Facebook on your desktop and click the bell icon in the upper right then tap Settings.
Scroll down and click on the Groups option. From the drop-down menu select the Group for which you want to change notifications.
Here you can choose to receive only highlights, friends' posts or turn off that Group's notifications completely. Click Done to save the settings.
How to leave a Group
Maybe you want to go a step further and leave a Group . From the left-side menu, choose the Groups option and select the Group you want to leave.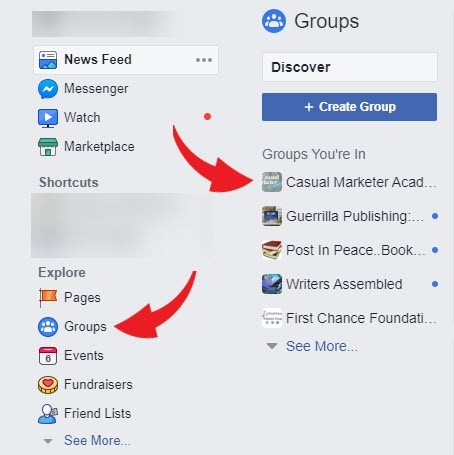 Click on the Joined tab and tap Leave Group.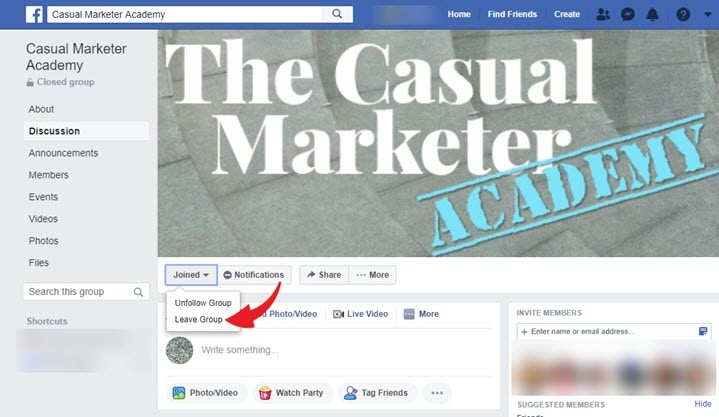 Wondering what happens when you leave a Group ? Not much.
You are removed from the members list, and the group will be removed from your list of Group .
You will no longer see Group posts in your News Feed, or receive Group notifications.
Members will not be notified when you leave.
Sick of ads following you around the internet? Kim has has created a place where you can make friends and connect with others without worrying about your data being sold to advertisers. It's the all-new ad-free Komando Community: a safe and secure place to get social online. Click or tap here to learn more about the Komando Community.
Hide or snooze someone's post
Maybe it's not the Group driving you crazy, but an individual poster you need a break from. A few selections exist that can hide or snooze their posts without the need of having to unfriend them.
Tap the three-dot menu on a post from the person you want to hide. Choose to either hide that particular post, all posts from that individual or snooze for 30 days.
You also have the option to unfollow the person, which will allow you to remain friends, but you simply won't see their posts in your feed. The steps to hide or snooze someone's post are the same for both Android and iOS mobile devices.