Cable became a mainstay of most households just a few decades ago, but with the rise of streaming, it appears to be on the way out. Still, there are shows and events you can catch only on live TV, and there are ways to get those channels for free if you don't have cable or an antenna. Don't get too excited yet: The non-profit service is available in only nine cities — New York, Philadelphia, Boston, Washington DC, Baltimore, Chicago, Houston, Dallas and Denver.
Related: Before you cut the cord, read how streaming services can add up and cost more than cable
Why tell you about this, then? Well, the nonprofit that brings you this technology for free is looking to expand into more markets across the US, and you can vote for your city. As of press time, Seattle is leading the pack with the most votes.
Locast is an app that lets you watch local broadcast channels. Locast streams live TV right to your computer or streaming device, with no buffering, at no cost to you. It's one of the better options for live TV, and it's looking to expand.
The perks of Locast
Locast is downloadable to your streaming devices, like Roku and Amazon Fire TV Stick, accessible on your computer's web browser through Locast.org, and available through your app store. It is a convenient way to watch live TV in your home or on the go, so long as there's Wi-Fi. For all the reasons Netflix and Hulu are convenient, Locast is too.
Locast doesn't buffer or stall. As long as your Wi-Fi is reliable, your TV watching should be too, along with your video and audio quality.
It works by translating traditional broadcast transmissions via antennas into digital feeds that the app picks up. This is allowed because Locast is a nonprofit, and a federal law exists that lets nonprofits retransmit broadcaster signals. These antennas can access multiple transmission sources at once to boost signals, keeping quality consistent and good. That's perfect for game nights, and "The Bachelor" viewing parties, when you want that reliability the most.
Because Locast lets you access local broadcast channels, it could be easy to lose track of channel numbers, particularly if you're not familiar with the local lineups. Locast has you covered for that with a built-in TV guide, so you know what's on and when. The guide tells you what's on different channels for today, as well as the next six days, so that's a whole week you can stay up to date on. Basically, Locast gives you the quality TV you want, at no cost, and tries to help you find exactly what you're looking for.
The limitations of Locast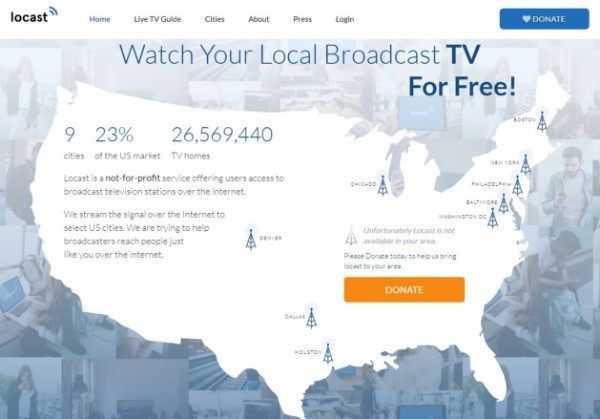 Locast antennas are in only nine cities at press time: Boston, New York, Philadelphia, Baltimore, Washington, D.C., Chicago, Denver, Dallas and Houston. If you're in these cities, you're fine — Locast will work for you. If you're outside of these cities, you're out of luck for now.
Of course, Locast is trying to grow and accepts donations to help it get into more areas. When you donate, you can specify your city, which could help bring an antenna, and therefore the app, to you faster.
The other thing to keep in mind is that Locast doesn't offer every TV channel in the world on its app. It offers local broadcast channels, so you'll definitely get things like CBS, ABC, NBC and Fox. That gets you most big sporting events, like the Super Bowl and the World Series. What it doesn't get you are channels like TBS, E! or ESPN.
Still, with most major channels available, for the casual live TV viewer, Locast provides more than enough. For those who want more live TV options, they can be found elsewhere— you'll just have to pay for them.
How to get Locast
If Locast is appealing to you based on the information above, and you live in a city where it's available, that's great! Here is how you get the app, and how you get it up and running:
Get the app: You can get it for Apple devices (including Apple TV) here, from the Google Play store here, and for Roku right here. Or, just go to Locast.org.
Open the app on your streaming device, and create a login — or create a login on the website. You'll need an email address for this, or you can connect with your Facebook account.
Once logged in, input your city from the options and let Locast verify your location. This will require giving it permission to use location services, which need to confirm that you're currently in the city you claim to live in.
Once your location is verified on Roku, you'll have to input your activation code online via the instructions on your TV. For other devices, you'll have access to the app.
Explore the TV guide, and start watching live TV, for free, right now.
A nice, simple setup for a simple concept — free broadcast TV, streamed into your home like all of your other favorite streaming platforms.
In the age of Netflix, where you only want to watch a few things at a moment, Locast is absolutely perfect. Let's hope it keeps growing so we can all enjoy free, reliable cable in the near future.
Watch New Yorkers' reaction to Locast in the video below.
Bonus: Manage your TV binge watching with these apps