Do you install
apps, meticulously check out every feature they offer and use them on a constant basis
? Or, are you one of the estimated 77% of users who never utilize an app again 72 hours after installing it? Admittedly, I belong to the latter.Case in point, I have five neglected screens full of apps on my Android device. I install, then fail to use them.Amongst these forgotten apps is one for Walmart, which I occasionally launch when it's
time to go grocery shopping
. However, in the pursuit of cleaning up my phone, I took to checking each app to determine which were worth leaving on my device.When it came time to test out the Walmart app, I was sure it was nothing special, thus, destined to be uninstalled. Much to my surprise, after trying the app, I found the opposite to be true. There is no question, the Walmart app loaded with features, is a keeper. Those with a smartphone who aren't using the app are missing out. Here's my take on why the Walmart app is so great.
Shop and save online with the Walmart app
Save yourself time and money by shopping for all your product needs with the Walmart app. In addition to groceries, there are millions of items available for purchase from Walmart or third-party suppliers.You can scan through the weekly ads, specials or departments to purchase your goods and choose from either
in-store pickup or delivery options, such as NextDay
(available in certain areas) and free shipping.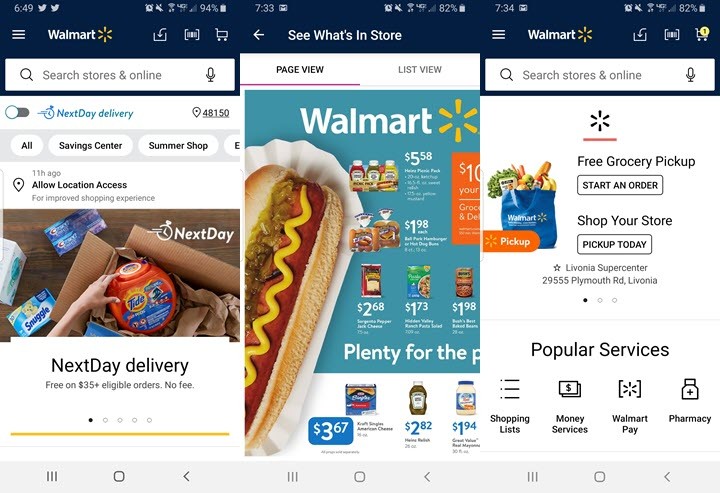 While there is no membership fee to qualify for free shipping, there are requirements: Orders placed before 2 p.m. get free shipping within two business days, excluding weekends and holidays. Eligible items only. There is also a minimum order of $35.
Manage prescriptions with ease
With Walmart's Mobile Express pharmacy you can fill your prescriptions, pay for them online and pick them up at the Mobile Express counter (skip the standard pickup line) using the app's QR code.Other options in the app's pharmacy section include scan to refill, prescription transfers, and history. One money-saving selection offers customers numerous 30-day generic medications for $4 and 90-day prescriptions for $10.
Photo Services for any occasion
Want to print out some photos? No problem. How about creating custom cards or wall art for yourself or as a gift? That isn't a problem either with Walmart's Photo Services.Almost every medium you can print on is offered, including pillows, apparel, totes, jewelry, posters, mugs and more. Many items can be ordered and picked up the same day, while others can be shipped via Home Delivery or Ship to Store options.
Get the perfect gifts with wedding and baby registries
Congrats if you are about to say I Do or are expecting a little one. While creating a wedding registry using the Walmart app is pretty standard, the set up for a baby registry is quite fun.With Hoo the Owl, a chatbot, walking you through the steps and confetti floating across your screen, it's hard not to find this feature entertaining. Whether you create a registry for your upcoming nuptials or baby, family and friends will not have any problem locating your online registry and its listed items. 
RELATED: WALMART'S NEWEST SHIPPING OPTION MIGHT MAKE YOU CANCEL AMAZON PRIME
Store Maps/Item Finder
Okay, I saved the best for last. The Store Map/Item Finder feature is a gamechanger when it comes to helping you out during your shopping trips.Turning on the location settings on your mobile device allows the app to recognize which store you are visiting and will show you where you can find any item you type into the search bar. For those whose motto is 'get in and get out' when shopping (raising hand) this feature will save you from wandering about the store aimlessly in search of products you're after.
Price Scanner
Here's a bonus feature for you. If you have any issue finding a price for an item while in a Walmart store, scan the barcode with the app's scanner and voila! The price is displayed.Overall, I consider the Walmart app a multipurpose powerhouse. I had no problem working with any of the features and did not come across any glitches or bugs.What I did find is that I can perform many tasks all within one app, including shop for groceries, build a baby registry, pick up my prescriptions, create custom wall art and find items and prices without the need of an associate's assistance. The Walmart app now occupies prime space on my home screen.The Walmart app is available for free on both Apple and Android devices.
Tap or click here to download it for iOS
. For Android,
click or tap here
.