If you're someone who spends a lot of time manually checking weather reports before heading out to do your thing each day, perhaps it's time for you to pick out a weather app to start relying on instead.
They're far more reliable than simply checking the day's weather forecast on your local news, more affordable and they're simple to use. Plus, there's no sitting around and waiting on the weather report to roll around to get to your favorite on-screen meteorologist.
These apps are available for iOS and Android and offer both free and premium versions to get you started. Here are three of our favorites, which you should start with if you're looking to delve further into the wonderful world of weather.
ClimaCell
This newer weather app is an interesting prospect, as it offers "hyperlocal" weather updates. It uses unconventional sensor methods to predict real-time measurements of temperature, precipitation, dew points and much more.
Essentially, it turns a proprietary technology into data by using your own phone, car, towers outside and even street cameras to assist its internal algorithm to deliver the most up-to-date weather notifications possible.
It's said to use "millions of data points" to predict the weather between a six-hour to six-day period and is accurate up to the minute. This should be a much more reassuring prospect than switching on the news and hearing a meteorologist tell you it's not going to rain as you walk outside and it pours.
The ClimaCell app is available for free for both Apple and Android gadgets. Tap or click here to download for iOS. For Android, click or tap here.
MyRadar
MyRadar is another app that offers some of the best forecasts and real-time weather updates, according to John, one of our very own Komando employees.
You can subscribe to official NOAA weather alerts from within the app, view the "best nationwide composite radar image" that only MyRadar offers, check the temperature, day-by-day weather forecasts, track hurricanes and even view flight tracks to keep an eye on loved ones or know when or if your flight may be late or delayed.
It's got virtually no learning curve and is zippy and responsive, without bloatware and ads covering half the screen like some of its competition. It's a great-looking app that's perfect for casual weather watchers or even the most seasoned tornado chaser.
You can download the MyRadar app for free on both Apple and Android devices. Tap or click here to download on iOS. For Android, click or tap here.
Dark Sky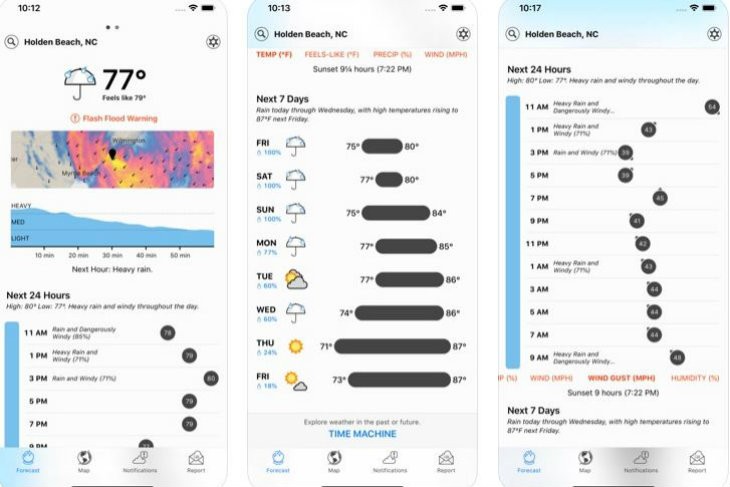 Dark Sky is a tried-and-true weather option that's not only reliable but attractive. This "accurate source of hyperlocal weather information" gives you down-to-the-minute forecasts so you don't have to guess when it's going to start or stop raining. You just know.
It also sends you detailed notifications and alerts that you can customize on your own so you know exactly what's going on and how soon it'll arrive. With gorgeous splash maps, coloring to indicate precipitation and more, it's not only slick and useful but it's visually appealing as well. You can even take it with you wherever you go on your smartwatch.
The Dark Sky Weather app costs $3.99 for Apple gadgets and $2.99 for Android. Tap or click here for iOS. For Android, click or tap here.