Did you know that your smartphone camera can be used for more than indulging your selfie desires, nailing that wacky group shot or for composing your latest Instagram post? Of course, you do!
There are many cool ways you can use your smartphone camera that don't involve photos including scanning documents on the go with apps like Evernote Scannable and Google Drive.
Now, Adobe, the creator of the ubiquitous PDF, has launched its own app that does that very thing – scan physical documents with your smartphone's camera and turn them into … yep, PDFs.
Adobe Scan is a safe and free way to scan your documents
Dubbed "Adobe Scan," just point your iPhone or Android's camera at a document and the app will automatically scan it for text via Optical Character Recognition (OCR) and save it as a PDF file on your Adobe Document Cloud account.
---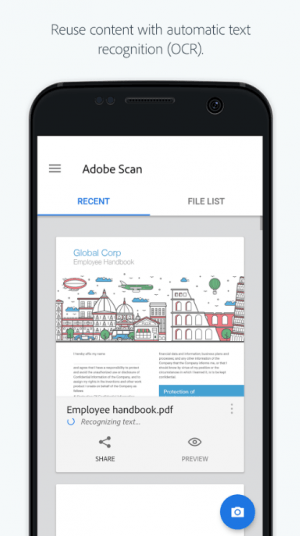 From there, you can share the document via email, text, import it to other apps like iBooks or send a direct link. With an Acrobat Pro DC subscription ($15/month), you can even do advanced tasks like edit the document's text or add images.
Check out the video below to see Adobe Scan in action:
To start using Adobe Scan, download the app from the Apple App Store for iOS or Google Play for Android. Before you can start a new scan, an Adobe ID account is required (for Cloud saving purposes) so sign up if you have an existing one or create a new one within the app.
Don't worry, creating a new Adobe ID is easy, just provide your name, an email address, birthday then set up your password and you're in.
We tested the app and although it's not exactly perfect and it distorts text, it is still a great way to quickly scan text to a PDF file you can save or share right away. With the Adobe Cloud Document, the file is also available and viewable anywhere.
Ready to give this app a try? Click the blue buttons below for your free download.
---