Over time many of us collect things, with books, music and movies being among them. We don't have it in us to throw any of it away, but often times they end up on storage boxes or somewhere that is out of sight and out of mind.
But what happens then is you forget what you have. You may feel like you owned a copy of that book or that DVD, but do you really want to go through box after box to check?
What if there was a way to catalog it all on a device so that when you want to find it, you can? That's a question Kim has been asked quite a bit, and it turns out there are some great options.
Libib
A free app, Libib allows you to enter your books, movies, music and video games simply by scanning their barcodes with your device. If that does not work you are also able to manually enter rare or antique items.
Once your stuff is logged, you will be able to easily search across all your libraries, of which you can have many.
Along with cataloging, Libib allows you to tag, review, rate, import and make other notes. You can also publish your library, which will be synced directly with Libib's website.
Libib is fairly simple in nature, which makes it all the more appealing.
LibraryThing
Ideal more for people with smaller collections, LibraryThing allows its members to catalog and browse their collections of books as well as other media, such as DVDs and CDs. Books can be added by scanning their ISBN barcode with a device's camera.
The free app receives its data from Amazon and over 65 million library records. You can also add high-resolution cover photos of your books with LibraryThing's cover editor, and then browse your books by cover type in order to find copies that could use better covers.
Shelves
A free Android-only app, Shelves is open source and quite intuitive. It allows you to add items by scanning barcodes, looking them up online or entering details manually.
It's actually good for cataloging more than just books, music or movies, as it is also good for things like clothes, gadgets, tools and toys. Data can be imported and exported via a variety of sources, which include Google Books, Google Drive, Shelfari and BoardGameGeeks.com.
Whatever you add, you can sort your entire collection by title, price, author, format and even more. Items can be tagged and filtered, and multiple things can be selected at a time.
Download: Android
Home Library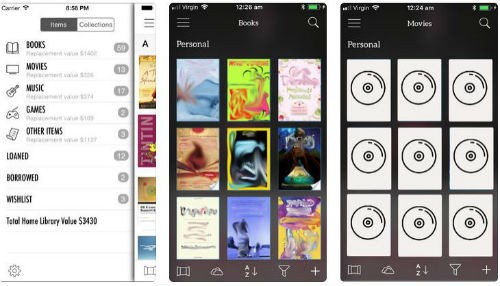 Available only for Apple devices at a cost of $2.99, Home Library helps you easily maintain your collection at home. The app lets you store books, CDs, DVDs and all the details that go with them, all after just scanning their barcodes.
With Home Library you can keep track of your media, which will all be stored on a secure website with no fee. Note: if you have lent something out to a friend or family member, you can use the app to send them a polite reminder that you would like to get it back.
There is also a "wish list" option, one that will store books you would like to eventually buy.
Download: Apple