There is a social media platform that people are raving about and before you ask, it isn't Twitter, Instagram, or Facebook. Those apps are all wonderful ways of sharing photos, keeping in touch with friends, or tuning in to what celebrities are saying, but they do lack a "homegrown feel."
This social media platform is a little different. It's more personal and it's a great tool for monitoring recent happenings in your neighborhood. Think of it as the 21st century's Neighborhood Watch Party.
The site is called Nextdoor and it's a social media platform that is worth checking out. Nextdoor is designed for people who live in your area. It has the same features that Facebook has but it's more in tune for what is happening down the street, not across the country. You can also use your Facebook credentials to create an account on Nextdoor, making the sign-up process very easy.
Get in touch with your neighbors with this site (and app)
Below we have highlighted some of the noteworthy features you can enjoy once you create an account (which you can do by clicking here.)
Make yourself at home
Once you have created an account and downloaded the app, which is available on both iPhone and Android devices, you can visit the homepage. Think of the homepage as your Facebook feed but hopefully less time-consuming and more up-front. Here, you will find discussions near the top of the screen and conversation topics listed on the left side of the page. The homepage is a great place to gain an overall understanding of what is important to your neighbors. Perhaps there's a big football game coming up or your neighbor down the street is having a yard sale, you can learn more by simply reading what your neighbors are saying and contributing.
Now, let's explore some of the unique features of Nextdoor that differentiate it from the other social media networks:
Recommendations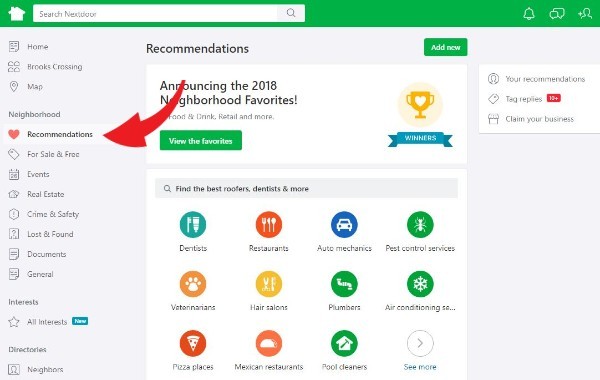 If you are searching for a great restaurant for date night, a reputable roofer for that annoying leak in your roof, or a local health food store, be sure to check out the "Recomendations" tab. While Facebook has certainly mastered the art of posting and sharing online reviews of local businesses and places, Nextdoor takes it a step further and allows a more streamlined way of reading and sharing reviews on the places that interest you the most. Simply comb through recommendations using the search feature or share an announcement of your own asking your neighbors to shed some light on what their favorite restaurants, stores, services and businesses are.
Crime Watch
Nextdoor's Crime & Safety feature is a great way to monitor the not-so-neighborly occurrences in your area. Think of this feature as a virtual neighborhood watch that allows you to keep tabs on stolen packages, car theft and other suspicious activities in your area.
Neighborhood classifieds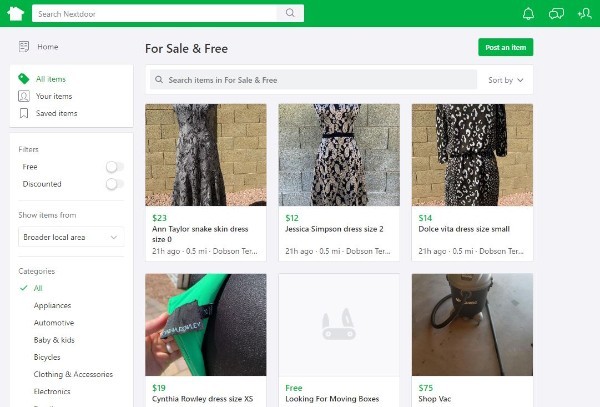 Nextdoor features a classifieds section called For Sale & Free, which is a great place to read about upcoming yard sales, rooms for rent and any miscellaneous services being offered by your neighbors such as pet sitting or babysitting. You can also list or browse any items that you or your neighbor are looking to get rid of.
Stay in touch
We are all busy and let's face it, sometimes social media apps can be time-consuming. Thankfully, Nextdoor has an email newsletter that you can sign up for allowing you to remain in the know of what's happening in your area without spending hours scrolling through your feed. You can access the email notifications via the "Settings" tab and then select what notifications you would like to receive and how often. We recommend signing up for Nextdoor's Daily Digest, a daily email highlighting the top posts from people in your neighborhood.
How to stay safe when you use Nextdoor
Now a few big safety tips to keep in mind when using social networking sites like Nextdoor.
First and foremost do not share your address on Nextdoor. Under the "settings" and "privacy" tab on your account, you can choose how your address is displayed to other Nextdoor members. Also, be sure to check out Nextdoor's privacy policy before creating an account. If there is anything you aren't comfortable with, simply don't sign in!
If you log into Nextdoor using your Facebook credentials, keep in mind that Nextdoor will have access to any personal information that you share on Facebook. That being said, it may be a great time to revisit your privacy settings on Facebook as well.
If you need a good laugh and care to see what sort of things people post in Nextdoor, check out their twitter handle, @bestofnextdoor.
Gone are the days of neighborhood watch groups. Now, social networking has take over as people post videos from home cameras, put up stuff for sale, and more. Is there a difference now between being neighborly and spying? In this episode of Consumer Tech Update, Kim looks at how neighborhoods have evolved in how information is shared among neighbors.