Going to the grocery store can be a hassle. Making a shopping list, following said list, cutting coupons, finding items on sale, and making your way through the store without losing your sanity can be a tall order at times.
We all enjoy saving money, but browsing the local paper for coupons can be a time-consuming task that most of us would rather avoid. But, like all of life's minor problems, there is an app that can help.
Ibotta is a great way to earn passive income and it's very easy to use. And, unlike cutting coupons, it doesn't take a lot of time or effort, just a little consistency.
How to earn money with Ibotta
To start earning money with Ibotta, simply download the app, create an account, and select a retailer.
You can browse rebates by category, which range from grocery stores to restaurants to online merchants like Amazon and even liquor stores. Once you find a product you like, you can unlock the rebate by either answering a poll question or watching a short video.
When you are at a store or restaurant, purchase the items you have unlocked. Using the app's barcode scanner, you can confirm the item's eligibility before you actually buy it.
When you have finished shopping, just scan the barcodes and upload your store receipt to get paid! You can have earnings transferred to your Venmo or PayPal account. Once your Venmo or PayPal account reaches $20, you can withdraw the money.
To gain a better understanding of how Ibotta works, check out the video below:
Money-saving features from ibotta
The ibotta app has several money-saving features, let's look at the highlights:
Any brand rebates: This is probably the most convenient way to earn cash back with the Ibotta app. This feature allows you to potentially earn money on store or generic brands of products you typically buy. To use this feature, just type "any brand" into the search bar and separate the brand offers from the others.
Use the scanner in-store: Let's face it, more often than not when we are in the grocery store we are usually in a bit of a hurry. If you want to consistently use the Ibotta app to earn some extra money, be sure to take advantage of the app's barcode scanner. The scanner helps you determine if the item you're purchasing will earn you cash back.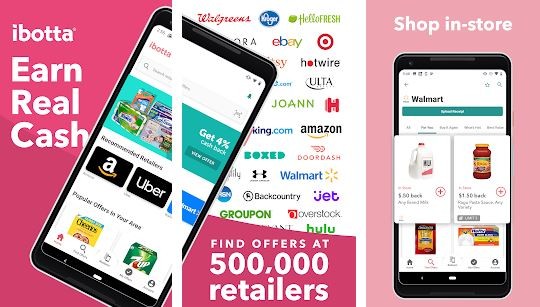 Always upload your receipts promptly: Now, this isn't a feature per se but more of a tip. When using the Ibotta app you must upload your store receipt right away. Upon uploading a photo of your receipt you will unlock rebates. The rebates have an expiration date, so the sooner you upload it the better!
Tell your friends: If you refer a friend to ibotta and they create an account and claim their welcome bonus, you get rewarded as well. Ibotta does assign you a referral code that you can share on both Twitter and Facebook, so spreading the word to family and friends is super easy.
Ibotta is available on both iPhone and Android devices. To learn more about Ibotta and sign up for the app be sure to check out its website here.