If you're an Android user, you know all about the adware and malware-infested apps being removed from Google Play Store. News flash: It hasn't gotten any better.
Android malware and security stories are becoming more and more common and for good reason. Google's struggle to keep apps secure and users safe is ongoing with no real end in sight.
Instead of waiting for Google to come up with a workable solution, you can be proactive and implement your own security protocol. We have a few tips and tools to keep you safe and help you better identify the good apps from the bad.
Android vs. adware and malware
If this was a proper 12 round fight, the results would indicate a TKO victory for malware and adware. Both of which have been relentlessly tag-teaming the play store.
It seems like every week, Android users are put on alert about a new piece of malware found in the Google Play Store. And what's worse, they are impervious to the security measures put in place.
To their credit, Google is continually making strides to improve its defensive front against the malicious use of its platform. However, it appears that the architects behind the malware are fighting to stay one step ahead of the tech giant. Which is why Android has developed a protection plan to help combat malware-infected apps.
Google Play Protect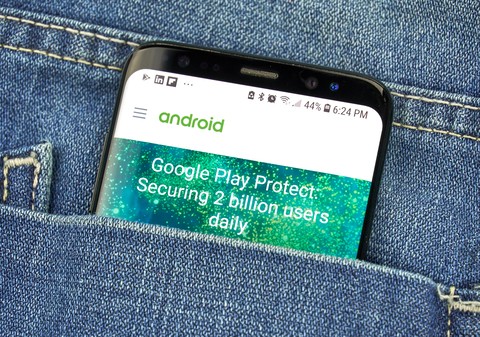 Google Play Protect is Android's own built-in version of malware protection software. It works by automatically scanning your device for potential threats against your apps and personal data. It also ensures that you have the latest mobile security protocol in place.
According to Google, its protection plan is known for scanning and verifying over 50 billion apps a day. Every app in the Play Store is put through an aggressive vetting process and that goes for its developers as well. If either show signs that violate its policies, they are immediately removed.
If you have already downloaded a harmful app to your device, Play Protect will send you a notification along with steps to uninstall the app. If enabled, it can do this automatically as well. Overall, Google Play Protect is a nice tool for users to help identify and shield themselves from malicious apps that may be carrying some form of malware.
How you can avoid harmful apps on Google Play
While it's not always obvious to tell the legit apps from the bad ones, there are a few careful measures you can take to lower the level of risk. For starters, you should only be downloading apps from credible sources and avoid shopping apps on third-party market places.
While those credible sources may seem like a virtual minefield, they are much safer than any unofficial platforms could ever be. You should also pay close attention to the names that may look similar, but not quite the same as original apps.
Another red flag that an app may be unsafe is if it requires an excessive amount of permissions and info. If a simple flashlight app asks to know your location or for access to your photos and contacts, it probably has a more harmful agenda in mind. Also, a ridiculous amount of pop-up ads and random icons are signs that you have been infected with malware.
Listening to what others in the online community have to say is recommended as well. You should always have a look at the reviews given by other users about an app. People will usually rate a harmful app lower on the scale and typically let it be known through their written reviews.